InnovAction Awards were presented to law firm Higgs & Sons and the Legal OnRamp Fellowship at last week's 2014 Futures Conference in Boston. The College of Law Practice Management presents InnovAction Awards to recognize lawyers, law firms and other deliverers of legal services for unprecedented business activity. The program — now in its 10th year — seeks to highlight what can be created when passionate professionals, with big ideas and strong convictions, are determined to make a difference.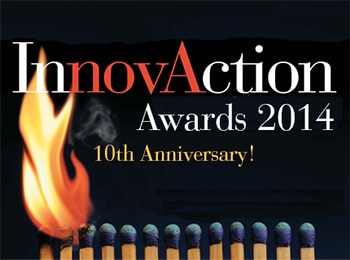 2014 InnovAction Winners
The coveted InnovAction Award is presented to those within the legal profession who have not only dared to think differently, but who have made their idea a successful reality. The simple judging criteria require evidence of originality, market disruption, value and success. This year, two awards were presented.
Higgs & Sons. The award to 139-year-old British law firm Higgs & Sons was accepted by the firm's Finance Manager, Glyn Morris, for a massive program aimed at transforming Higgs' culture and operations. In a "Knowledge Transfer Partnership" with Aston Business School, Higgs conducted a consulting intervention to purposefully bring the firm's systems, products and people from a conservative approach to one that embraces the future. In addition to fearless cultural and organizational change, the firm demonstrated a 26 percent increase in profit over a single year and received extraordinary recognition from the U.K. legal community. Interestingly, in 2004, Morris also received one of the very first InnovAction Awards, for leading a groundbreaking fee prediction and transaction management system at another U.K. firm, Wragge & Co.
Legal OnRamp Fellowship. The second crystal InnovAction trophy was presented to College Fellow Caren Ulrich Stacy for the Legal OnRamp Fellowship. The Fellowship is a re-entry platform that matches experienced women lawyers returning to the profession with law firms for a one-year, paid training contract. This unique experiential learning program gives returning women lawyers — many of whom have opted out of the legal field for a period of time to raise children — an opportunity to demonstrate their value in the marketplace while also increasing their experience, skills and legal contacts. Those who qualify and are selected via an intense screening process receive, in addition to paid placement in a well-respected firm, extraordinary ongoing coaching and training from a team of experienced professionals from around the U.S. The second round of the program just launched in September 2014 with the participation of 15 large law firms and more than 80 fellowship opportunities in 24 U.S. cities.
In addition to the 2014 winners, the InnovAction Awards "Hall of Fame" includes past winners like Riverview Law, Michigan State's Reinvent Law Lab, Axiom, Mallesons, Littler Mendelson, Pro Bono Net, Novus Law and DLA.
Attorney at Work is a sponsor of the College of Law Practice Management's Futures Conference and InnovAction Awards.
Merrilyn Astin Tarlton is Partner/Catalyst at Attorney at Work, a founding member of the Legal Marketing Association, an LMA Hall of Fame inductee, and past President of the Board of Trustees of the College of Law Practice Management. Follow her on Twitter @AstinTarlton.