Is Social Media Getting You Clients?
How are lawyers using social media to market their practices? Which social networking platforms work best? Does social media marketing really bring in new clients?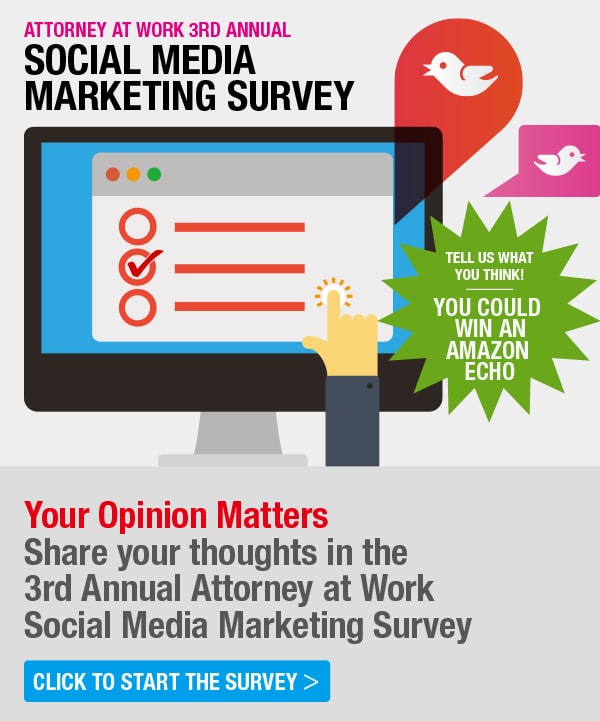 Take the Social Media Marketing Survey and you could win an Amazon Echo or another great prize!
Attorney at Work is conducting our third annual online survey to gauge the realities of lawyers and social media marketing.
Please take a few minutes to complete the survey and share your thoughts — you could win one of 10 prizes*, and you will learn what your colleagues and competitors are up to out there!
Click here to begin the survey.
It should take no more than 5 minutes of your time to complete.
As a thank you for completing the survey, you will be entered into a sweepstakes drawing for one of these prizes*:
Amazon Echo (1)
$25 iTunes gift card (4)
Attorney at Work's new book, "Getting Clients: For Lawyers Starting Out or Starting Over" by Merrilyn Astin Tarlton (5)
Note: Attorney at Work is conducting this survey independently — your answers will remain confidential, results will only be shared in aggregate form for informational purposes.
*Sweepstakes Abbreviated Rules and Conditions
The Attorney at Work Social Media Survey Sweepstakes ("Sweepstakes") begins at 8 a.m. CT on January 27, 2017, and ends at 8 p.m. CT on February 20, 2017 (the "Sweepstakes Period"). Open only to legal residents of the USA who are 18 years of age or older. To be entered into the Sweepstakes and qualify for one of the listed prizes, you must complete the Social Media Survey (subscribers may have received an email from Sponsor, or access survey link here: https://www.surveymonkey.com/r/WW6QQ7W) and include your name and a valid email address as requested. Sponsor is Attorney at Work, P.O. Box 352, Lake Zurich, IL 60047. ("Sponsor"). Sponsor will award 1 Amazon Echo. (ARV: $180). 4 $25 iTunes gift cards. (ARV: $25). 5 "Getting Clients: For Lawyers Starting Out or Starting Over" books (ARV: $40). Odds of winning depend on the number of eligible entries received. NO PURCHASE NECESSARY. VOID WHERE PROHIBITED.
For Official Contest Rules and Conditions click here (PDF).
The survey closes February 20, 2017 at 8 p.m. CT.