Who hasn't engaged in conversation about the worthless job law schools do of preparing grads for the real world of practice? (Wasn't it the 1980s when ABA leaders began talking about "bridging the gap" between school and firm to prepare the ill-prepared for the realities of practicing law?) If you supervise new lawyers and are (ahem) a lot more senior, you wring your hands over newbies who lack fire in their bellies or a decent grovel in their step. If you are a new lawyer with an actual job and a bona fide business card, you're probably trying to make your way on spit, string and raw instinct when it comes to the business part of practice. No job yet and dwindling prospects? Chances are you are contemplating hanging your own shingle, ready or not.
Download 25 tips and 50+ links!
Regardless of your circumstances, if you're a new lawyer you deserve a boost up. And today at Attorney at Work, we intend to give it to you in a concise, downloadable guide: "25 Tips for the New Lawyer." It's bursting with handy information about working with others, dealing with your supervisor, getting things done and lots more. And it's not just tips—there are 50-plus links to helpful articles full of practical advice from the Attorney at Work archives. So if you are new to the practice of law, download your free copy, spend a little time with it and share it with your friends.
More seasoned? Go on and read it yourself. (Bet you learn something!) Then forward it on to all those new lawyers you know who could use a boost (or anyone just jumping into the world of work). It's a sound starting point for some productive mentoring conversations—and it's hard to do better than that.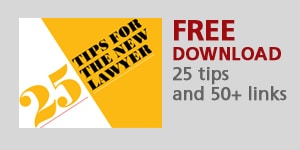 And one more thing … what do you have to say to new lawyers?
We're just betting that you're flush with wisdom on this topic. Won't you give back and send us your best tidbit of advice for young lawyers? Simply email your tip to Merrilyn@attorneyatwork.com. (We'll keep it anonymous if you wish). Then watch for a new post here with the best reader tips.
—The Editors