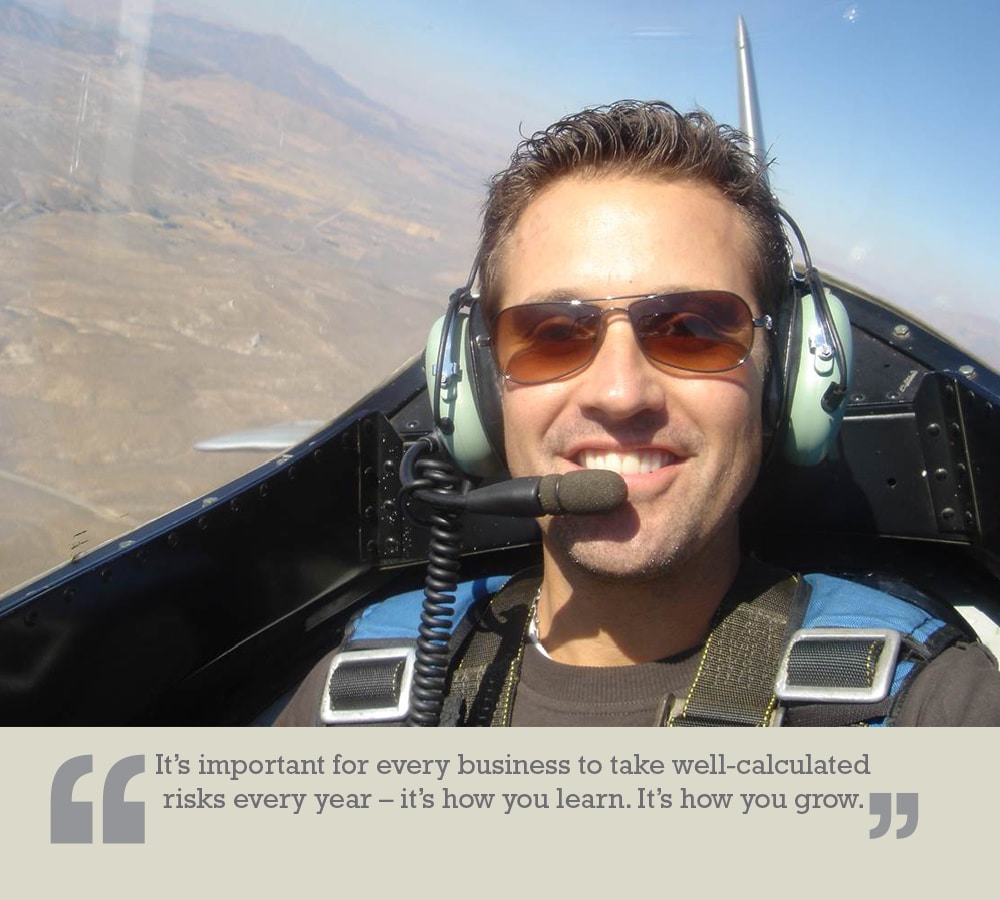 Ever wonder how successful entrepreneurs find the courage to place bets that may or may not pay off? Mark Britton, founder and CEO of Avvo, recently spoke with serial entrepreneur Tom Breitling, a founding partner of Travelscape and former owner of the Golden Nugget. In April, Breitling will keynote Avvo's Lawyernomics legal marketing conference in Las Vegas. This year, the focus is on placing bets in business — a topic Breitling knows well. 
Some Guys Have All the Luck …
Tom Breitling started out as a sportscaster who wanted to be the next Bob Costas. Instead, he was convinced to move to Las Vegas in 1993 to help build a travel business with his college friend, Tim Poster. It was the '90s and the two were quick to identify and capitalize on the opportunities the internet provided. Their business soared. In 2000, Travelscape was acquired by Expedia Inc. in a deal valued at more than $100 million. Breitling and Poster's next step was purchasing the Golden Nugget, a storied Vegas casino, where they brought back "Vintage Vegas" glamor. Their unique style of operation later became the subject of the Fox TV reality show "The Casino." In 2005, the pair sold the Golden Nugget to Landry's Restaurants Inc. for approximately $340 million. Breitling tells the story in his book, "Double or Nothing: How Two Friends Risked It All to Buy One of Las Vegas' Legendary Casinos."
Britton and Breitling met when Expedia purchased Travelscape. At the time, Britton was Senior Vice President and General Counsel for Expedia. The two have stayed in touch ever since.
Mark Britton: A lot of your entrepreneurial life has been about placing bets in the business world, whether launching a startup or deciding to hire more staff to support growth. Why do you think placing bets is important for every business, in every industry?
Tom Breitling: First of all, I have learned there is no profit potential without risk. You get experience in life by taking risks and making bets — on business, on people, on ideas. I've always tried my best to take calculated risks and do the right thing for our business and lifestyle. A few things that have remained constant in my professional life: a focus on high quality and growth, taking a long-term view, and investing in the right people to execute our plan.
Entrepreneurs are risk-takers, and risk is imperative to entrepreneurial success. I think it's important for every business to take well-calculated risks every year — it's how you learn. It's how you grow. And it's how you become a better businessperson.
Mark Britton: When you were launching Travelscape, what kept you up at night? What convinced you the idea was a bet worth pursuing?
Tom Breitling: Luck, someone once said, is when opportunity knocks and you answer. It's partly about the right place, partly about the right time and partly the talent to be there when they intersect. It's why so many people come to Las Vegas. It is a city that's open to being constantly reinvented by people who come to reinvent themselves.
My business partner, Tim Poster, started our travel business in 1990, only six months after Steve Wynn opened the Mirage. The Mirage was one of the first hotel openings on the Las Vegas Strip in many years, and many more hotels were built throughout the 1990s. So there was tremendous supply and demand. One thing I saw early on was the idea of selling rooms over the internet, which gave consumers one-stop shopping for the most popular travel destination on the planet. The internet was the match that set off the fireworks for our company. It was the pace of the growth that kept me up at night. We went from $12 million to $250 million in sales in just a few short years — all because of the reinvention of Las Vegas and the internet. When you are in the middle of that growth, dreaming big and building your reputation, you realize pretty quickly it was a bet worth making.
Mark Britton: You were at the forefront of changing the travel industry, and probably helped put many travel agencies out of business. What kind of pushback did you get, and how did you respond?
Tom Breitling: The travel industry is this tangled web of fragmentation. The '90s were truly a time of creative destruction and reinvention. I will never forget attending a travel conference in Chicago where Netscape founder Jim Barksdale said the internet was going to change the travel industry forever. That is where we decided to heavily invest in the internet. Barksdale talked about disruption — and we were part of the disruption of the travel industry.
Timing is so important. We answered the call to be one of the first companies to embrace the internet, and it changed the way people planned and purchased their travel forever. For me, it was always about value, selection and convenience for the customer. Those were the three pillars of success for us. We had always gone direct to the consumer — we just used the internet to enhance the experience.
Everyone doubted us. Our competitors were fat and happy with their success, but it turned out to be death by a thousand cuts for many of them. On the other hand, we were nimble. We listened to our customers. We focused on service. And we were first. Those things made all the difference.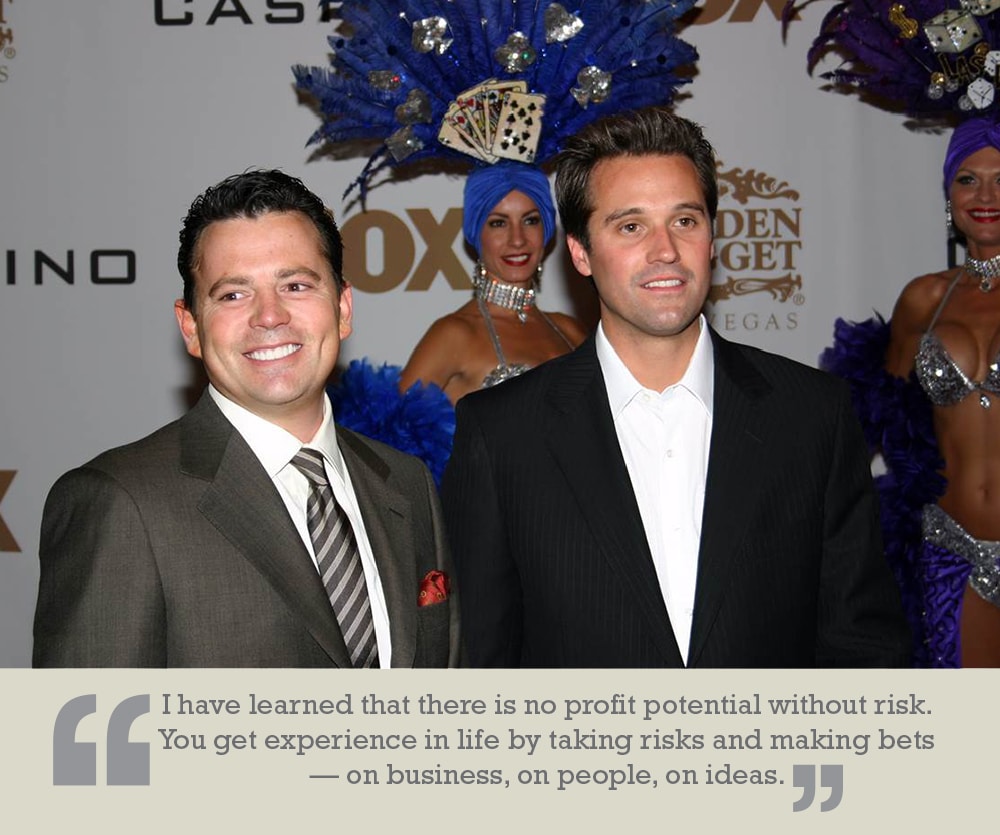 Mark Britton: You've had a lot of success with Travelscape and the Golden Nugget, but there were undoubtedly challenges and missteps, too. What have you learned about failure?
Tom Breitling: Socrates said that we learn through suffering. I also read once that Bill Gates said, "Success is a lousy teacher. It seduces smart people into thinking they can't lose." It's always important to heed the lessons of failure — and one of the key lessons is to fail fast and be persistent with new initiatives.
We failed at many things in both our travel company and with the casino business (a travel center in Barstow, going after whales at the Golden Nugget, regulated online gaming), but usually the wind was at our back.
T. Boone Pickens said once, "I've been right with many of my ideas but what hurt me most was timing." Online gaming is the perfect example of something where 9 out of the 10 things lined up but the thing that was out of control hurt us the most — legislation and putting the business in the hands of politicians. Ouch. I have learned to embrace the fact that failure will no doubt exist in life and the most important thing to do is learn from it, do your best to have the wind at your back with your business ideas, and then get through the failures and make them as small as possible.
Many times failure is where success begins.
Mark Britton: You put a lot of thought into the branding and the experience customers would have at the Golden Nugget. How instrumental was this in the success of the casino?
Tom Breitling: Personality and personalized service were key to our success. At a time when big casino companies were becoming more and more impersonal, putting our stamp on the business and being close to customers, instead of managing from some ivory tower, helped us understand human aspiration.
I will never forget a few great stories from that time. First of all, I gained about 25 pounds the year after we purchased the Golden Nugget properties. I wanted to taste all the food and get to know as many of the customers as possible. Many of the customers wanted to celebrate special occasions or have a great time, usually over lunches and dinners. In my first week on the job, I asked an executive chef in the kitchen if I could taste the dessert. He responded, "You own the place, Mr. Breitling. You can eat whatever you want."
We really tried to personalize the properties the same way Kirk Kerkorian and Steve Wynn did with their places. In fact, when we hosted our slot tournament events or New Year's Eve celebrations, you would often find us dancing with our customers to the tunes of Frank Sinatra, or bringing people backstage to meet Tony Bennett. It was all about creating special experiences for our customers.
Mark Britton: What was it like to work with Steve Wynn, who built the Bellagio?
Tom Breitling: Everyone says Steve Wynn must be this huge risk-taker. The truth is, Steve does more due diligence on a deal than anyone I've ever met. I have come to know him quite well and he's always focused on creating a better tomorrow and keeping the financial position of the company healthy. His attention to detail is fanatical, and he lives by the rule that only people can make people happy. He creates these amazing buildings and experiences but always highlights that it's the people who make the experience so special.
I worked with Steve from 2008 to 2010 during the financial meltdown. Because of how he managed risk, he was able to keep service levels high and the experience rich even though visitation went down throughout the city and the competition was cutting back on everything. Steve taught me that it's how we respond to the environment that usually defines us. 
I thoroughly enjoyed working with Steve and learned a lot from him. He has created a formula that always includes risk — but it is well-calculated risk.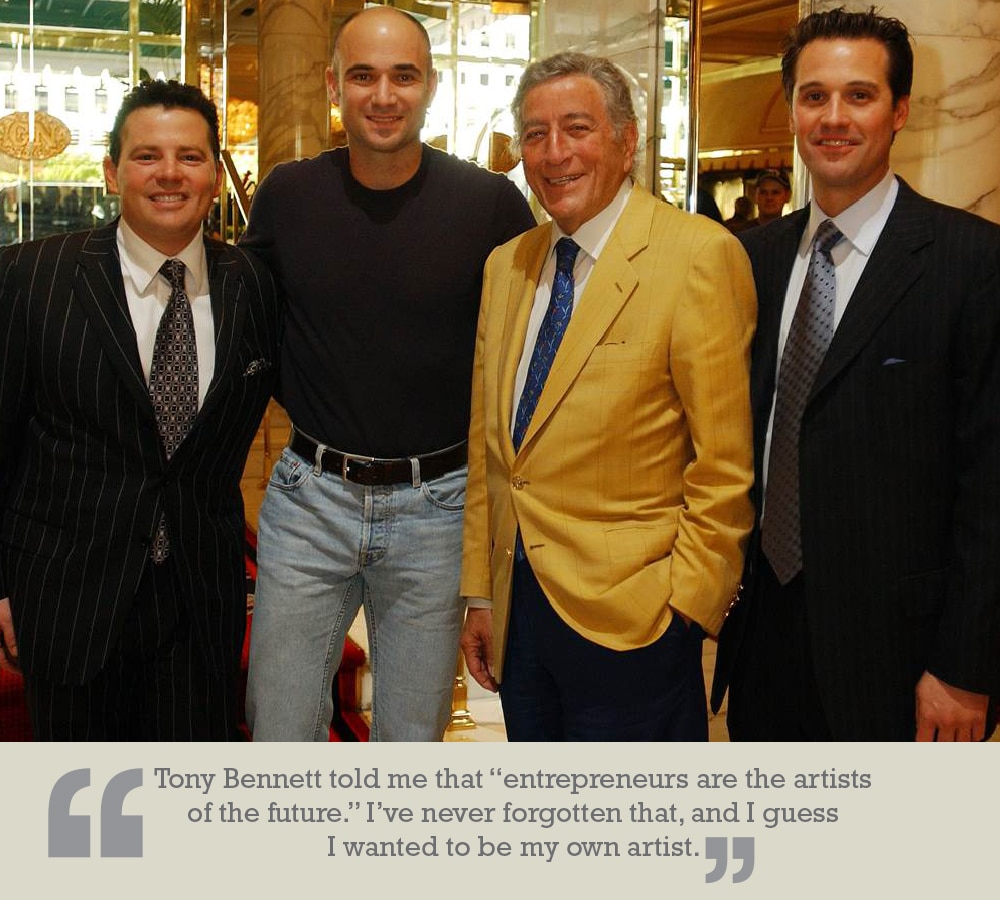 Mark Britton: In "Double or Nothing," you write about Mr. Royalty, a Golden Nugget customer who consistently won millions because of the favorable odds you gave players. Why was this counterintuitive approach ultimately a winning strategy for the business?
Tom Breitling: There is an old saying in the gambling world: "The best thing in the world is to gamble and win. The second best thing is to gamble and lose."
There must be winners. And we had a lot of them at the Golden Nugget. We had a taxi driver win over $1 million on a penny slot machine the month we took over. Another customer won over $10 million on a progressive jackpot in our first year, and Mr. Royalty beat us for nearly $10 million at the craps table. There are winners in Las Vegas but the math is on the side of the house in the long run.
Steve Wynn told us that if you want to make money consistently in a casino, own it. And that's what we did. However, we tried to offer the best value and the most fun environment in Las Vegas — and everyone wanted to come and get a taste of the action. We delivered on our promise to bring a little bit of old Hollywood back to Vegas and to bring back the good gamble that people loved for decades. When people won, word got out that people were winning big at the Golden Nugget — you can't buy that kind of publicity. The news of winners filled up our casino and exposed one of the most storied brands in the industry to thousands of new customers.
Mark Britton: You've got a wife and three kids, as do I. How do you manage your days? Your vacation time?
Tom Breitling: Family is everything. So much good comes from family, and the birth of my kids brought to my life a sense of purpose I'd never experienced before. I became both the teacher and the student. In 2016, I wrote a life plan to find new balance in life and make sure I had my priorities straight. My wife and three kids are the centrifugal force of my life — and my primary goal in life is to inspire them, have fun, do really cool things, commit to things 100 percent, and to always do my best and do the right thing.
My life balance has changed a lot since my 20s and 30s. I do my best to stay organized with my portfolio of investments and my call list each week. I work out four to five times per week to stay healthy. As a family, we always plan two to three great trips each year that we can look forward to. It has to pass the test of being something really cool and learning about the world. Travel is my dopamine.
Mark Britton: Given that you're a serial entrepreneur and have dealt with a lot of lawyers, including me, over the years, what's your best advice to lawyers on how to win and keep clients?
Tom Breitling: Life is about many things, but three key areas are people, timing and trust. The Expedia deal, and being a part of the Expedia family, taught me a lot as a young entrepreneur. In my opinion, the best lawyers I have dealt with worked hard to understand us, including our mission and our goals. They made themselves available, provided tremendous value (you get what you pay for), and established trust with our team.
My advice to lawyers is to understand that there is no profit potential without risk — so you have to identify what your risk tolerance is and look at the quality of your clients. Select good clients, build trust with them by delivering on your promise, and learn to deal with a changing environment — because the only constant in this world is change.
Mark Britton: What's the worst advice you've ever gotten?
Tom Breitling: To not trust my heart and to let others define what is the right thing to do. You have to decide this for yourself. I made the decision to move to Las Vegas while standing on a frozen lake in Minnesota in 1992. Many people told me that Las Vegas was not the real world. But to me, it was a land of opportunity. It was an exciting place of creativity, and it summed up what I was all about — travel, entrepreneurship, art and entertainment. I left my dream job of sportscasting to enter a new world of opportunity.
Being Your Own Artist
Tony Bennett told me a few years ago that "entrepreneurs are the artists of the future." I've never forgotten that, and I guess I wanted to be my own artist. Life is filled with chances and opportunities. You can either take advantage and make something of them or fail to recognize them. Calculate the odds. Take a chance. Believe in yourself. Trust your heart.
Join Mark and Tom at Lawyernomics in Las Vegas, April 19–22. Early-bird pricing is available until February 24.
Attorney at Work is a media sponsor of Lawyernomics 2017.
Illustration ©iStockPhoto.com; photos courtesy of Tom Breitling.