I'm sure you've heard it by now: that maniacal and wildly optimistic sentimental dirge of holiday music. The annual buying season has swooped in on the crest of a decent economy. You're probably wondering what in the heck you're going to get that special client who deserves a decent gift. Since tickets to Turks and Caicos are probably not gonna fly, consider these suggestions — several from Analog Attorney columns published this past year.
And, just because we love you, some of the manufacturers here offer exclusive deals for Analog Attorney readers. Just use the coupon code when shopping, or click the provided link.
Inventery's Pocket Fountain Pen in Onyx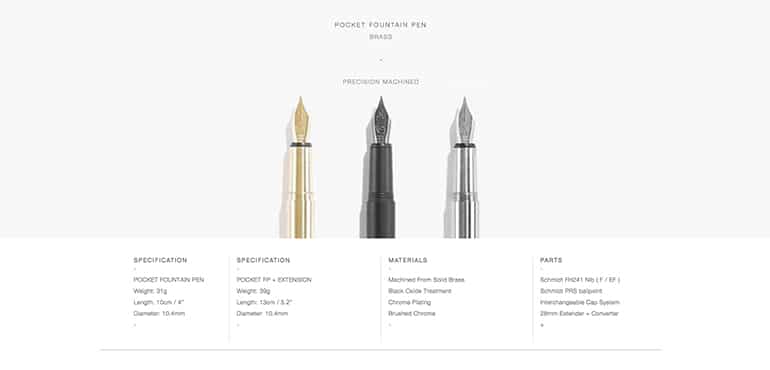 I received my Inventery pen back in May and I've been using it ever since. It is sleek, heavy, brilliantly machined and works wonderfully. Inventery engineered this pen to have options. You can use a clip, remove a clip or put it on a keychain. The cap screws onto the back-end of the 100 mm barrel so when you're using it, the pen is full sized. It comes with an extender so if you want the pen to be standard sized all the time, you can. It has a universal stylus cap for touch screens, and it arrives with nine ink cartridges.
Price: $135. Level up: Add their leather pen sleeve, $25, or construction notebook, $18.
For 25 percent off, use this coupon code: ANALOG25.
Levenger Freeleaf Legal Pads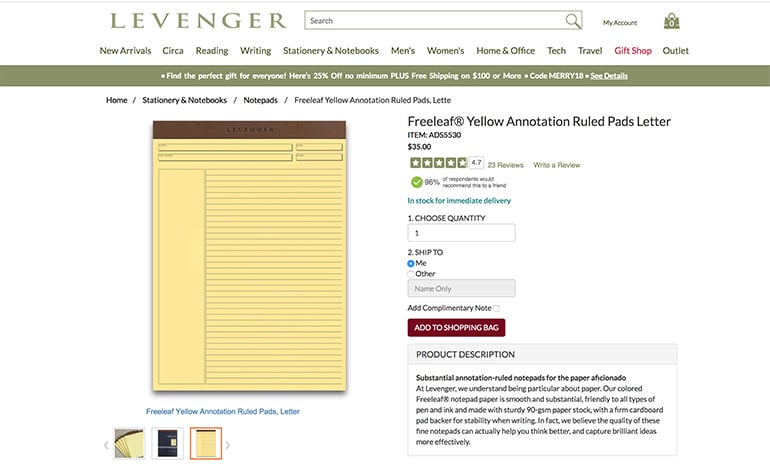 I searched a long time for the perfect legal pad and these brilliant ledgers from Levenger are among the very best. Designed for busy, organized professionals who appreciate quality, they represent all the best design someone could find in a legal pad: perforated pages, quarter-inch ruled lines in gray so they're easy on the eyes, a stiff heavy back so they won't bend, and heavy acid-free paper that archives well. Each page's preprinted layout emulates the classic Cornell note-taking style, though it is missing the summary box.
I've reviewed a number of notebooks and legal pads in this space, and they are almost all very good, but my everyday carry includes one of these in my briefcase and one on my desk because they are simply outstanding artifacts of useful design.
Price: $35 for five. Level up: Add Levenger's desk embosser, $49.
Inscribe Self's Journal, Pen, Wallet Combo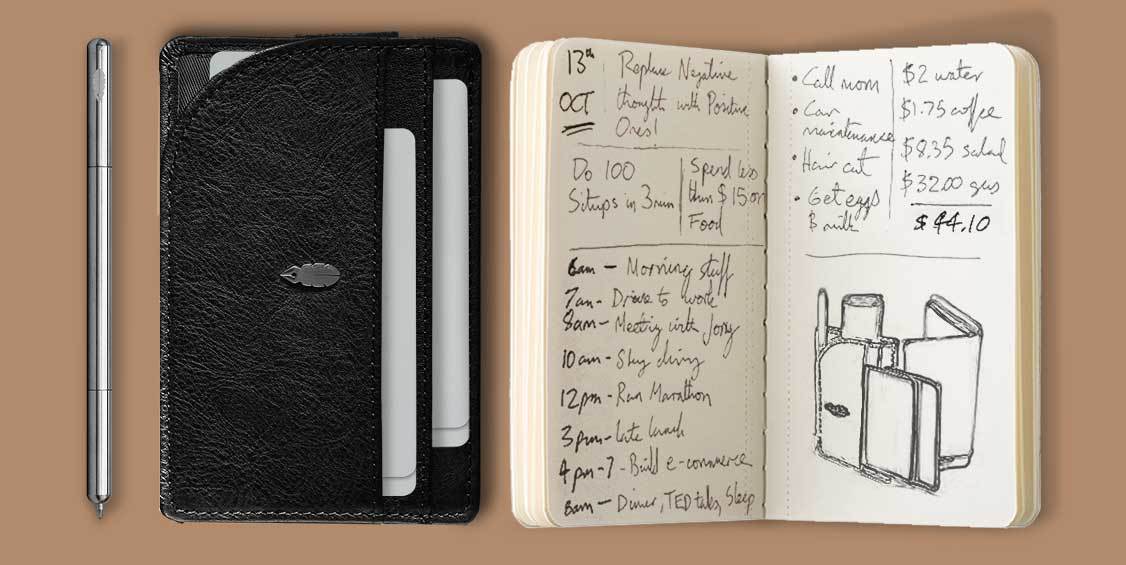 I learned about Inscribe Self entirely by accident when I literally stumbled upon its Facebook page, then into the store and then into a new obsession because this product verges on the perfect. Here's why: Inscribe Self pays attention to all the details, including the tiniest moments in the way someone uses the pen. It has no cap. The pen slides into a compartment in the wallet so you don't need a cap. That tenth of a second required to uncap a pen before I write something down may not add up to much, but in the ease-of-use rubric, it removes one-third of the steps needed to notate my most recent genius. Inscribe Self's Journal, Pen and Wallet combo is exceedingly minimal, but it packs a lot of important features. The wallet holds plenty of credit cards, has a pull-tab to keep your cash secure, a 32-page journal that slides its back cover into a slot so it's part of the wallet, and it includes a very nice pen. Also, it fits into a front pocket, a clutch or a jacket pocket without taking up much space. Besides classic black and brown leather versions, the wallet's available in teal or black gold.
Price: $70.
Inscribe Self is offering a special discount to Analog Attorney readers of 15 percent off the entire store with free shipping. Please enter the code: ANALOG.
Book Darts: The Most Analog Gift Ever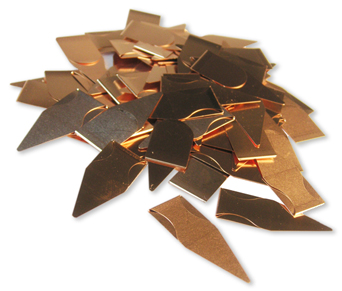 Some analog tools send me over the brink of nerdsmanship and into the abyss of pure analog joy. Book darts are at least three of them.  I first learned about book darts when I was but a boy, reading high-falutin' literature and taking notes. Someone gave me a little round tin of paper-thin brass clips to mark my pages and I've had a tin of them in my briefcase ever since. Some of my books have so many book darts they weigh 3 pounds. If you're new to the club, they are small brass clips that slide onto a page, providing the merest sliver of a metallic marker on the edge of a book so you can find that awesome passage that really knocked you out. And you don't have to use them for books. Pull them a little bit out from the page of a brief so they act as classy signature markers.
Price: $12.99 for a tin of 100. 
The people at bookdarts.com are offering 15 percent off to Analog Attorney readers on any purchase in their store through the end of the year.
Use this coupon code: ANALOG.
For Yourself: Airport Luxury
Let us all celebrate our own awesomeness with a stellar gift. You've done good work this year. In fact, you've performed paradigm-crushing disruptive law heroics and you deserve a killer gift, like a membership in Priority Pass. Priority Pass gives you access to well-appointed airport lounges all over the world. It has been around since 1992, so its service has been forged in the fires of a quarter-century of effort. A tiered membership plan begins at the first level for only $99. You get access to 1,200 lounges in 500 cities, giving you free Wi-Fi, deals and offers on airport services, good bars (with a free drink at most of them), plus a killer mobile app. And the most important benefit, seriously, is the one that outweighs everything else: a guaranteed place to sit while you wait for your flight.
Price: $99 for Standard membership, $299 for Standard Plus. Level up: Go Prestige for $429.
Note: Neither the author nor Attorney at Work have received compensation for these recommendations.