The results are in for Attorney at Work's first podcast survey — including readers' favorite legal, business, and 'just for fun' podcast picks.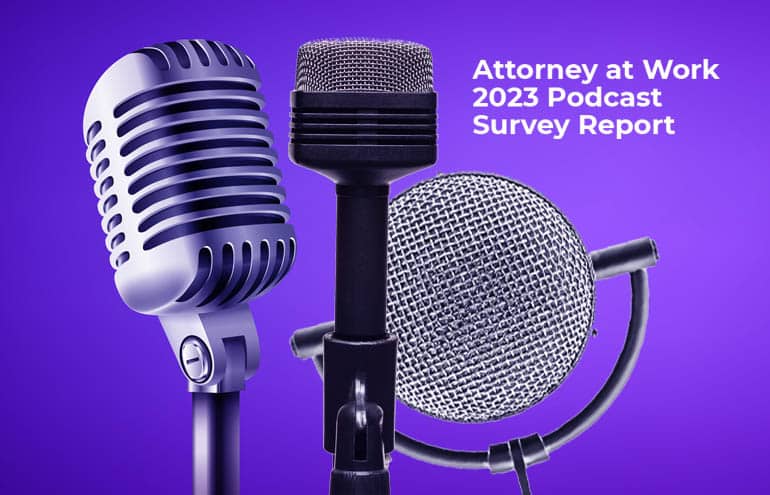 This spring, Attorney at Work conducted its first-ever podcast survey, aimed at gathering reader recommendations for the most useful, informative and entertaining podcasts for lawyers — along with insights into podcast habits. What are you listening to that is keeping you informed and inspired when it comes to practicing law and building your business? What do you listen to for fun? And if you are a podcaster yourself, what's your motivation? Does it lead to new business? Here are the results.
How Many Podcasts Are You Listening to?
When asked how many podcast episodes they listen to in an average week, almost 90% of respondents said they listen to between 1 and 10 episodes, with most listening to 1 to 5 episodes per week (59%). A small but dedicated minority (3%) said they listen to more than 21 episodes each week.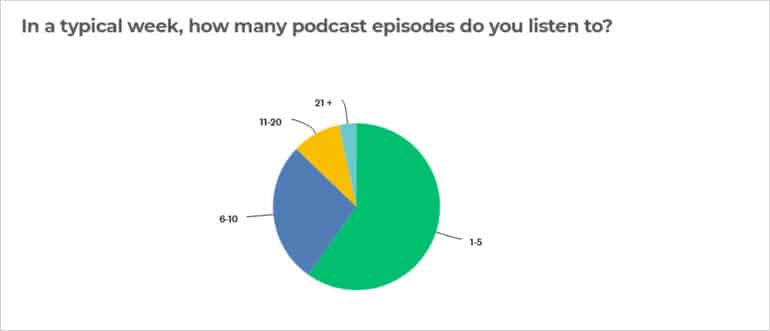 The breakdown was similar for the number of podcasts respondents subscribe to and listen to regularly. The majority reported subscribing to 1-10 favorite podcasts, while most reported subscribing to 1 to 5 podcasts.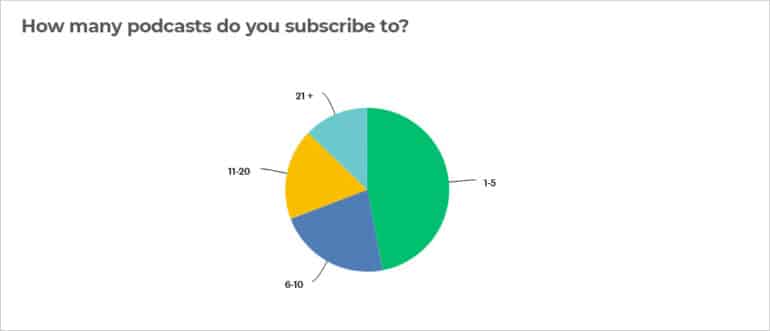 As for the most popular podcast platforms, readers fell in line with overall U.S. user statistics: Apple and Spotify took the lead, with Google, Amazon and Stitcher bringing up the rear. According to Statistica, Spotify has more than 32 million podcast listeners in the U.S., while Apple has 28.5 million.
The Benefits of Listening to Podcasts?
Most respondents told us they mainly listen to podcasts to keep up with news and trends, followed closely by learning ways to be a better lawyer and bring in more business.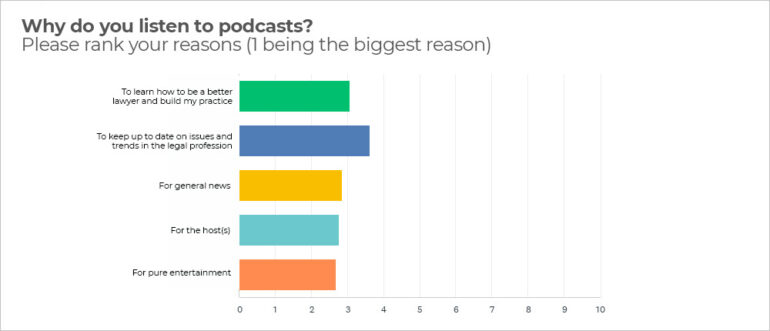 Podcasters Weigh In
In addition to being curious about readers' listening habits, we wanted to take the pulse of the podcasters among us. Out of all respondents, 20% said they have their own podcasts, and two-thirds (66%) of those podcasters said it was part of their organization's overall marketing strategy.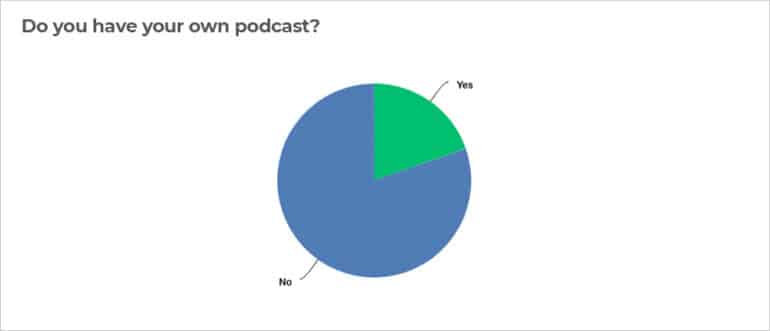 Do their podcasts bring in new clients? Here's how respondents answered:
No – 55%
Don't know – 17%
A few – 17%
Yes – 11%
As with most marketing and media endeavors, the payoff — or return on investment — depends on your goals.
Why Podcast?
We break down the benefits of podcasting into three broad categories: for thought leadership and business development purposes, to earn a bit of cash, and as a passion project.
Thought Leadership and Business Development
Business development coaches often preach to use the medium you are most comfortable with — and some lawyers are more comfortable talking than writing. So, for lawyers looking to build their image and establish themselves as thought leaders, podcasting is a good way to go.
However, producing a podcast as part of your business development strategy doesn't necessarily mean a direct link to getting clients. Putting yourself out there in print or audio helps you establish yourself as an expert in your field, which can ultimately lead to business. Podcasting's advantage is that it establishes an intimate connection with your audience — you are quite literally the voice in their ear. And that should make it easier for potential clients, business partners and referral sources to respect, like and trust you.
As Jay Harrington writes in "Five Reasons Lawyers Should Start a Podcast":
When someone hears your voice, your inflections, your sense of humor and your passion on a podcast, they form a deeper connection with you than they would by merely reading something you wrote. If you can deliver value through their earbuds every week, you can develop rapport. That's critical, because business development is still an intensely personal endeavor. The more directly you can connect with your audience through your thought leadership the better.
Extra Cash — An Additional Income Stream
The most successful podcasters earn millions when they sign on with media podcasting platforms (see Spotify's agreement with Joe Rogan). That's because media platforms are betting that millions of podcast subscribers will translate into advertising dollars. But should legal podcasts expect the same? Perhaps in rare cases — for example, Vox Media recently acquired Cafe Studios, the podcast company co-founded by Preet Bharara, and Crooked Media recently bought "Strict Scrutiny." But, these high-flyers aside, the best your average legal podcaster can hope for is modest advertising or sponsorship revenue to cover studio fees and supplement their day job.
Podcasting as a Passion Project
The inspiration to create something — whether a book, film, video or work of art — usually comes from a deep-rooted passion for your craft, or a particular topic or cause. Some podcasters are born storytellers or budding comedians looking for an audience — and the platform suits them. Some are looking for an audience to convert to their cause, be it political or social, and podcasting is an economical way to build a following. Some podcasters stumbled into it because their passion is trying out new things — and they found they had a knack for it. Some admit to using their podcast as an excuse to talk to smart people and learn more about their craft.
The common thread among the best podcasters is a genuine interest in people — they get huge satisfaction from talking to fascinating people and sharing what they've learned. In fact, giving back — sharing hard-earned wisdom with other lawyers — is a big motivator for legal podcasters.
So, how much time and effort should you spend to produce a podcast? Is it worth it? As with most things, "it depends." And that's a subject for a separate post.
Podcast Favorites
In an earlier post, we announced the 10 podcasts in the legal-focused podcast category: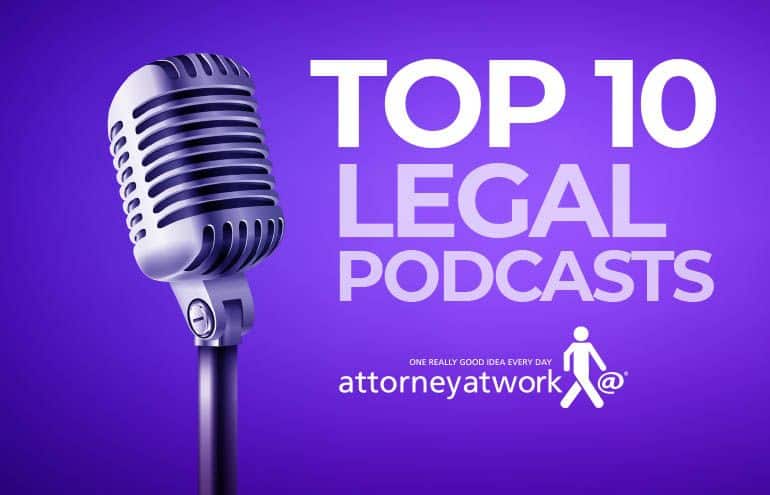 Best Business Podcasts
We also asked survey respondents about the podcasts they listen to for business and marketing advice. While there were no clear winners, these 10 podcasts tied for the first- and second-most mentions.
Just-for-Fun Podcasts
These shows tied for the top three spots in the most entertaining category.
Tied for First Place:
Second Place:
Smartless with Jason Bateman, Sean Hayes and Will Arnett
Third Place:
Thank you to all who participated in this year's survey. If you are not a current Attorney at Work subscriber, sign up for our newsletter to ensure you don't miss any updates.
Image © iStockPhoto.com

Don't miss out on our daily practice management tips. Subscribe to Attorney at Work's free newsletter here >