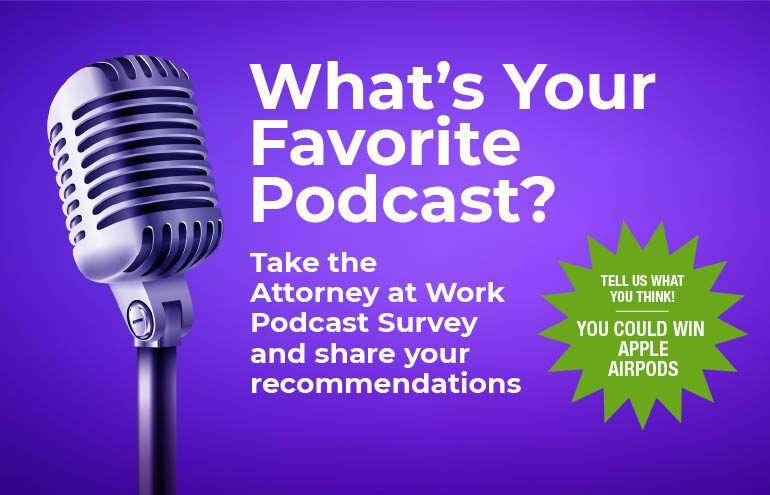 What are you listening to? Complete our survey by April 10, 2023, and you could win a great prize.*
Attorney at Work is conducting a brief survey to gather recommendations for the most useful, informative and entertaining podcasts for lawyers. What are you listening to that is keeping you informed and inspired when it comes to practicing law and building your business? What do you listen to for fun? Who is your favorite legal podcaster?
Hurry, the Survey Closes Soon!
Please take a few minutes to complete the survey here — you could win a nice prize* and you will learn what your colleagues are listening to.
Prizes
As a thank you for completing the survey, you will be entered into a sweepstakes drawing for one of these prizes*:
Apple AirPod (1)
Soundcore by Anker Space SE Earbuds (1)
TRIBIT XSound Go Portable Bluetooth Speaker (1)
Note: Attorney at Work is conducting this survey independently — your answers and any identifying information will remain confidential. Results will only be shared in aggregate form for informational purposes. Recommendations by specific individuals will only be published with permission.
*Sweepstakes Abbreviated Rules and Conditions
The Attorney at Work Social Media Survey Sweepstakes ("Sweepstakes") begins at 8 a.m. CT on February 15, 2023, and ends at 8 p.m. CT on April 10, 2023 (the "Sweepstakes Period"). Open only to legal residents of the USA who are 18 years of age or older. To be entered into the Sweepstakes and qualify for one of the listed prizes, you must complete the Social Media Survey (subscribers may have received an email from AttorneyatWork.com, or you can access survey link here: https://www.surveymonkey.com and include your name and a valid email address as requested. Sponsor is Attorney at Work, P.O. Box 352, Lake Zurich, IL 60047. ("Sponsor.") Sponsor will award 1 Apple AirPod. (ARV: $179). 1 SoundGear earbuds. (ARV: $159). 1 TRIBIT portable Bluetooth speaker (ARV: $39). NO PURCHASE NECESSARY. VOID WHERE PROHIBITED.