Attorney Website Audit: Put yourself in the shoes of a referral and ask yourself, does my website help or hurt my law firm's brand?
If you have followed along with my other articles in this "Protect Your Referrals" series, you understand that your website is the central hub for all the different directory listings and social media profiles you have created and optimized so far. While a prospective client can get a lot of information directly from your Google My Business page, many will still want to see a quality website to learn more about your firm, and more specifically you.
A Client-Focused Audit for Any Attorney Website
Do your best to put yourself in the shoes of a referral and ask yourself: "Does my website enhance my law firm's brand or diminish it?"
Remember, the goal is to "protect your referrals." To do that, you don't need to go through a whole branding exercise and commission a custom-developed website. (Although, to be fair, doing that is a good idea long term.) At this point in the process, making some smart updates to your current site or creating a new website from a quality template you find online could be good enough.
Here are a few things I look for when doing a quick audit of an attorney website:
Does the website look contemporary or outdated?
Does the website work on mobile devices?
Does the website quickly tell me that you are the right lawyer fit for my needs and that you care about my needs?
Does the website show that other people confirm that you know what you are talking about?
Does the website make it easy for me to contact you?
Addressing just these things should be more than enough to protect referrals who visit your website to learn more before placing a call.
Let's take a look at each of these points.
Does the law firm website look contemporary and not outdated?
Because styles on the internet change quickly, if your website is three or more years old, you probably need to take a look at refreshing it.
For example, here is a website that I think looks dated. I don't know this firm and I am not picking on the quality of their legal counsel. There are actually many good elements here I would recommend from a conversion optimization perspective, and it certainly would not be in the top 20 of bad legal websites I have seen. However, the general older appearance of the website may be a red flag to a prospective client. You can see that the colors don't match, it uses an older generic button style, and it has the rotating banner that was popular five years ago (which has actually been shown to reduce conversions). The site also uses stock images of gavels, columns and law books.
Compare the website with this one from the Law Offices of Cheryl David. You can see that while some of the same types of information are displayed, it is done with a strong sense of design, which helps give prospects more confidence.
Does the law firm site work on mobile devices?
The first visit to your website from a prospective referral may be on their mobile device — and this might happen right as someone recommends you to them. On average, we find that law firms we work with have over 40% of their website traffic from mobile devices, with some practice areas reaching over 55%. If you have to pinch and zoom in to read anything on your website, you need a new website. Looking at the same websites, you don't want half of your site to disappear on a mobile device like the one on the left does below. You want some design elements to change to make your site easier to read and navigate on a mobile device, like the site on the right: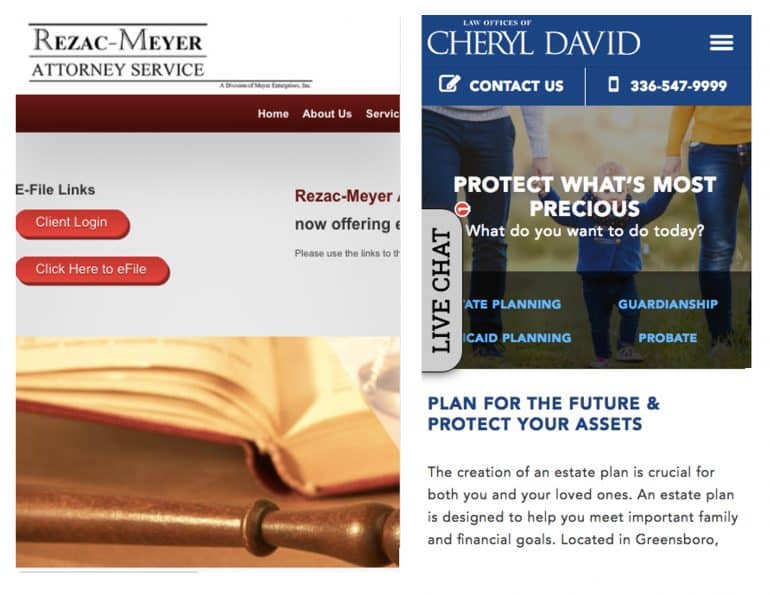 Does the website quickly tell me that you are the right lawyer fit and you care about my needs?
Your homepage is usually the most viewed page on your website. For many attorney websites, the homepage has either too little content or reads like a biography of the attorneys' greatest accomplishments. While you should certainly be proud of your accomplishments, the homepage is not the right place for most of them.
Instead, it should quickly tell exactly what type of law you practice. If you handle a few practice areas, it should be obvious to the referral visiting that you handle the type of issue they are facing. People who find the courage to ask a friend or colleague to recommend an attorney usually have a big problem they need to solve. This could be their first time reaching out to an attorney. The essential thing to remember is your site should speak to that problem and the solutions they seek.
Typically, a well-written homepage will start something like this:
Here at Smith, Johnson & Doe, we pride ourselves on helping our clients navigate the confusing terrain of divorce. We understand this can be a complex and difficult time for you and your family. Our attorneys take the time to get to know your unique situation and help you understand the options you have to solve your problem.
The point is to speak directly to the emotions your prospects are feeling while visiting your website:
If they are seeking a divorce, their emotional state may be characterized by frustration, fear and angst.
If you help entrepreneurs starting a new company, on the other hand, they are likely excited and looking to move forward.
When writing your homepage copy, use an abundance of emotional words; it will help prospects feel connected to your firm.
People purchase based on emotion and then justify their purchase with logic. This is why you should move most of your accolades to the profile pages.
When people feel you understand them emotionally, they will be more likely to convert into an actual client.
Your website is the first or second encounter that most people will have with your firm. Use it to give them the emotional assurance that you understand their needs, and let them move to the logical, research part of the sales cycle on their own.
This ties the emotional assurance to your overarching brand to make a stronger association in the prospective client's mind between the person who referred them, your firm and meeting their legal needs.
Here are some examples of good attorney website homepage copy:
Does your law firm website show me that other people confirm that you know what you are talking about?
You already have a leg up on the competition because a prospective client's friend or colleague mentioned your name. You can help this positive perception by showing "social proof" on your website, too. I talked about the power of online reviews in a previous article in this series, but if your state bar allows it, you should include a couple of testimonials on your homepage.
You can also include logos or badges of organizations you belong to, which may help the prospects justify that you are the right attorney for them. Member of your local area bar association? Include the logo. Do you have an A+ Better Business Bureau rating? Include the code for the badge that BBB provides. Do you have a positive Avvo rating? You can include that badge, too.
As I said above, consumers tend to buy on emotion and justify on logic. Social proof or third-party endorsement helps provide the logic justification for the prospective client.
Does your site make it easy for me to contact you?
If you've done all of this work, the referral who is visiting your site should be feeling really confident. Now you have to make it easy for them to contact you.
In the past, you could get away with placing your phone number somewhere in your website's footer text, and prospects would take the effort to find it and call you. This is not the case anymore. The way consumers want to interact with local businesses has really fragmented. Based on their preference, where they are sitting right now, or the privacy they need, they may want to engage in other methods besides a phone call to the firm.
Later, once you sign them as a client, you can move the communication to your preferred process. At this point, though, you are trying to get someone to hire you, so you need to meet them where they are ready to communicate. I recommend making it very easy to see the various ways to contact you by putting the options toward the top of your site. These options should include:
A phone number for calling you.
Text messaging information.
Live chat, preferably manned by a live operator.
An online form they can fill out and submit to you.
The good news is that you can outsource these initial conversations. Most of the really good providers that offer call services also offer most or all of these methods.
Some law firms take things a step further and allow clients to use online scheduling tools to book appointments with them.
Other Key Website Pages
In addition to the homepage, a law firm website should, at a minimum, have pages that talk about the practice areas the firm serves, pages that talk about the attorneys at the firm (profiles and bios), and a page that tells how to contact the firm. Other pages you may want to add are Frequently Asked Question pages, downloadable resources and maybe a blog. Unless you are extremely passionate about a topic you want to blog about, though, a blog is the last thing most law firm websites need.
Next time, we'll talk about the content on your key website pages: attorney bios, practice area pages, and how to set up your contact page.
Illustration ©iStockPhoto.com
Catch Up on Mark Homer's Digital Marketing Series
So far in this series on internet marketing for law firms, we've tackled:
Subscribe to Attorney at Work
Get really good ideas every day for your law practice: Subscribe to the Daily Dispatch (it's free). Follow us on Twitter @attnyatwork.