Attorney Noble McIntyre shares best practices for rolling out the welcome mat for new clients. First, tips for law firm telephone etiquette.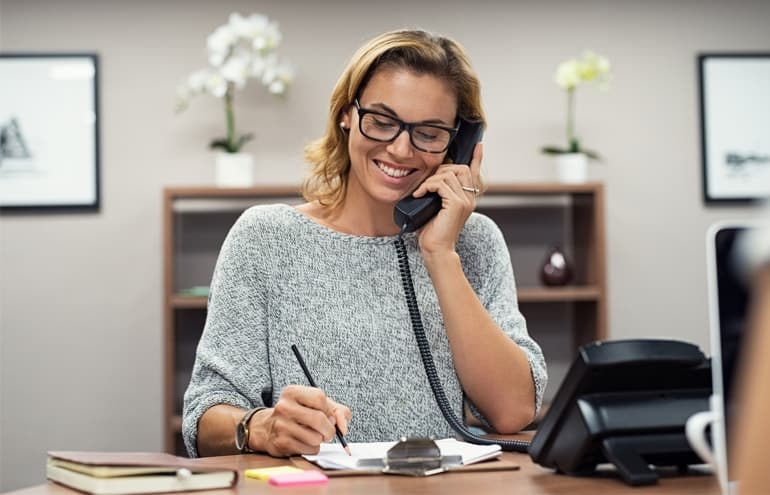 Once someone contacts your law firm, everything — from the receptionist's demeanor to the conference room decor — can affect whether that person will sign on as a client. So does your practice project a welcoming image or are you sending a different message to prospective clients?
Until new clients sign on that dotted line, they are looking for reasons why your law firm is — or is not — the right fit.
Some things you can't control (your location or area of expertise, for example). But why let the things you can control trip up your efforts to get new clients?
In all situations, one thing is critical: You don't waste clients' time. That includes telephone etiquette.
Best Practices for Telephone Etiquette
As a society, we have become accustomed to having everything right now, and legal representation is no exception. Automated phone answering systems can raise time barriers, frustrate callers and make your practice seem impersonal. At one time or another, we've all had to call some massive corporation and pulled our hair in frustration at the maze of phone prompts it took to get a human being on the line. Remember that each phone interaction with your firm will leave the client with an impression: positive, negative or neutral. If callers get an automated message that instructs them to "Press 1 for this person and 2 for that person," it may be a big turnoff.
If you're a solo practitioner or part of a small firm, you might feel you need to use an automated answering service to save some money and human capital, but it's worth the extra money to have a real person answering the phones, taking messages or politely directing callers to the appropriate party.
Here are a few telephone etiquette best practices:
Answer before the third ring. This is a common customer service technique, and it really does have value. People are impatient; they like to know that their calls are at least being acknowledged, even if you can't talk at that moment. Before the third ring, someone should answer, if only to ask the caller to please hold a moment, or the call should be promptly redirected to an automated system.
Make sure the person who answers has a warm, friendly demeanor. It should go without saying, but all too often it doesn't. "Hello, [law firm name], this is [answerer's name]. How may I help you?" is easy and direct, provided it's accompanied by a pleasant tone of voice.
Have your own voicemail greeting. In other words, each person's voicemail should have his or her own personal message, and not be recorded in an assistant's voice. If it's your practice to update your outgoing message each day with your status ("in," "out" and so on), be sure that it's current every day. It's sloppy to have a vacation message on the 15th that says you're returning from vacation on the 12th! Also, make your greeting short and pleasant. Indicate when you'll get back to the caller and then follow up when you said you would.
Try to avoid a runaround. Clients can understandably be frustrated by being transferred from a receptionist to an assistant to the lawyer's voice mail. The fewer steps in the process, the better. Your clients' time is as important to them as yours is to you. Effort should also be made to prevent callers from lingering on hold while the receptionist or assistant is on another call.
Train your receptionist in "who's who." It's not enough that your receptionist has a pleasant voice and nice manners. He is often your first line of inside sales the moment the phone is answered, even if you have dedicated "intake" staff. It's crucial that the first person who answers a call knows enough about your firm to give smart, worthwhile answers to anyone on the line. That requires knowing the firm's practice areas and which attorneys handle which kinds of cases. It's also important that a receptionist is familiar with the clients and their names. Especially in a solo practice or small firm, people like to feel there's a personal connection. Even if that's not the reason the clients chose your practice, it's definitely a nice touch if the receptionist has an idea of who they are when they call. This means correct pronunciation of names and a simple understanding of the nature of their case. Rather than a generic "Please hold," a client would love to hear, "Of course, Mr. Smith. Let me see if [so-and-so] is available."
In the next post, we'll talk about what prospective clients see when they walk in the door, and what that says about you and your practice.
Image ©iStockPhoto.