Managing your law firm's finances can be complex and time-consuming. Checkout these five billing and accounting software time-saving features.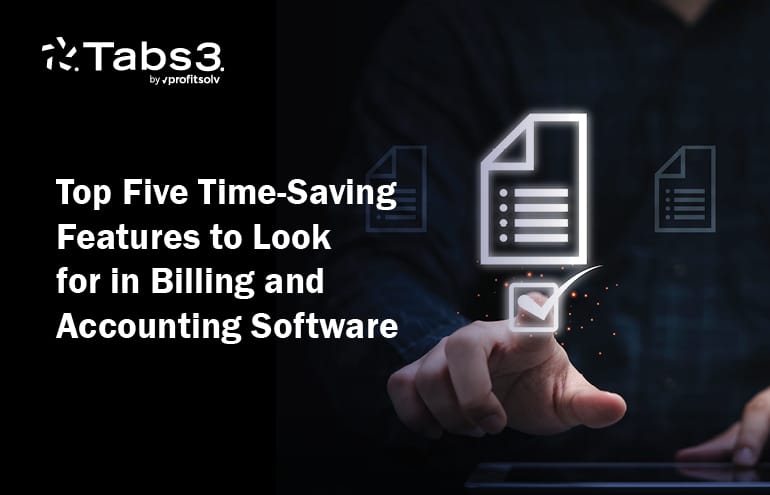 Managing your law firm's finances can be complex and time-consuming. Between tracking billable hours, issuing invoices, processing payments, managing trust accounts, and generating reports, it's easy to feel overwhelmed.
The complexity of law firm accounting also means you can end up with less time to devote to client work. And when this work is done manually, it increases the risk of errors. These errors can lead to compliance issues, client dissatisfaction, and lost revenue.
But there's a way to simplify the process: a legal-specific billing and accounting software solution that allows you to streamline your financial management, save you time, and boost accuracy.
1. Flexible Billing Options
Law firm billing scenarios vary widely from standard hourly billing to contingency fees, flat fees, retainers, and more. Moreover, situations involving multiple payees add another layer of complexity.
Using software or manual systems that don't cater to the specific needs of law firms can lead to inefficiencies, inaccuracies, and even lost revenue. It can also cause frustration among your clients if you fail to accommodate their billing preferences.
Law firms and their clients benefit from software that offers flexible billing options, from standard hourly billing to contingency fees, flat fees, retainers, electronic task-based fees, thresholds, progress billing, and more.
For cases involving multiple payees, the software should support split billing, allowing you to divide fees and costs among two or more individuals. This flexibility ensures your firm can handle any billing scenario efficiently and accurately, improving client satisfaction and revenue management.
2. Electronic Invoicing
Still sending invoices by mail or fax? Today's clients expect to receive invoices electronically, and firms that fail to meet this expectation can experience payment delays and even client dissatisfaction.
Manually drafting and sending each invoice presents its own challenges. It's time-consuming and error-prone. Consider the potential for mistakes when manually entering client information for each invoice or the fallout from forgetting to attach a PDF statement to an email.
These errors can cause confusion and disputes.
There's a faster and more accurate way to bill your clients: using software that automates the email invoicing process.
Seek out software that lets you set up email templates that auto-fill client information. This not only saves time but also minimizes the risk of human error. The software should also let you attach a PDF statement to each client's email, giving them a clear, detailed record of their charges.
Another key feature is batch billing, which allows you to generate multiple invoices to send to a group of similar clients in just a few minutes. This capability can significantly streamline your invoicing process, transforming legal billing from a tedious task into a swift, efficient operation.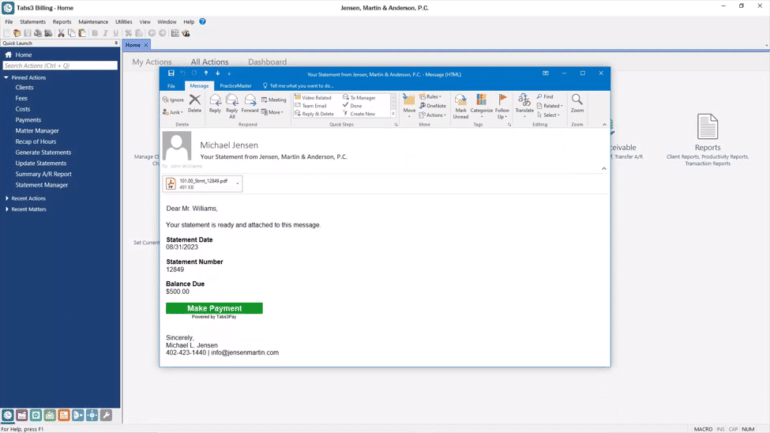 3. Built-in Credit Card Processing
Accepting credit card payments can significantly speed up the payment process, shifting collection heavy lifting to credit card companies.
Here again, legal-specific software solutions give your firm this capability, allowing you to enter the payment in only one place and include a payment link with your emailed statements so clients can settle their bills online.
Look for software that integrates seamlessly with major credit card processing platforms. This flexibility ensures that your clients have multiple avenues to settle their bills, increasing the likelihood of prompt payments.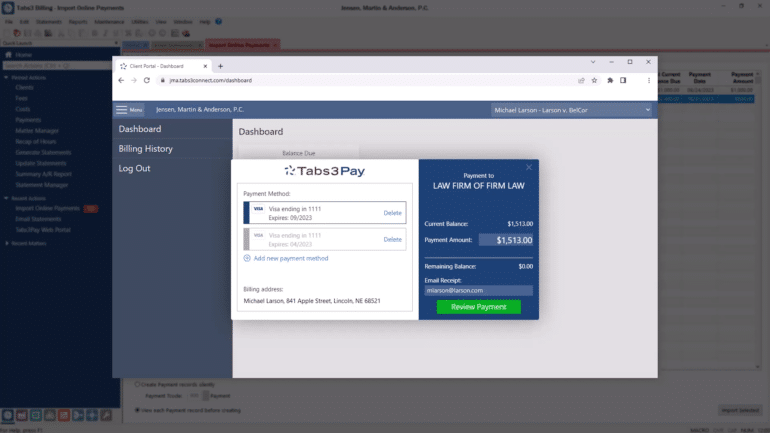 4. Robust Security Features
Given the sensitive nature of legal work and the large amounts of personal data that attorneys handle, it's crucial to have billing and accounting software with robust security features. The latest software includes security features like access profiles that let you restrict the ability of any user to view, enter, edit, or delete information from any client or matter. This ensures that sensitive data remains secure and strengthens the ethical walls in your firm.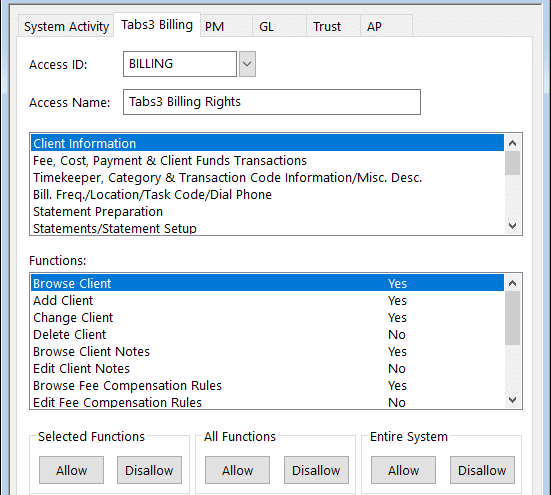 5. Comprehensive Reporting
Having relevant, accurate data at your fingertips empowers you to make strategic decisions that significantly enhance your firm's processes and boost your bottom line.
The ideal law firm accounting software should be capable of generating comprehensive reports that allow you to:
Identify your most valuable clients and profitable practice areas, helping you allocate resources effectively
Spot unbilled transactions and hours, ensuring no billable time slips through the cracks
Review clients that may be causing repeat issues, allowing you to address these problems proactively
Get a graphical view of the firm's trust account standing with an easy-to-use dashboard
Identify any discrepancies or pain points in your billing and accounting processes, providing opportunities for improvement and optimization
Stay on top of compliance, reducing the risk of costly legal issues
By adopting a proactive approach, automating where appropriate, and maintaining consistency in your processes, your billing and invoicing process can go from a cumbersome task to a seamless, efficient one that supercharges your success.
Interested to see how Tabs3 Software can help your firm's billing and accounting needs? Visit Tabs3.com to schedule a personal demo.
SPONSORED CONTENT. Product Spotlight showcases content provided by Attorney at Work sponsors and advertisers. This does not constitute endorsement by Attorney at Work. See Terms and Conditions for more information.