Don't you wish you had a superpower, or at least some handy mobile tools, that would help you get, keep and cross-sell more clients? Well, wish no more. Law firm business development experts are producing apps that can help with motivation, information and even training for all your client-getting activities. (As for your possible personal superpowers, you're on your own.) We asked Deborah McMurray, who recently launched the Velocity app, to give us the scoop on hers and two related apps.
Mobile is the preferred way to access information and stay in touch 24/7, not to mention a great way to learn on the go. And if you can sift through all the app-noise, you can find good apps to help you focus your business development time and attention on landing that new client. Recently David Ackert, Bill Flannery and I gave a webinar that introduced three apps we were separately involved in creating, each one designed specifically for lawyers, to help boost their business development acumen.
Here's a snapshot of those apps.
Practice Boomers: Click Play and Grow Your Practice
The iOS app Practice Boomers, designed by David Ackert, has won Legal Marketing Association Your Honor Awards in the U.S. and Canada and is now used by several AmLaw 100 and Canadian firms. It's a training app that provides a robust curriculum of pithy and practical e-learning videos — each five to 10 minutes long — that focus on the strategies, techniques and skills required for effective business development. Its 52-video library includes interviews with lawyer-rainmakers discussing their approaches to developing a book of business. Topics include how to:
Foster prospective clients from your network.
Originate new matters from existing clients.
Access the power players in your network.
Find and maintain referral sources.
Cross-sell more effectively within the firm.
Define your personal brand within your market niche.
Plus, as you improve your skills and step out into the field, you can use the app's "Tracker" function to record sales and relationship development activity. Also, you can assess whether you are spending nonbillable time productively — think Fitbit for business development. You can also use it to build a personal business development plan identifying key objectives.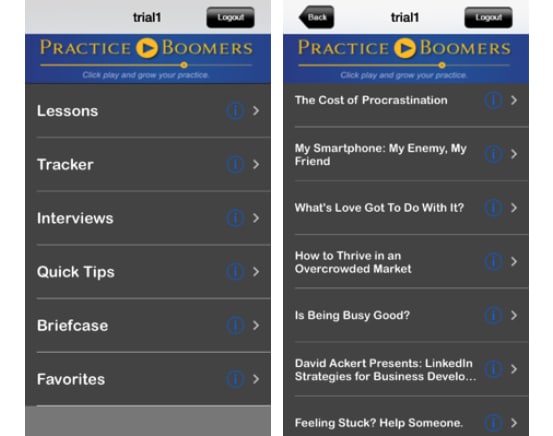 The current version is suitable for iPhones and iPads, and Android and BlackBerry releases are scheduled for this summer. The app is free, but it requires a per-user license to access its features and functions, and it will include live business development coaching at the upper end of the price range. Like anything, the more you invest in it, the more you get out of it.
WJF Institute Training Game
The WJF Training Game app is beautifully simple in its execution, but the science behind it covers decades of analyzing literally thousands of lawyers' business development behaviors. Creator and business development trainer Bill Flannery teaches that, given lawyers' predominant communication style as "thinkers," they are natural skeptics and task-oriented, frequently to the exclusion of relationship accommodations. Seventy percent of lawyers "test" as thinkers, regardless of practice area, gender, geography or age, but only 14 percent of the U.S. population test as thinkers. Therein lies the disconnect — and the reason so many lawyers are uncomfortable in business development situations.
This free iOS app consists of a series of questions designed to coach lawyers on how they can be more effective relationship builders, how business development methods have changed and how it should be approached today.
The chart below summarizes different ways lawyers and firms approach business development. The first column covers the basic model typically used today. Column two harkens to the IBM Solution Selling model, which some more progressive firms have adopted with increasing degrees of success. Column three represents the future of business development in the "new normal" (or, as I like to call it, the "now normal"). It's about the post-financial-crisis client mindset and being more nimble and responsive to what clients really want and need today.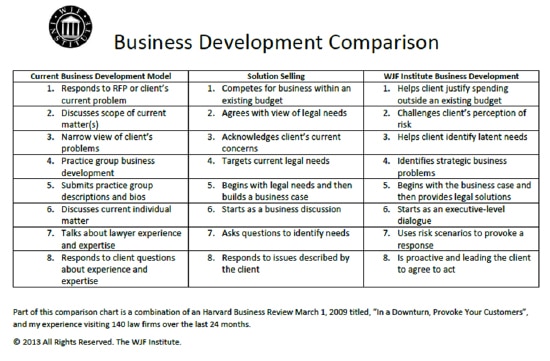 The WJF Training Game is built with column three in mind — giving users various scenarios, questions and answers designed to improve their business development approach. The app offers a fun and useful road map for handling many situations and encounters.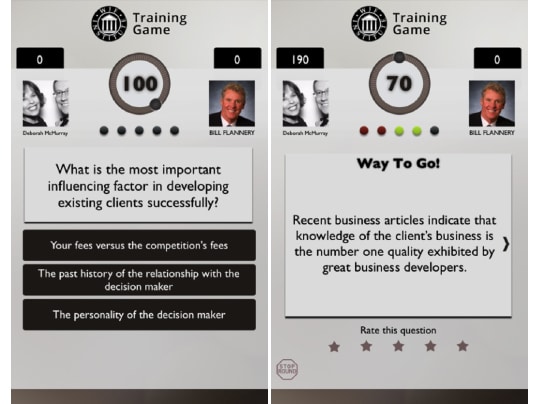 Velocity for Cross-Selling
The surest way a firm can get on a prospect's shortlist for a new deal or case is by presenting pinpointed information about the experience of its lawyers — in a persuasive, relevant and well-organized way. The point is to match a lawyer's experience with what the client is looking for: Enter Velocity, the app built by my company, Content Pilot.
Velocity integrates with your law firm's database of experience. (Yes, a prerequisite is an experience database, so Velocity will make the most sense for midsize to larger firms, where cross-selling is a critical strategy.) It's designed to get you to the data you need, right then and there, to convince the prospect your firm should do the work. Be it at a client lunch, a tradeshow or in a cab while on the phone, you can log in to Velocity from your mobile device and land on the home screen, where you will find these six buttons to take you to the information you want:
xSell (cross-sell) — links to firm clients or matters.
FastInfo — for fact sheets about each practice area, with practice differentiators, strengths, highlights, representative clients and number of lawyers in that practice.
Deals and Cases — for experience lists, searchable by client, lawyer, industry, practice, office and keyword.
Clients — whom the firm has represented in certain industries, practices, offices and so on.
My Practice — links to your team members, with brief bio and full contact info, lists of matters and clients.
News — for clients that you want to follow news-wise, with links to the news pages of the client websites. (This can also integrate with the social listening tool Manzama.)
The goal is to facilitate — anywhere, anytime — a discussion about the work you and others in your firm do.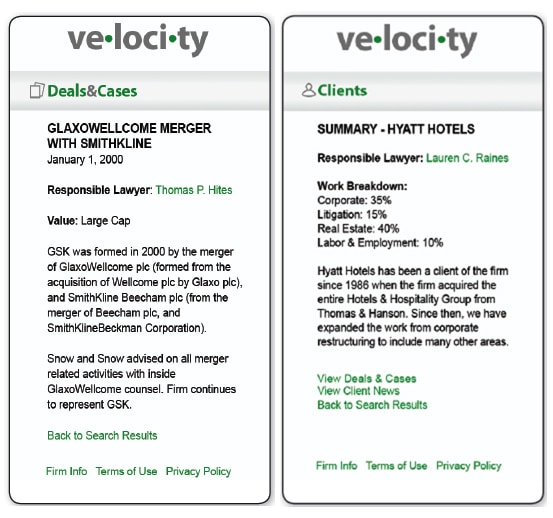 Since it is technically a mobile website that functions like an app, it is device and operating system agnostic. There is an annual license fee for Velocity based on firm size; application customization and integration are available for an additional cost.
It's All About Business Development
The goal behind these apps is to help lawyers learn, be more effective, and leverage their intelligence and experience to achieve more success in business development. That's what it's all about.
Deborah McMurray is the CEO and Strategy Architect of Content Pilot LLC, a strategy, design and technology company serving the legal industry. Read her Law Firm 4.0 Blog and follow her on Twitter @contentpilot.
Illustration ©iStockPhoto.com