Cheap notebooks are durable, useful, often overlooked and most of all worth the money. These are the best cheap notebooks around.
I carry my cheap notebooks around the world. They are my coffee coasters, fly swatters, souvenir keepers and artboards. There's also a Baron Fig Confidant in my bag for my most personal journaling and just because they make me feel important. My everyday-carry notebooks are made from cigarette butts and hope. I never care about what I do to them because they cost less than a cup of coffee. Which is what makes them so useful, and why they unlock maximum creativity.
Cheap is good. Cheap is vital.
The Best Cheap Notebooks Very Little Money Can Buy
I've used all of these notebooks and carry some of them around with me every day. But just because they are cheap notebooks doesn't mean they're cheap notebooks. Their price belies their quality. That's not to say that every cheap journal measures up. Some fall apart as you walk out of the store. Some let the ink bleed through three pages. Many are just horrible, which is unacceptable.
I love penny-pinching scratch pads, but I still demand maximum functionality and superior user experience.
Which is an important factor in cheap notebooks.
If hipster manufacturers made these journals, they'd cost five times as much, but they're made at scale by enduring global manufacturers. This may lead one to wonder if these pads are manufactured in a way that's environmentally sound, something that is hard to prove. But I'll try. The cheap notebooks listed below are rated according to:
Durability
Design
Paper quality
Line height
Bleed and feather
Cover
Binding
Usefulness
Cost
Environmental footprint
The Problem We Address Is Cost vs. Quality
Ideally, any of these notebooks would be appropriate for your office supply cabinet. You can buy them in bulk and nobody will complain. They're all good.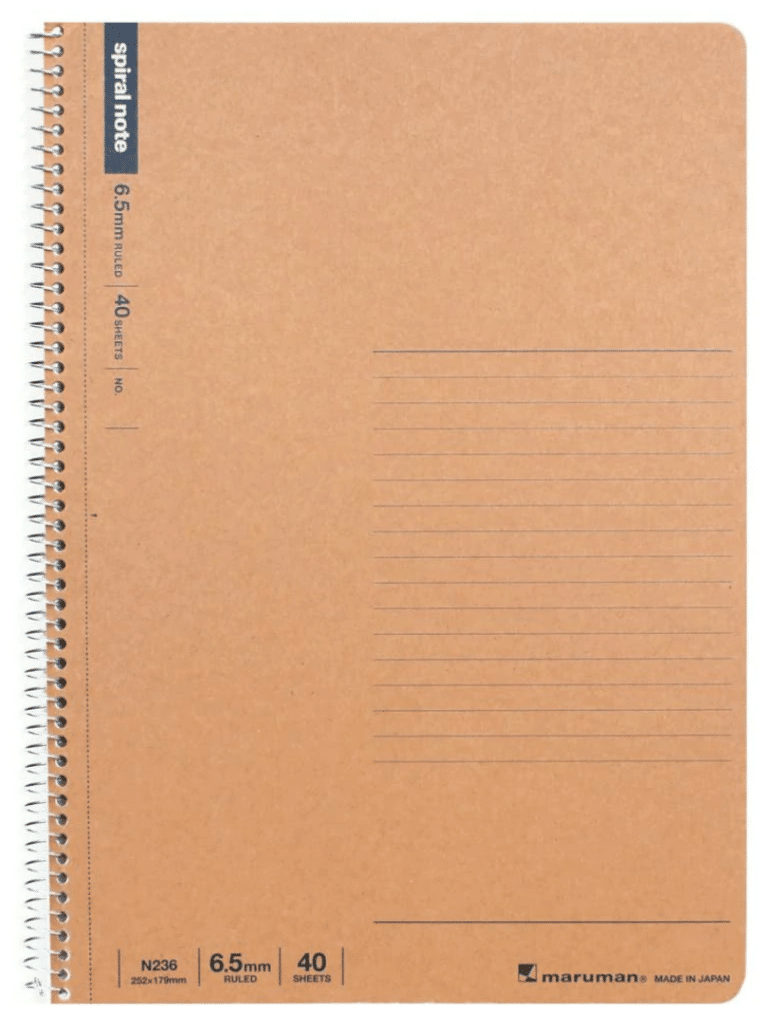 Maruman Grid Composition Notebooks Are Spiral-bound and Perfect
They are the most expensive pieces on this list at around $10 each. But they are made by Maruman, a company that makes the incredibly luxurious Mnemosyne notebooks.
It may seem at first glance like a spiral-bound notebook can't possibly need much design, but you're kind of wrong.
There are choices the manufacturers make that matter. The spiral is the most important feature, and if you are a notebook nerd, you know that brass spirals with fastened enclosures are the best. This means the terminal wire is bent back into the main spiral and fastened so that it doesn't snag your clothes. I know some of you were just triggered into remembering your middle school nightmare of a spiral-bound notebook wire snagging your sweater and unraveling it in front of Mrs. Bowersock's science class, and for that I'm sorry. But it is important, a minor luxury in an inexpensive item.
The Maruman's binding has 50 spirals. This means the notebook stays square after long use — and it means pages turn smoothly and uniformly. The graph squares or dotted grids are 5 mm on a side, slightly smaller than college ruled, which is a plus.
Durability: The chipboard cover can take a lot of abuse. The paper is medium weight and perforated so you don't run the risk of bending the spiral when you remove a page.
Usefulness: No frills and basic functionality, no extras.
Design: The gently rounded corners are a nice touch. The simple cover with minimal info is also very nice.
Paper quality: 70 gsm for a medium weight.
Line height: 5 mm.
Bleed and feather: None. Excellent ink retention.
Cover: Classic brown board, minimal verbiage.
Binding: Spiral-bound with steel wire.
Environmental footprint: Unknown. Maruman offers an "Eco" notebook that uses sustainable manufacturing but how this applies to their Maruman spiral-bound notebook is unclear.
Moleskin Cahier Notebooks Are Cheap!
But the Moleskin Cahier (pronounced kah yay) is my second-favorite cheap notebook. I bought a brick of them a few years ago and still have one left. It's hidden in my desk, because if anyone in my house sees it they will steal it immediately. The Moleskin Cahier is a worker. Its thick paper cover is flexible and soft so you can roll it up without breaking it. If you're a cover doodler, their covers can handle it. The interior is college-ruled, cream-colored paper, and it comes in four sizes — pocket, large, extra large and extra extra large.
Durability: The covers are simple, soft, flexible cardboard in choices of brisk blue, black, kinetic pink, cranberry, myrtle green and kraft paper. I use one for a journal and it's got all kinds of coffee stains, tears, rips and grease spills. Still working just fine.
Design: Think simple. Rounded corners are a plus.
Paper quality: 70 gsm ivory, lined, blank, dotted or squared.
Line height: 5 mm.
Bleed and feather: Imperfect. My Pilot Vanishing Point fine-tipped pen impressed the page, and you could see micro bleeding from the other side.
Cover: Soft, flexible cardboard.
Binding: Singer stitching along the spine. Not a great lay-flat journal, but they're close.
Usefulness: The saddle stitching and the soft cover make for a very useful, pleasant-feeling cheap notebook. The flap in the back makes the notebook slightly more useful than some. The ivory paper makes it easy on the eyes.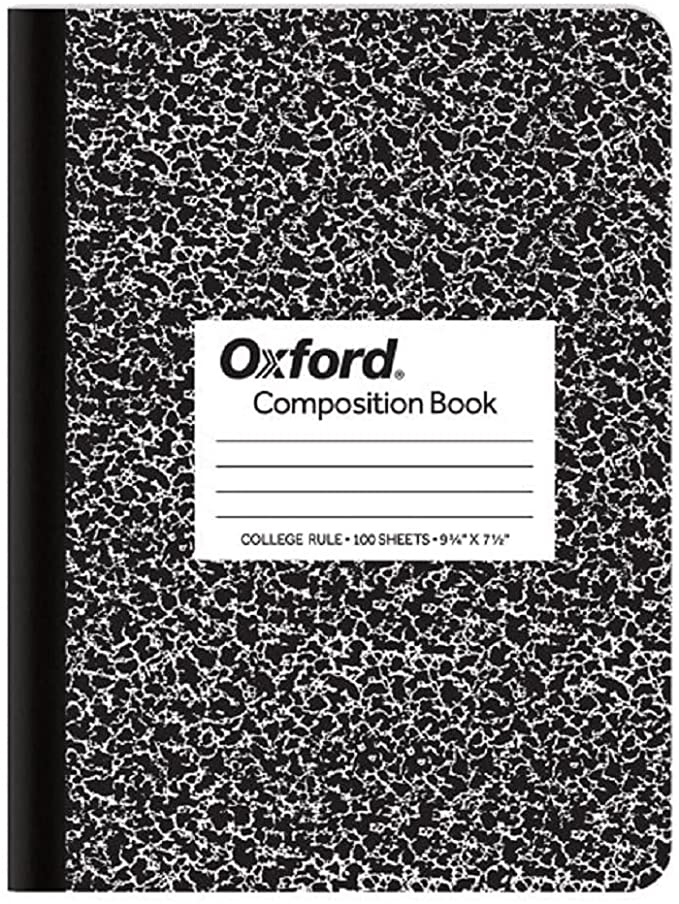 Oxford Composition Notebooks Are the Old-School Standard
Composition Notebooks are the college standard. If you dig through your closet, you'll find one near the bottom filled with bad poetry and an essay about Eudora Welty's well-deserved place in the southern literary pantheon. Oxfords are incredibly durable. They take a beating, and they offer an absolutely no-frills notebook experience. You can get them anywhere and they cost practically nothing.
Durability: Incredible. Those marbled covers with their title square and paper-tape edging are burned into our brains for a reason. They last. But they don't bend as well as some. The covers really are cheap and will crack and warp if abused.
Design: Archetypical. They set the standard for cheap notebooks, sized at 7.5 x 9.75 inches.
Paper quality: Basic.
Line height: 7/32 inches; college ruled.
Bleed and feather: Awful. Not the best choice for fountain pens, but ballpoints and pencils work well.
Cover: Stiff cheap cardboard with a classic black marble image.
Binding: Saddle-stitched. Not a lay-flat notebook.
Cost: $10.99 for four (Amazon).
Usefulness: Basic.
Environmental footprint: These notebooks are manufactured in Brazil. There is no readily available information regarding their environmental footprint.
Cheap Bulk Custom Notebooks, Pocket-Sized on Etsy
If you're looking for smaller, pocket-sized notebooks, I remain torn between two great options. The first is Moleskin's pocket-size Cahier notebooks. They're fantastic 3.5 x 5.5-inch notebooks, but a little expensive for bulk purchases. Smplnotebooks on Etsy, however, are very affordable and easily branded. Their 3 x 5 notebooks are a buck fiddy. They're durable as hell and pleasant to use.
Best Cheap Notebook for Fountain Pens
Cheap notebooks and fountain pen freaks in the U.S. are united in their love for the Caliber notebook from CVS pharmacy — but there's a catch. You have to check the imprint to be sure the notebook is manufactured in Vietnam. Something about the paper makes for an outstanding fountain pen writing experience.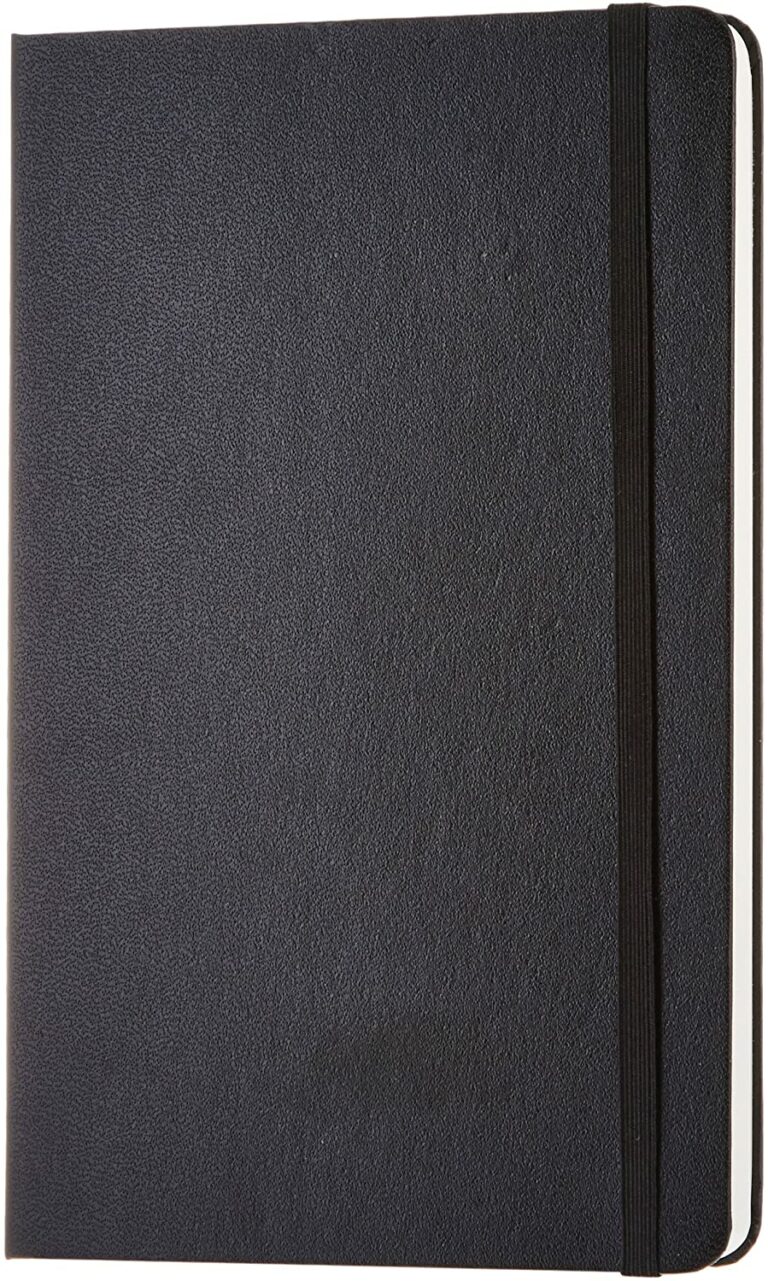 But Wait, I like Expensive-Looking, Professional Cheap Notebooks!
I get it.
You can't walk into a meeting with clients with a CVS notebook like a middle-school nerd. You have to blend.
Amazon has your back with its very inexpensive Classic Blank Notebook with 240 lined, blank or squared pages, an elastic enclosure, and a ribbon. The cover is just flat black cardboard with a slightly pebbled texture. The paper is archival quality and there is an expandable pocket in the back. They are as good as a Moleskin if you're not brand conscious.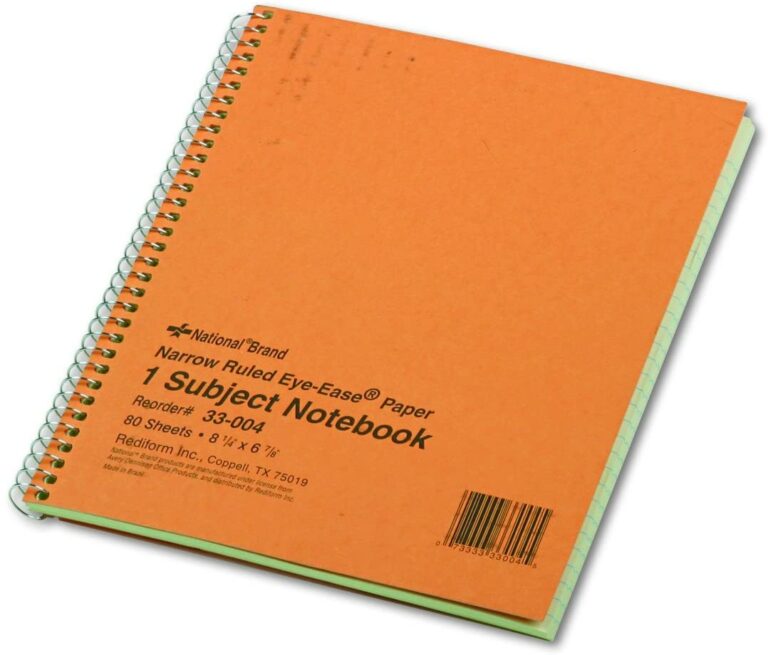 The Best Cheap Notebook of All: The National Brand 1 Subject Notebook
The reorder product number for these National Brand notebooks is 33004, and a lot of notebook weirdoes like yours truly call them by that number. If you find yourself amid an aggressive gang of notebookers, just whisper "33004" and they'll leave you alone. These notebooks tick off all the boxes for the perfect cheap notebook: brown board cover with minimal verbiage; steel, fastened spiral binding with 32 "rings" in the spiral; college ruled; and medium-weight, eye-ease paper that's a faint factory green. Nothing else.
If I could change anything about the 33004, I would round the corners.
Durability: Indestructible.
Paper quality: Excellent; dyed a very faint green.
Line height: 7/32 inches.
Bleed and feather: Pretty damn good.
Cover: Stiff brown board.
Binding: Steel, spiral fastened.
Cost: $16 for four (Amazon)
Usefulness: Are you kidding me?
Environmental footprint: Unknown. Made in Brazil using sun-dried roadkill and old coffee.
I ruin my notebooks and the 33004s embrace my abuse with an uncommon zeal. This is the cover notebook I started in 2017 and finished in February this year. It's been with me as I traveled through the Rustbelt, the Bible Belt, France, Spain and Egypt. It's been decorated, abused, dropped, kicked, lost and bent. It has acted as my beer coaster, a fly swatter and a fan in hot weather. I am actually sorry to see it go, as it's full and I've had to start a new one for my new chapter in the globe-hopping jet-setting life of a literary humorist.
Illustration ©iStockPhoto.com