Clio, the leading cloud-based legal practice management provider, has announced two major feature releases and eight new integration partners. These new product capabilities and integrations directly address the most commonly-cited challenges faced by law firms looking to simplify and grow their practice.
"Our vision is to not only assist law firms in their day-to-day practice management needs, but to significantly simplify their operations and help them grow their practice," said Jack Newton, CEO and co-founder of Clio. "When we ask our customers about their challenges they consistently tell us, 'it's a constant struggle to balance the business demands of running and growing a practice with the professional duties of being a lawyer.' These new features help lawyers take one giant step closer to finding this balance."
Campaign Tracker and Clio Payments break new ground for Clio. They are powerful new tools to help law firms build a better practice and accelerate revenue potential.
Introducing Campaign Tracker
Campaign Tracker is an invaluable tool that will demystify your advertising spend. Track every advertisement's cost and link it to your return-on-investment (ROI), generate new leads, sustain competitive growth and maximize your marketing investments. Firms are easily able to create campaigns that track leads acquired through phone calls or online form submission. Leads can then be tracked through their entire lifecycle, and ultimately billings can be tied back to the lead's originating marketing campaign, allowing for ROI and ongoing marketing optimization.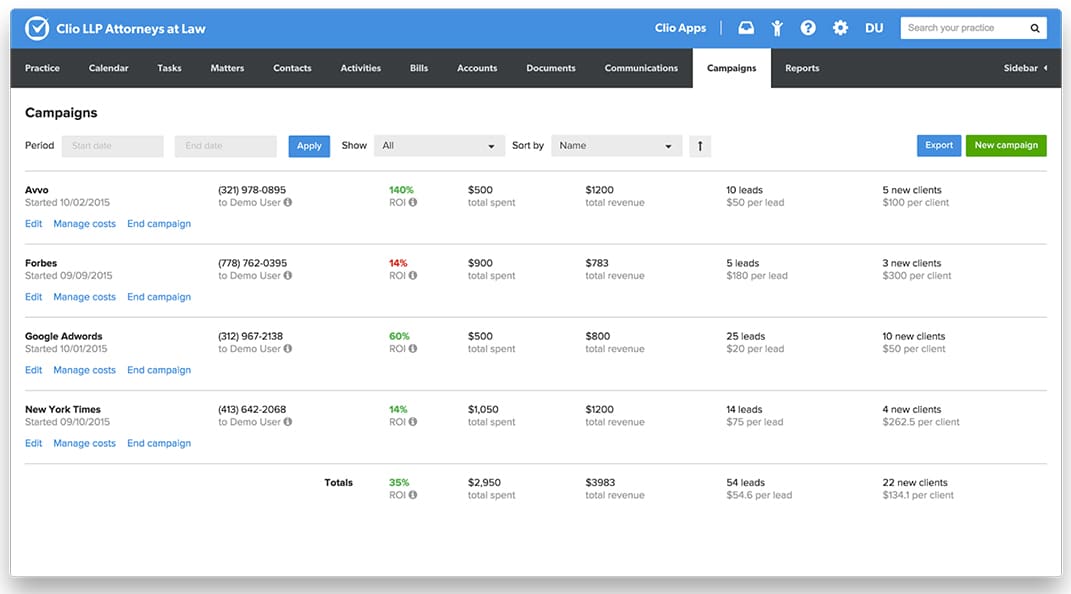 "It's generally accepted wisdom that you know you're wasting half your marketing budget—you just don't know which half," adds Newton. "With Campaign Tracker for the first time within one fully integrated product, lawyers are able to, determine where their marketing budget is generating results. We're giving law firms transparency in advertising effectiveness, the ability to double down on what's working, and dramatically accelerate their growth." Campaign Tracker is ideal for law firms that want to wisely allocate their advertising budgets.
Presenting Clio Payments
Clio also announced Clio Payments, a fully integrated credit card processing platform. Start accepting credit card payments from clients with a few clicks of the mouse. This, coupled with new email-based invoicing capabilities, will provide your law firm with the ability to dramatically improve your cash flow and reduce your debt.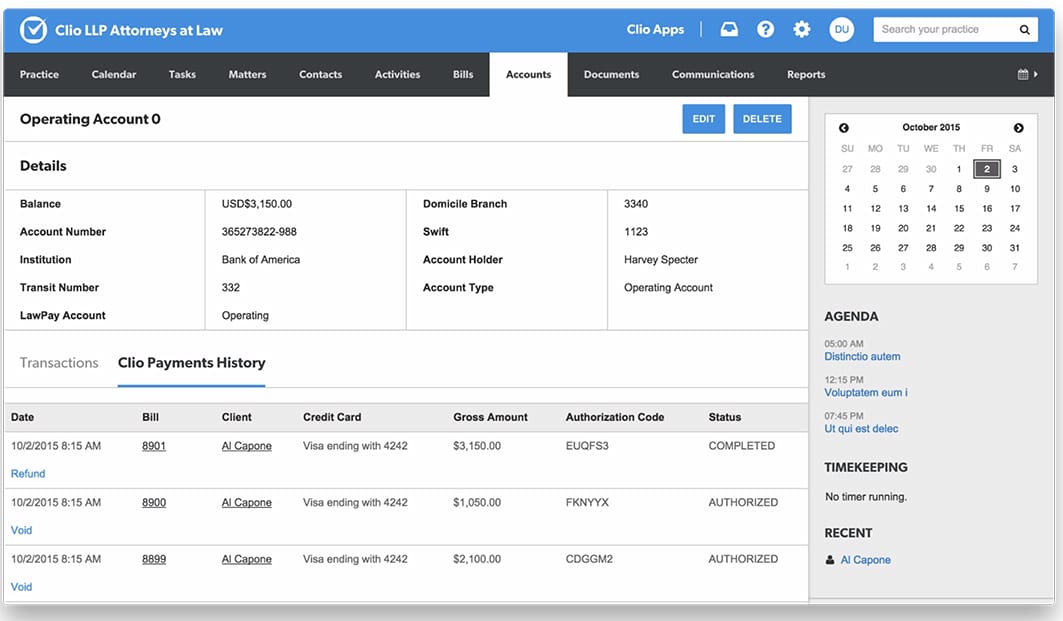 Microsoft Office 365 and More Integrations
Another surprise announcement is Clio's integration with Microsoft Office 365 Business. This integration partner, along with other keystone partners, like Fundbox and Fastcase, round Clio up to 40 integration partners.
New integration announcements include:
Microsoft Office 365 Business – Keeps everything in one place by seamlessly integrating contacts, calendar, and documents stored in Microsoft Office 365 with Clio.
CloudMask – Provides extra security by allowing lawyers to apply their own extra level of encryption to sensitive data stored in the cloud.
CourtTrax – Keeps case files up to date with the latest court filings. Any document that is filed by outside parties will appear as part of the client's matter.
Directive Communication Services – Tackles the growing complexities of digital and personal account management for estate planning by organizing and handling a client's digital and offline personal account directives.
Docket Alarm – Eliminates the need for manually checking court dockets through the push of automatic alerts of new litigation activity, and by the sync of PDF filings with your Clio case folders.
LegalNature Pro – Improves the process of gathering client information, creating accurate documents, and tracking relevant client/matter documents.
My Legal Receptionist – A live virtual reception and answering service for the legal industry that takes calls 24/7, intakes clients, screens callers, takes appointments, and transfers important calls directly to the attorney.
Ruby Receptionist – A highly trained team of friendly and professional receptionists who connect calls, take messages, answer basic inquiries, process intake forms, screen callers and more, all at a fraction of the cost of an onsite receptionist.
With all of these integrations, it's easy to see why people are excited about Clio and its serious commitment to helping a firm grow and simplify day-to-day operations.
Learn about these exciting features at Clio's upcoming webinar on Tuesday, November 17, by registering here.
Or, experience them for yourself and schedule a demo or sign up for a free trial and start making your practice growth and simplification a reality.