Once a year, the College of Law Practice Management meets at its Futures Conference to induct new fellows into the College and discuss issues of importance to the delivery of legal services. This year's meeting took place October 8-9 at Chicago-Kent College of Law. I was fortunate to be able to attend this meeting and want to share my observations.
1. Sidebar conversations stand out. The best part of the College is the quality of the fellows, some of the most creative and insightful people I know. The annual meeting is designed to create vehicles for people — fellows and other attendees — to meet and get to know one another and to spend time informally. These "sidebar" conversations are thought-provoking and the source of much useful information. As part of the get-to-know-each-other focus this year, the organizers created a speed-dating style of introductions. It worked great (in my view, at least) and I met a number of people who I otherwise probably would not have met and who are doing some very interesting things.
2. ABS structure is here. Dan Pinnington did a terrific job explaining the evolution of Alternative Business Structures in Australia, the U.K. and Canada, and highlighted how the world had not ended in Australia, where ABSs have operated for some time. The guild hates ABSs and will fight the idea to the bitter end, but as technology becomes more prominent, law will become a more capital-focused enterprise, and access to capital will become paramount to delivering value to clients.
3. Getting outside the corporate world is important. I live in the world of corporate clients, but the College's fellows span the profession. A key part of the College is its relationship with the Legal Services Corporation. There is a huge amount going on in the Access to Justice world, which lacks the resources to meet the needs of its service population without effective use of technology. The annual meeting is about the only place I hear about the creative use of technology and can then engage in discussions about how those advancements can be deployed in the corporate world I inhabit.
4. Dan Katz is doing some really cool stuff at the intersection of analytics, design and law. Dan Katz has been a professor at Chicago-Kent for about six weeks. But he carries on the school's passion for technology and its role in law, adding design and delivery as key elements of legal education and practice. In his presentation about Fin (Legal) Tech (law's future from finance's past), Dan spoke briefly about the development of students better-suited to meet the needs of the 21st century, drawing on IBM's graph of T-Shaped Professionals (see Figure 1— wide breadth of knowledge and narrow depth of expertise). Then he showed the application of that concept to legal education (see Figure 2, courtesy of R. Amani Smathers). Anyone contemplating legal work at the intersection of law and data needs to find a way to work with the folks at Chicago-Kent.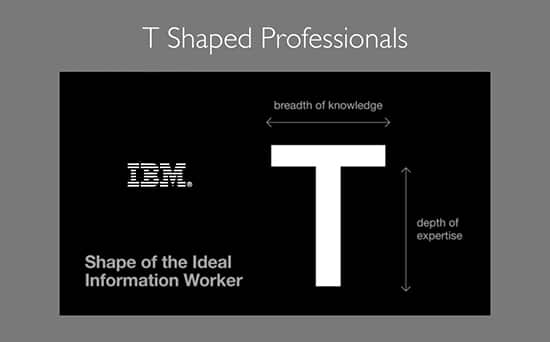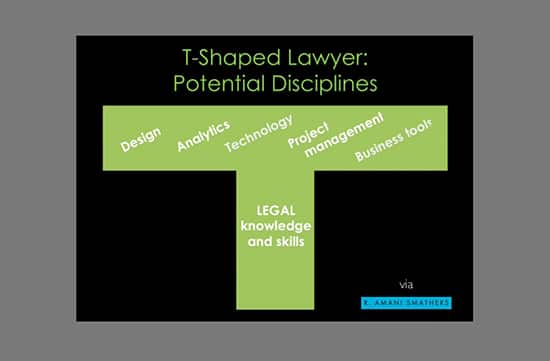 5. The impromptu "after action assessment" was fantastic and should be used for all organizations' meetings. As I've written in my book and in articles, after action assessments are great tools and should be standard in every lawyer's practice. So when the conference ended early, I was pleased the organizers used the extra time to elicit audience feedback. Among the topics raised was the decision by the College's judging panel to not award an InnovAction Award this year. As one of the InnovAction judges, I was happy to explain our thinking, and I think the dialog provided some insight into the process that the attendees found useful. There were other comments and suggestions that I think will make for better conferences in coming years.
The College of Law Practice Management is a terrific organization and its annual Futures Conferences have, for me, always provided interesting takeaways about what's coming in our profession. When you leave a conference with a bunch of good ideas, the conference has been valuable, and that has always been the case. Thanks to the conference organizers, Mark Tamminga, Dan Pinnington and Andy Adkins, for their hard work and effort.
View Dan Pinnington's and Dan Katz's Futures Conference presentations on "Rebooting the World of Legal Services" here and here.