A key reason companies such as Apple, Nike and Amazon are successful is that their brands are ubiquitous. They inject themselves into platforms, channels and conversations across the spectrum of communications. They use traditional advertising, social media promotion, content marketing, public relations and other marketing tactics to reach wide audiences. In other words, they use a multichannel approach to marketing.
As a result, when consumers need a phone, athletic shoes, or, in the case of Amazon, almost anything, these brands are top-of-mind as the obvious choice. Of course, they need to make and sell quality products, but once they've checked that box their growth is driven by brand awareness and affinity.
Consider, on the other hand, what would happen if those brands merely relied on a website to inform consumers about their products. It's not much of a leap to surmise that they wouldn't have such success with that strategy. No brand can sit back and expect consumer demand. They must reach people where they are — and today they're spending time seeking information and entertainment on digital channels.
Every lawyer is a brand, too. Yet many seem to believe it's enough to create a website bio and wait for the business to start rolling in.
That's a recipe for anonymity. As well-crafted as your attorney bio may be — and it's important to have a great bio on your firm's website — it's not nearly enough. Prospective clients aren't online searching for bios. They're seeking out answers. They're looking for solutions. They're searching for a story that resonates.
To be visible to those prospects, lawyers must, like Apple, Nike and Amazon, adopt a multichannel approach to marketing online.
Think Outside the Website Box
To most prospects, the internet is one big website and Google and social media are its two primary filters. When someone has a question about a legal issue or needs a recommendation for legal counsel, they rely on two resources: Google's search box and their friends on social media.
Those are the places that people are spending their time and attention.
The internet is also a place to indulge niche interests. For a businessperson, this means finding and frequenting websites that highlight ideas, insights and information that inform business decisions and keep leaders at the cutting-edge of their industry. In an ideal world, a law firm's website would be part of businessperson's curated must-read resources. In reality, most firm sites aren't. Rather, niche interests are most often satiated by industry-focused, journalism-oriented outlets. As hard as law firms work to gain clicks and eyeballs, they're in a wholly different business, so it's hard to compete.
The challenge for lawyers hoping to gain visibility is twofold:
First, understanding who your audience is. This typically requires having the courage and clarity to narrow in on a specific group of people (for example, CFOs) operating in a specific industry (for example, the automotive industry). Why? The best way to gain visibility online is through the creation and dissemination of thought leadership content. And if you're trying to break through the noise with content, it must be tailored and contextualized for a specific audience, not watered down for a broad, general one.
Second, identifying where your audience goes looking for information. This gets to the heart of why you must expand your brand beyond the firm's website. If you're not identifying your audience's trusted sources of information — from media outlets to industry association websites to social media platforms — and injecting yourself into the conversation, you'll be largely invisible online. And without visibility, it's impossible to create the awareness and trust required to be considered for new work.
Your Website Bio Should Be the End-Point of a Digital Trail
Outside of the very high end of the market, most consumers of legal services are relatively uninformed and unsophisticated about legal matters. This includes decisions about hiring legal counsel. It's not an everyday occurrence, and hardly anyone relishes the idea of lawyering up.
As discussed above, their first step in the journey is typically to jump online and start wandering in the internet wilderness. Your job is to provide them with a trail of breadcrumbs that leads them to your website bio and, ultimately, a new engagement.
The breadcrumbs should consist of articles, blog posts, videos and other forms of thought leadership content you create and publish online. Ideally, you'll publish most of your content on platforms other than your firm's website — in the places where your target audience consumes information. Reviews on sites like Avvo are breadcrumbs that serve as social proof. The posts you share on social media are also breadcrumbs.
Done right, each breadcrumb leads to another. For example, you should include links to other thought leadership you've created (see what I did there) in every article you write. Your byline in guest posts should link back to your website. Everything you publish in the marketplace of ideas should draw prospects deeper into your story.
As a lawyer-turned-legal marketer, my experience is not exactly on point, but I think the principles are applicable and the knowledge is transferrable, so please indulge me.
My audience — lawyers and legal marketers — is pretty defined. And I know they come to Attorney at Work for ideas and inspiration. So I publish here frequently. Even among Attorney at Work's narrowly defined audience, I know my content is not for everyone. But a not insignificant number of lawyers and legal marketers who hang out here are interested in the types of topics, including thought leadership and content marketing, that I typically address.
Some percentage of this post's readers will click on one of the internal links I've provided (leading them to an article on my blog or something else I've written on this platform), or check out my website or one of my books via the links in my byline blurb below. After pinballing around, some people will end up checking out my website bio and LinkedIn profile, or listen to my podcast. They might sign up for my email list. Occasionally one will reach out to discuss business.
See how this works?
Now You've Guided Them in the Right Direction
If you want to engage your audience online, you can't passively sit by and wait for prospects to stumble on your website bio. You need to funnel people in the right direction. You need to be visible, from Google to social media to relevant niche platforms, in places where your audience is searching for answers. You need a digital footprint, yes, but better yet a digital trail that guides your audience where you want them to go.
In this sense, your website bio is not your bio; it's just one component part.
Your bio is your entire body of work spread across the expanse of the internet.
Ideally, your body of work functions in concert, provoking interest in what you have to say, building trust in your ability to address specific problems, and directing your audience to the final destination of their digital journey: your firm's website and a new client engagement.
Illustration ©iStockPhoto.com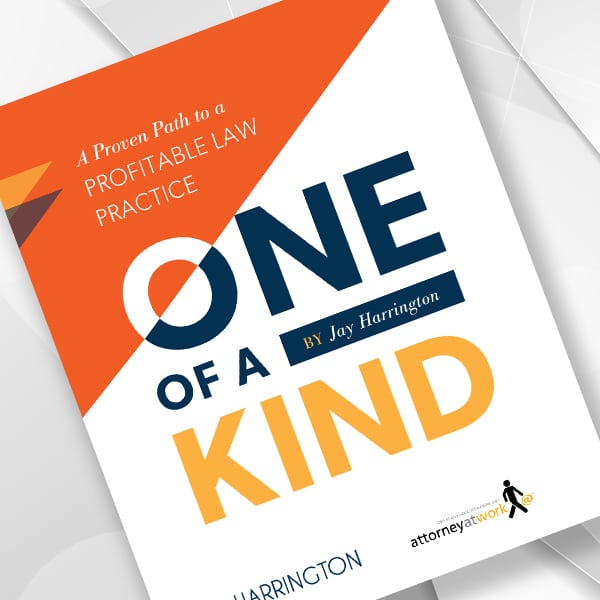 ONE OF A KIND
A Proven Path to a Profitable Law Practice
Almost every lawyer wants to command higher rates and attract more clients. But many are stuck pursuing ineffective strategies. Others don't even know where to start. In his popular book, lawyer-turned-legal marketer Jay Harrington lays out a path for building a one of a kind, profitable niche practice.
Get more details and order your copy here.