This post is not intended to convince you to join Google+. My friend Steve Matthews explains why lawyers should care about Google+ here. Instead, this post is intended to help you avoid some common mistakes when building your firm's Google+ page so that, among other things, your listing will begin to appear in local search results. Merely creating your page will not guarantee high visibility for your firm in local results, of course, but it's a start.
Here's the step-by-step:
1. Go to Google.com and click on Business Solutions.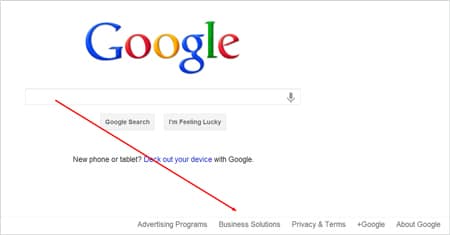 2. Next, click on Google+ for Business.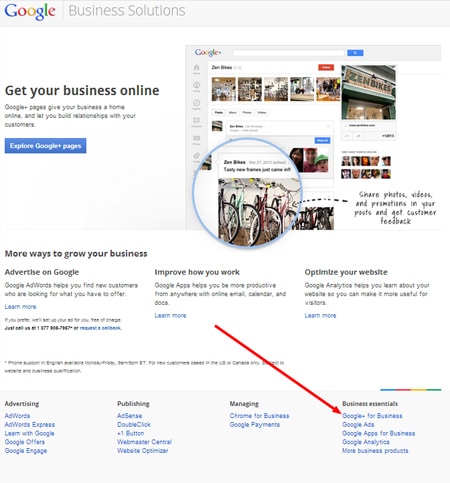 3. Sign in to create a Google+ page. If you have a Google account, simply sign in and then click on Create a page. Or, if you're already signed in, simply click Create a Google+ page. If you don't currently have a Google Account, you will have to register for one (it's free) to take advantage of Google+ pages.

4. Pick your category. If your law firm is a local business that serves clients at your location, you should choose Local Business or Place. Be sure to follow the Google Places quality guidelines when completing your page.

5. Enter your firm's primary phone number. This is an important step. Make sure that you use your office's primary local phone number that is associated with your location. Don't use toll-free or tracking numbers. You want the system to find a matching listing.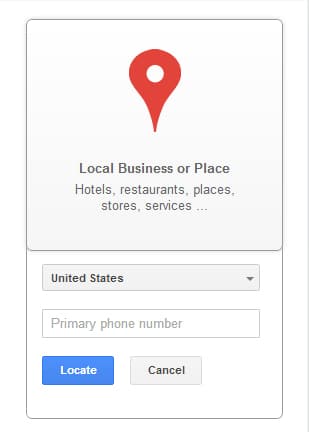 As an example, I entered my primary business phone:

In the event that no matching listing can be found, you will be prompted to add your business to Google.

If you know that your office already exists in Google, go back and try a different phone number. You don't want to create duplicate listings for the same office location.
6. Complete your page. As thoroughly as possible, complete your page. Verify that your firm's name, address and local phone number are accurate. The accuracy and consistency of this information plays an important factor in your visibility within local search results.
7. Verify your page. Hover over "unverified" at the top of your page and click "verify" now. You will be notified that Google will send you a verification postcard. Once you've received the postcard, you will be able to enter the verification pin to verify your page. Once you've successfully verified your Google+ page, you will see a little gray check mark near your page name.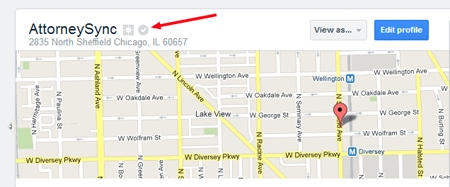 8. Link your website. You should also link your firm's website to your office's Google+ page. Enter the URL for your website and click on Link website. You will be prompted to add some code to your website's home page. You can also have these instructions emailed to your website developer. Once the linking process has been completed, you will see a little gray check mark appear.

After you've successfully claimed, completed and verified your page, your listing will begin to appear in local search results. Keep in mind, however, that creating your page will not ensure visibility in local results, especially for more competitive local search queries.
Now you can create posts, encourage reviews, upload images and videos, host hangouts and interact with other people and businesses on Google+.
Gyi Tsakalakis helps lawyers put their best foot forward online because clients are looking for them there. He is a co-founder of AttorneySync, a digital marketing agency for law firms. You can find more of his writing at Lawyerist & Avvo's Lawyernomics blog. You can ask him a question (or just say hi) at LinkedIn, Twitter, Google+ and Facebook.
Image ©istockphoto.