There's a place for "serious and same." Marketing is not one of them. The law business is changing. To stay relevant, be a creative lawyer.
Almost everyone accepts that we are in a time of radical change in the legal industry. Demand for legal services is flat. Entrepreneurs are finding ways to leverage technology to pick away at work — from discovery to estate planning — that once was the exclusive domain of the traditional lawyer. And what are most lawyers and law firms doing to adapt? Very little. They're playing it safe, hunkering down and waiting to see how things "shake out."
But Safe Is Risky
In a changing world, says LinkedIn co-founder Reid Hoffman, "playing it safe is one of the riskiest things you can do." That's because while you're standing still, change is happening all around you.
This is obviously not a challenge unique to the legal industry. In many other sectors radical change happens much more quickly.
Companies and industries facing disruptive challenges are often described as modern-day buggy whip makers. Buggy whips became obsolete with the advent of the internal combustion engine. In a landmark Harvard Business Review article, Theodore Levitt argued that if buggy whip makers had thought of themselves as being in the personal transportation business, as opposed to simply buggy whip makers, they may have adapted to and survived the automotive revolution. But doing so would have required innovation, and the courage to think differently. It would have required creativity.
The legal industry is by no means the modern equivalent of a buggy whip maker, VCR manufacturer, or encyclopedia publisher. While the market may be flat, many firms and lawyers are still thriving. And there are barriers to entry that will keep many non-traditional competitors at bay.
But there are wide gaps between those among us who are thriving and those who are simply surviving. An individual lawyer who approaches her practice in the same manner, with the same mindset, that she did 20 or even 10 years ago is likely feeling left behind. She may not be able to pinpoint what has changed, but if she is honest with herself she'll realize that what hasn't changed is her approach to business. Like the buggy whip maker, she has failed to think creatively about how to move her practice forward.
Lawyers and Creativity
Saying that lawyers aren't creative is like saying that the sky is blue. It's not controversial, but it doesn't tell the whole story.
Just as it's inaccurate to describe a sunrise sky radiating pink, purple, red, yellow and orange as blue, all lawyers should not be lumped into some indistinguishable uncreative heap. Sure, excellent lawyers are valued for sharp analytical skills, logical thinking and attention to detail. But the best lawyers are those who are also able to craft creative solutions. That's because it takes creativity to solve a problem.
According to developmental psychologist Howard Gardner, "People are creative when they can solve problems, create products or raise issues in a domain in a way that is initially novel but is eventually accepted in one or more cultural settings. Similarly, a work is creative if it stands out at first in terms of its novelty but ultimately comes to be accepted within a domain. The acid test of creativity is simple: In the wake of a putatively creative work, has the domain subsequently been changed?"
From "poison pills" to bankruptcy "pre-packs," lawyers have crafted many creative solutions to legal challenges that have "changed the domain." Unfortunately, most fail to apply that same sort of creative thinking to their marketing and business development activity.
Lawyers' resistance to innovation and creativity is driven by multiple factors. One is risk aversion. I hear it all the time when working with lawyers on brand strategy or website projects: "What are our competitors doing?" It's a great question, but it's typically asked for the wrong reason. Most who pose it are more interested in staying with the pack than breaking away from it.
Another factor is improper perspective or understanding. Many think of creativity as a rare skill possessed by those who come up with big, breakthrough ideas — visionaries such as Steve Jobs, for example. But creativity comes in all sizes. Creativity scholars distinguish between "Big C" creativity and "Small c" creativity.
"Big C" creativity is the breakthrough kind of thinking that most people associate with "creative thinkers" such as Jobs and Thomas Edison, but it's relatively rare. "Small c" creativity, on the other hand, describes the seemingly small ideas that can make a big difference in our lives, like a new organization system at home or project management system at work. A single "Small c" idea won't bring fame or fortune, but lots of them will, over time, lead to incremental advances and daily improvements. And the best way to come up with a "Big C" breakthrough is to cultivate "Small c" thinking on a daily basis.
Creativity, therefore, is not about talent or some flash of inspiration. It's about showing up and doing the work. It's about developing a creativity habit. We're all inherently creative. We just need to be creative.
Put Creativity Into Practice
The practice of law is hard and stressful. The daily rigors and grind can sap creativity, rather than cultivate it. Lawyers need to be proactive and take steps to nurture their creative side.
1. Carve out creative time.
Corporate America has long recognized the value of creative thinking, and the need to encourage it. Google, for example, has trumpeted its "20% time" — which allows engineers to take one day per week to work on innovative side projects — as key to its ability to innovate. So, carve out dedicated time each week for creative thinking. Try to spend this time away from the distractions of the office.
Creative brainstorming sessions with colleagues — no smart phones or negativity allowed — are also a key catalyst for coming up with marketing and business development solutions. When was the last time that you spent an hour in a conference room with nothing but a whiteboard and some whip-smart people trying to figure out a better way to serve clients, or engage with new ones? There's a lot of creative brainpower within you and around you. Start tapping into it.
2. Think like a beginner.
Eyeglass maker and creative juggernaut Warby Parker encourages employees to approach the world with a beginner's mindset as a way to embrace curiosity and enhance creativity. This idea, inspired by Buddhist principles, is that while companies are made up of groups of experts who have solutions to problems at their fingertips, sometimes it's better to think like a beginner who has questions that may lead to better, newer solutions. Lawyers spend their careers working toward expert status, but adopting a "beginner" mindset can bring a fresh perspective to one's practice.
Just because you've always billed by the hour, sent a card at the holidays, and published that quarterly newsletter, it doesn't mean it's a good idea to do so in the future. One of the best ways to find out what clients want is to ask them. Experts often think they have all the answers. Beginners like to ask lots of questions. Think like a beginner.
3. Connect the dots and trust your gut.
Creative problem solving doesn't always happen instantly, like a bolt of lightning. Those yellow squares all over your desk prove it. In 1968, a chemist for 3M accidentally developed a weak adhesive that retained its stickiness but had a "removability characteristic." The "breakthrough" languished for years, with no practical application and little enthusiasm within the company. One idea that was pushed was using the adhesive to create a sticky bulletin board, but it was rejected because there wasn't a big enough bulletin board market. It wasn't until 1974 that a colleague approached the chemist and talked to him about the "a-ha" moment he had at church while struggling with bookmarks that kept falling out of his hymnbooks. The Post-It was born.
Creative inspiration can come from anywhere, and at times you least expect it. By opening yourself up to new ideas, you can spark your creative potential. Yes, you'll likely encounter lots of naysayers. But almost every great idea was met with resistance at first. A big part of embracing your creativity is trusting your instincts and having the courage to persevere when confronted with change.
4. Adapt and embrace your creative side.
The legal industry is changing, like it or not. To stay relevant, you need to think differently and act strategically. There is a time and a place for "serious and same" in the practice of law, but marketing and business development is not one of them.
By harnessing your creativity, you'll stand apart from the pack. And that's a good thing.
Jay Harrington is co-founder of Harrington Communications, where he leads the agency's Brand Strategy, Content Creation and Client Service teams. He also writes weekly dispatches on the agency's blog, Simply Stated. Previously, Jay was a commercial litigator and corporate bankruptcy attorney at Skadden, Arps, Slate, Meagher & Flom and Foley & Lardner. He has an undergraduate degree in journalism and earned his law degree from the University of Michigan Law School. Follow him @harringj75.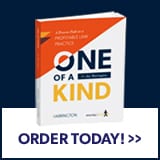 ONE OF A KIND:
A Proven Path to a Profitable Law Practice
Practical advice for building a more profitable practice. Almost every lawyer wants to command higher rates and attract more clients. But many are stuck perusing ineffective strategies. Others don't even know where to start. In his new book, lawyer-turned-legal marketer Jay Harrington lays out a path for lawyers to build a profitable practice.