Yesterday, Curmudgeon Otto Sorts reflected on his personal definition of success, admitting it may be a bit outdated. So what might an updated definition of how do you define success entail, as more lawyers shed the traditional trappings of "a lawyer's life" for more independent, even creative, workstyles? We asked a few lawyers we admire to tell us what success means to them.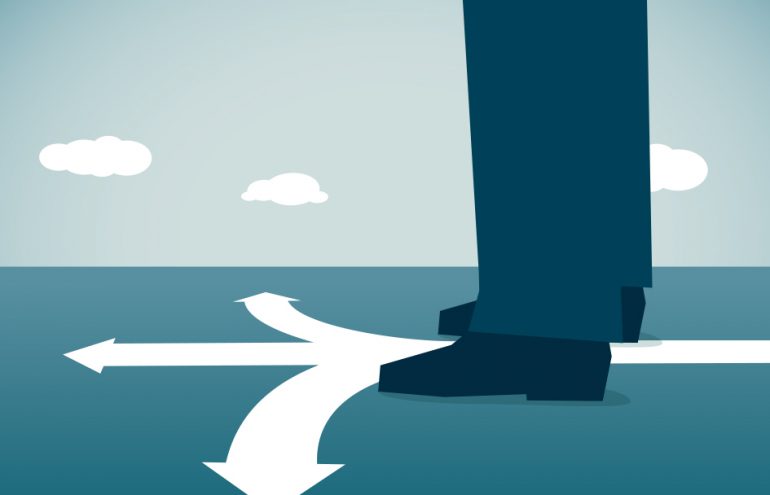 Simon Chester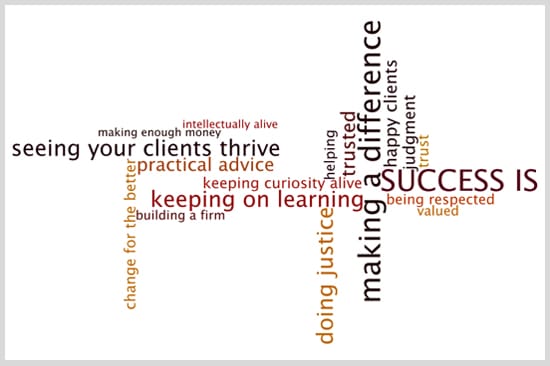 — Simon Chester, Lawyer and Consultant, Toronto
Greg Siskind
When I started as a corporate lawyer in a big firm, I left work each day feeling I had made a huge mistake. Success was admitting failure and moving in a new direction. For me, it was finding my passion – immigration law – and learning I thrive on being an entrepreneur.
— Greg Siskind, Partner, Siskind Susser, PC – Immigration Law, Memphis, TN
Chris Hargreaves
How you define success is a journey, not an endpoint. It is a chronic condition, not an acquisition. If I am content in all circumstances, a positive example to others, self-aware about my strengths and weaknesses, and constantly reliant upon God for everything – then I'm on the right path.
— Chris Hargreaves, Senior Associate, McInnes Wilson Lawyers, and Director, Tips for Lawyers, Brisbane, Australia
Roy Ginsburg
Unsuccessful lawyers, to quote Mick Jagger, "Can't get no satisfaction." Successful lawyers get satisfaction. It can be money; that's why most work. But it's usually more. A sense of accomplishment (winning, closing a deal, helping others), intellectual stimulation and professional recognition. Further, it means having enough time for family and community.
— Roy Ginsburg, Attorney Coach/Consultant, Minneapolis, MN
Ralph Pais
Success is having the opportunity and flexibility to choose to do things that make you happy and engaged in life. For me, that means collaborating with and learning from smart, creative people while doing something interesting and meaningful in the world. And, if it's work, getting paid fairly to do it.
— Ralph Pais, Partner, Fenwick & West LLP, San Francisco, CA
Vedia Jones-Richardson
Success is when your practice aligns with your values, your clients' needs match what you have to offer, you enjoy it enough to keep going after more, and you have enough time and energy left over to appreciate it all.
— Vedia Jones-Richardson, Attorney and Principal, Olive & Olive, P.A., Durham, NC
Erik Heels
My definition of success has changed over time, from publishing my first book, to landing cool jobs, to paying off loans, to launching my firm. Today I define success as balance: at work, at home, and in work-life balance. Playing in a band for a decade has definitely helped with balance!
— Erik J. Heels, Attorney and Founder, Clocktower Law, Boston, MA
Donna Neff
Quite simply, success for me is doing the estates and guardianship work I love with clients who appreciate my knowledgeable, thorough, caring approach. An added bonus is being paid well enough to take time off to enjoy my family, volunteer for causes that matter to me, and rejuvenate.
— Donna S. M. Neff, Partner, Certified Specialist (Estate and Trusts Law), Neff Law Office, Ottawa, Canada
Marc Lauritsen
Success is achieving something you can justifiably be proud of. It's what you make happen, not what happens to you. It tends to come in small denominations and isn't necessarily correlated with prosperity or contentment. As lawyers, our best successes advance justice, not just the bottom line.
— Marc Lauritsen, President, Capstone Practice Systems and Legal Systematics, Boston, MA
Nicole Bradick
I define professional success as the ability to do whatever the hell you want. I mean this on both a macro and micro level — choosing your professional destiny more generally, but also waking up every day and deciding exactly how you want to spend it.
— Nicole Bradick, Chief Strategy Officer, CuroLegal, Portland, ME
Chuck Coulter
Success is when you are eager to get about it each day, using your talents to achieve worthwhile ends, giving back to your profession and your community, and spending time with family and other people you love.
— Charles R. Coulter, Attorney, Stanley, Lande & Hunter, Muscatine, IA
Peter Carayiannis
Success in the law is about two kinds of freedoms. The first element of success is freedom from the negative and corrosive pressures and elements of our business, such as the billable hour. The second, more important, element of success is freedom to pursue your dreams and goals and freedom to work directly with clients in a meaningful, deep and lasting way. Freedom from and freedom to can combine to make a successful and satisfying legal career.
— Peter Carayiannis, President, Conduit Law, Toronto
How Will You Know You've Made It …
What's your definition of a successful legal career? Tell us by email to the editors, or in the comments below.