Boost your practice with these digital marketing tips for estate planning law firms — from optimizing your website to content creation, SEO, email and social media.
In the competitive world of estate planning, a strong digital marketing strategy is essential. This article will explore digital marketing tactics to help you attract and retain clients, from optimizing your website design and leveraging SEO techniques to using social media and more. We'll also discuss the importance of building authority through content creation.
Your Estate Planning Practice's Marketing Plan
To effectively market your estate planning practice, you want to develop a comprehensive marketing plan that identifies your target audience, sets goals, and creates a budget for your various marketing efforts.
It is important to regularly review your marketing strategies to ensure that they are effective and adjust if necessary. If you have hired a legal marketing agency, make sure that they are explaining to you exactly where your digital marketing dollars are going.
Related: "How to Hire a Digital Marketing Agency."
Here are some tips to help you effectively market your estate planning services, starting with your website.
Optimizing Your Estate Planning Website
An optimized website is essential for any successful digital marketing strategy. It is important to go beyond having a simple online brochure and optimize your site for local searches using smart SEO techniques. Your website should provide valuable information, with helpful practice area pages that describe what you do and articles that address legal processes or answer frequently asked questions related to estate planning services.
Prioritize mobile-friendly design and fast page load speed. With more users accessing websites on their smartphones, it is crucial to have a responsive design that adapts well to different screen sizes. Additionally, ensure your site loads quickly by optimizing images and minimizing unnecessary code. A faster-loading website can improve user experience and increase the chances of converting visitors into clients. Check out Google PageSpeed Insights for recommendations on improving your site's performance.
Incorporate localized keywords in your website content. Localized keywords such as "estate planning attorney [your city]" will help you rank higher in search results when potential clients are looking for an estate planning lawyer near them. Use tools like Google Keyword Planner to find relevant local keywords with good search volume.
Optimizing your estate planning website helps guarantee visitors have a pleasant experience and can easily locate the information they require so they don't click away — whether they find you through organic or paid search, advertisements, direct referral or via social media.
Related: "Helpful and Engaging: The Importance of Your Law Firm Website's Content."
Creating Content That Builds Authority
Creating valuable content is a great way to attract potential clients to your website and establish yourself as an authority in estate planning law. Consider these content marketing tips.
Address Common Questions and Concerns
Create blog posts, FAQs, videos and infographics that address common questions or concerns related to estate planning. These topics might seem obvious at first glance, but a little research can unearth specific topics that resonate with potential clients. Understanding what search terms are bringing visitors to your site, for example, can trigger content marketing ideas and help you focus your marketing.
Don't Skimp on Practice Area Pages
Your website's practice area pages and sub-pages should provide detailed information about your estate planning services and the benefits of working with you, in plain English, and offer some proof of your authority in that specific practice area (see the next tip) so that visitors can decide if you can help solve their problem.
Related: "How to Write an 'About Me' Page."
Showcase Your Bona Fides
Remind clients and potential clients of your authority by showcasing positive reviews, testimonials from satisfied clients, awards you've received and badges from different platforms you're listed on.
Host Seminars Showcasing Expertise in Estate Planning Law
Another effective way to build authority is by hosting seminars or webinars related to estate planning. This allows potential clients to see firsthand the depth of your knowledge and experience while providing valuable information they can apply in their lives.
Link Out to Reliable Resources Such as Form Templates or Informational Packages
Consider linking to reliable resources on different platforms such as:
Spread the Word
Always share your blog posts, videos and other content on social media and include them in your email campaigns and client newsletters to reach a wider audience.
Incorporating these approaches into your digital marketing activities can build trust with potential customers and establish you as an authority.
Leveraging SEO Techniques
Leveraging SEO techniques is an effective way to increase the visibility of your practice and attract more leads. Use search engine optimization techniques to improve your firm's online visibility. Target long-tail keywords, create well-written service pages, answer FAQs, and apply to niche local directories to enhance search engine rankings.
Set up a Google Business Profile
Google Business Profile is an essential tool for estate planning attorneys looking to increase their online presence. It helps potential clients find you more easily through Google Maps and search results while displaying important information about your practice. This and other SEO techniques can really help attorneys can boost their visibility.
Google Ads and Pay-Per-Click
In addition to organic SEO efforts, consider investing in pay-per-click (PPC) advertising. PPC ads can help generate immediate leads by targeting specific keywords related to estate planning services. Combining both organic and paid strategies maximizes your chances of reaching potential clients searching for legal assistance in this area.
Google Ads can also be a powerful tool for lead generation. Use targeted keywords and ad copy to reach potential clients who are searching for estate planning services. Make sure to direct users to relevant pages on your website, such as specific practice area pages, or your contact information. Remember to:
Choose relevant keywords that your potential clients are searching on.
Write compelling ad copy that highlights your estate planning services.
Remember to use an active voice.
Include a clear call to action.
Best Practices for Social Media Marketing
You can harness the power of social media platforms like Facebook, Instagram and LinkedIn to reach your target audiences more effectively than certain traditional methods — assuming you follow these best practices:
Focus on the platforms where your potential clients and referrers are most active. (Test new platforms but don't get distracted!)
Share content with your target client in mind, such as recent blog posts and informational videos.
Engage with your followers by answering questions and responding to comments.
And be sure to become an active member in estate planning and legal industry-related groups on LinkedIn, where you can share your expertise, answer questions, and engage with prospective clients.
Use Retargeting Tools in Social Media Advertising
Create custom audiences. Use Facebook's Custom Audiences feature to target users who have previously visited your website or engaged with your content.
Promote valuable content. Boost engagement by promoting blog posts or articles that address common concerns related to estate planning law through sponsored ads on platforms such as Instagram or Twitter.
Analyze ad performance. Regularly review the performance of your social media campaigns using built-in analytics tools like Facebook Insights or Google Analytics, adjusting strategies accordingly for optimal results.
Email Marketing
Email marketing can be an effective way to stay in touch with past and prospective clients. Use email campaigns to share valuable content, promote your services, and provide updates on changes in estate tax planning or other legal services.
Segment your email list to send targeted messages to specific groups — for example, clients of a certain income bracket or age may be affected by certain tax rules or changes in legislation.
Always include clear contact information in your emails to make it easy for clients to reach you.
Use email marketing to promote your seminars or webinars (and send targeted follow-up messages to attendees once the seminar is over).
Retaining Clients
Retaining existing clients is just as important as attracting new ones. Your digital marketing plan should include tactics for engaging both current and past clients. For example, use email marketing or targeted newsletters to stay in touch with past clients and provide updates on changes in estates tax law or other legislation that could affect them. Also, consider offering incentives to encourage past clients to refer their friends and family to your estate planning firm.
---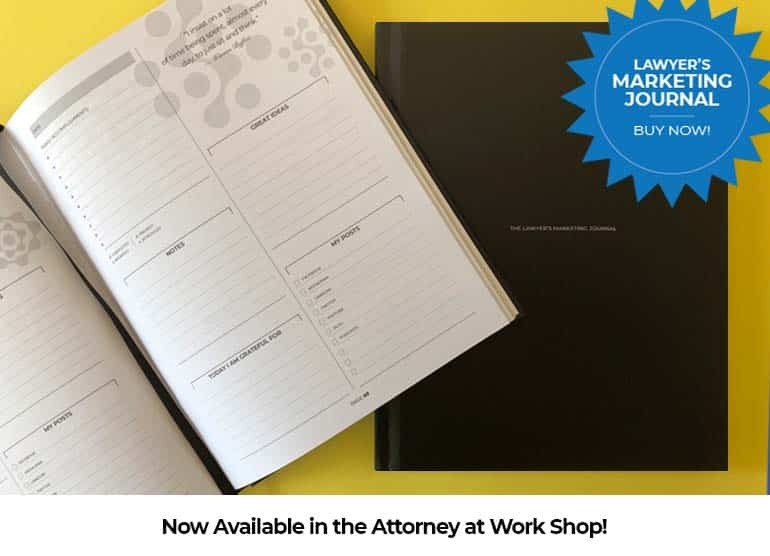 Teddy Snyder, author of Women Rainmaker's Best Marketing Tips, has designed a journal that is ideal for tracking marketing and BD activities, ideas and inspiration. Undated pages give you the flexibility to start today.
---
Image © iStockPhoto.com

Don't miss out on our daily practice management tips. Subscribe to Attorney at Work's free newsletter here >