Who are these "enterprising lawyers"? Actually, they are easy to spot. Look for the happier, more engaged lawyers. Deeply invested in the power of the work they do for their clients, they have ample interests beyond the practice of law as well. And they seem to have more energy for getting things done than anyone in the crowd. You probably know an enterprising lawyer — you may even be one! 
Today we're talking with Andy Greene. Whether at work or play (that's him at an elephant rescue preserve in Laos), he's a long way from being "that guy" in his former firm — the one with all the so-called crazy ideas. Just look at him now!
Andrew R. Greene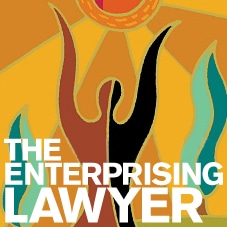 A&G Law LLC
President, Business Law Network LLC
Chicago, IL
Northwestern College of Law (JD, 1994)
Miami University (BA, 1989, Economics and Political Science) 
Why did you want to be a lawyer?
I had been out of college and working for a couple of years, and saw that lawyers were the people who really knew and understood "how things worked" in the business world. I was also a big "LA Law" fan. So I decided to head back to school and learn to be a lawyer.
What is the focus of your law practice?
Mostly commercial litigation for small and medium-size businesses. I also represent governmental entities.
What is the real reason clients hire you?
That's something that most of us spend almost every day trying to figure out so that we can keep getting new clients. I always try to make a potential client understand that I've been here before, that I can help guide them through a dispute, and that I — as a fellow business owner — understand the importance of quality service at an appropriate price point. Very few businesses welcome litigation, so I focus on relieving them of the burden and stress and allowing them to focus on their own customers.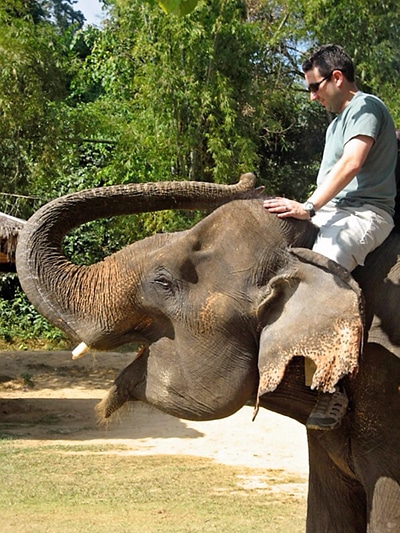 Who were your most important mentors and what did they teach you?
I have to give credit to my colleagues in the litigation department at my first law firm. They were smart, creative lawyers who took a real interest in teaching young associates and giving them opportunities. As a result, I learned how to litigate cases from beginning to end, how to attract clients, and how to deal with difficult opposing counsel. I was first-chairing trials and taking the lead on multimillion-dollar disputes before I even made partner, which helped immensely when it came time to start originating business on my own. In my opinion, there are far too few of those opportunities for young lawyers in today's environment.
What about practicing law did you learn the hard way?
I learned that you have to figure out who your audience is, and how to win them over. You could have the greatest argument in the world, but if the judge or jury disagrees with your position, you better figure out a new argument. The same goes with clients. Some clients may really want to "win" the lawsuit. But many others, especially business clients, simply want to get the dispute resolved. Understanding that not everyone sees things the same way I do has allowed me to not only give better advice, but to deal more easily with clients and opposing counsel.
What is your favorite technology tool?
Currently, it's the iPad. Now I rarely have to lug around my (comparatively) heavy laptop. I'm also a big fan of cloud-based e-discovery platforms that provide fixed-fee billing.
What is your favorite non-technology tool?
I love the leather chairs in my office lobby. It's a great place to sit in a relaxed atmosphere and talk through issues with colleagues.
How would you describe the location and décor of your office?
Professional, efficient and fun. By locating just south of Congress Parkway in Chicago's Loop, we save on rent (and yet are still two blocks from the federal courthouse). We are also in a much more interesting neighborhood (Printers Row) with great restaurants and cheaper parking for clients. We always look for deals on furniture and artwork. Our office is also decorated with strategically located figurines of characters from the Simpsons — a legacy left by my former partner, who is now a federal judge.
Why would someone describe you as "enterprising"?
During my 14 years at two large law firms, I was "that guy" who would write up business proposals to the managing partners suggesting new billing models. I'm pretty sure that no one ever read a single proposal I made. Finally, I co-founded my own firm so that I could have the flexibility to, for example, offer clients alternative billing arrangements. Then two years ago, I co-founded the Business Law Network (BLN). It is a platform for small firm lawyers and solo practitioners such as myself to work together on a case-by-case basis, providing clients with a broader array of services on a cost-effective basis.
Currently, BLN is working on a service (it will go by the trade name "Legati") that will offer litigation representation on fixed-fee budgets. The Legati website will post fees and explain the litigation process so that potential clients can educate themselves. I strongly believe that businesses are being increasingly priced out of the legal services market, and that there is a solution for serving those businesses.
What is unusual about your practice?
I think that we are ahead of the curve on using alternative billing models in commercial litigation, such as fee caps and fixed fees. We're also a bit of a throwback, in that we recruit good young lawyers, train them and give them responsibility on complex commercial cases. Given our small size, I'm proud of the number of young attorneys we've trained.
What is the first thing you "check" each morning?
My calendar and task list. I need to constantly make sure I'm not forgetting anything.
Where do you think the practice of law is going?
I think that, over the past 20 years, most of the legal industry has left most of its clients in the dust as law firms chased the higher billing rates that were being paid for the "high-value work." Firms of all sizes priced themselves too high, and the chickens are now coming home to roost. That high-value work is shrinking as large corporations are taking work in-house, or outsourcing work to non-lawyers. There's little refuge at the other end of the scale, as DIY websites and an army of young, hungry, unemployed lawyers are challenging on price, and with their superior knowledge of new areas (such as social media). The result is that we are seeing a major shakeout. New innovative firms and alternative providers (such as the DIY websites and non-law firms) will grab major portions of the market with cheaper and more user-friendly products. I'm thinking of what desktop publishing did to traditional printers, or what the Internet has done to numerous businesses, such as insurance brokers.
Where are you going?
I'm going where I think the clients will be.
What are people most surprised to learn about you?
That I was predicted to be the Chicago Bulls number one draft pick in 1990, until I blew out my knee in practice. (That would be a funny joke if readers could actually see me.)
What do you use every single day that you could actually easily do without?
Chocolate.
What three things must you always have in your brief bag, desk drawer or refrigerator?
A can of Coke. Pens. An iPhone/iPad charger. I won't say which one would be where. That's too personal.
Where do you turn when things go really badly?
To my wife, unless she's mad at me because things have gone so badly. Then, Scotch.
Andrew Greene is a litigator with experience in a broad range of matters, including shareholder and partnership disputes, financial fraud claims, insurance coverage and bad faith claims, class-action defense, construction disputes and real estate litigation. Throughout his career, he has developed a track record for achieving results, whether through negotiation, dispositive motion practice, or if necessary, trial. He has also argued appeals in both federal and state courts.
We're Always Looking for Enterprising Lawyers
If you'd like to suggest someone to profile, send information to merrilyn@attorneyatwork.com.
More Enterprising Lawyer Interviews on Attorney at Work
The Enterprising Lawyer: Kelly Phillips Erb
The Enterprising Lawyer: Lynda Hinkle
The Enterprising Lawyer: Rocky Dhir
The Enterprising Lawyer: Lee Rosen
Illustration ©ImageZoo. Photos courtesy of Andrew Greene.