Who are these "enterprising lawyers"? Actually, they are easy to spot. Look for the happier, more engaged lawyers. Deeply invested in the power of the work they do for their clients, they have ample interests beyond the practice of law as well. And they seem to have more energy for getting things done than anyone in the crowd. You probably know one or two—you may even be one yourself!
In this interview, we talk with Lee Rosen of the Rosen Law Firm, a family law practice in North Carolina. Lee is widely known for his Divorce Discourse blog and the innovative ways he's leveraged technology in his virtual practice. He's an ABA James Keane Award winner for elawyering—and you're going to want to visit his websites (and YouTube channel) to see how he's helping clients and bringing in new business. Despite having four firm offices in North Carolina, Lee doesn't use an office himself. In fact, he'd prefer spending all his time on the road—that's him in London in the photograph below, and further down taking a dunk in the Chattooga River while rafting in South Carolina. 

Lee Rosen
Rosen Law Firm
Raleigh, N.C.
Wake Forest University, J.D., 1987
University of North Carolina at Asheville, B.A., 1983
Why did you want to be a lawyer?
My grandfather was a lawyer, my father was a lawyer and my family offered to pay for law school. I'd been working for a year after college and law school seemed much better than working.
What is the focus of your law practice?
Family law. We're working at two ends of the spectrum. We help upper-middle income folks manage the end of their marriage using litigation, negotiation, mediation and collaborative approaches. We also help people do their own divorces with an online system we implemented three years ago.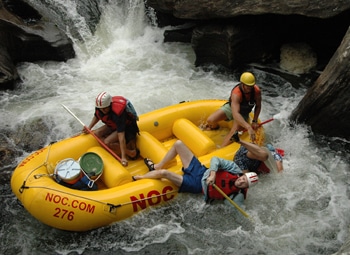 What is the real reason clients hire you?
They need a path to follow during a time of crisis. They haven't traveled this road before and they need someone to hold their hand and show them the way. We do our best to deliver them to a place of safety.
Who was your most important mentor and, briefly, what did he or she teach you?
My dad was a solo practitioner and I grew up watching him go to work everyday and listened to his stories every night. I understood at an early age that a law practice is a small business and requires basic marketing and management skills to survive. My dad didn't know he was teaching me about business, but he was.
What about practicing law did you learn the hard way?
Most everything. My best lessons have come at the hands of talented opposing counsel. I've watched some great lawyers do amazing things as they beat me in court. I've learned the value of preparation, creativity and persistence at the hands of other lawyers. What I wasn't taught by the other lawyers, I learned from my clients who have nearly beaten me to death as they taught me things over the past 25 years.
What is your favorite technology tool? My iPhone. It connects me to people and data in ways I couldn't imagine when I started practicing law.
What is your favorite non-technology tool?
My space pen. It writes upside down and underwater. Is that really non-technology? I'm not sure, but I love that pen.
How would you describe the location and décor of your office?
I don't have an office. My messenger bag contains my laptop and it's usually on the floor next to me in a coffee shop or in my dining room. I'm increasingly traveling away from our home base, and I'd like to get on the road and stay there a few years from now. Our practice has a great management team and I'm not required to be present very often.
Why would someone describe you as "enterprising"?
I love innovating. I'm always on the hunt for something new. Mostly, today, that involves putting technology to work for our clients and prospective clients. Sometimes it involves creative approaches to marketing and management. We've done lots of interesting things in the past few years like moving to the cloud, eliminating most of our office space and outsourcing huge chunks of our business. In the early 1990s we went paperless, adopted a sophisticated practice management system and built our first website.
What is the first thing you "check" each morning?
I look at my phone, before I get out of bed, and check my RSS feed reader, email, client satisfaction survey responses and the overnight stats for our websites.
Where do you think the practice of law is going?
I can only speak to family law. It's getting tough. Prices are dropping and non-lawyers are taking much of the business. It won't look, a few years from now, like it does today.
Where are you going?
We're adapting with the change but we accept that the incumbents rarely survive. We'll fight the good fight and see what happens, but it's never easy when an industry is under assault. Well-funded challengers have entered our marketplace with innovative approaches at lower prices, and they're just getting warmed up.
What are people most surprised to learn about you?
Not much. I don't keep many secrets and the few I do keep aren't going to be revealed here. I'm on Twitter and Facebook and I blog everyday so my secrets are mostly out there by now.
What do you use every single day that you could actually easily do without?
Most of my food. I could eat a lot less and be fine. I could especially live without the desserts.
What three things must you always have in your brief bag, desk drawer or refrigerator?
My passport, my credit card and my iPhone. I'm working on needing less stuff and I'm down to very few things that really matter.
Where do you turn when things go really badly?
To meditation—it's the one thing I do reasonably well. I can always sit still and focus on my breath. When everything else goes down the tubes, I like to just stop.
What else (if anything) do you think we need to know?
There's nothing we really need to know.
We're Always Looking for Enterprising Lawyers
If you'd like to suggest someone to profile, send information to joan@attorneyatwork.com.
More Enterprising Lawyer Interviews on Attorney at Work