Everyday carry for lawyers can be whittled down to a list as old as the profession: a pad of paper, a pen, a shoulder-mounted anti-tank gun. Or, maybe these.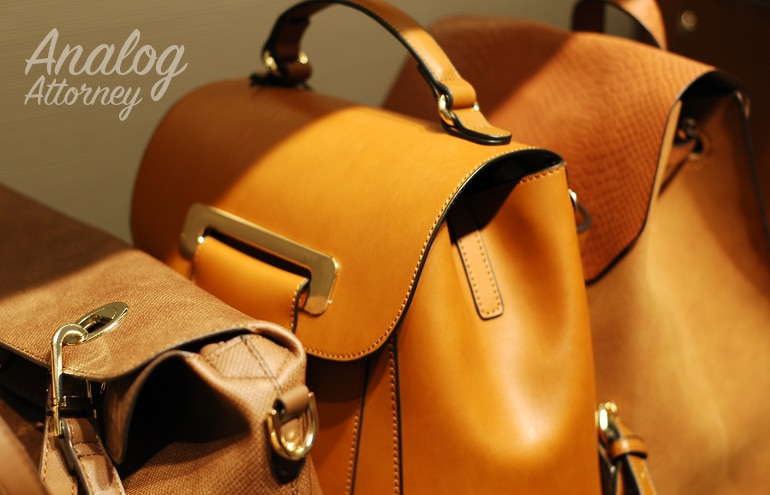 A Great Bag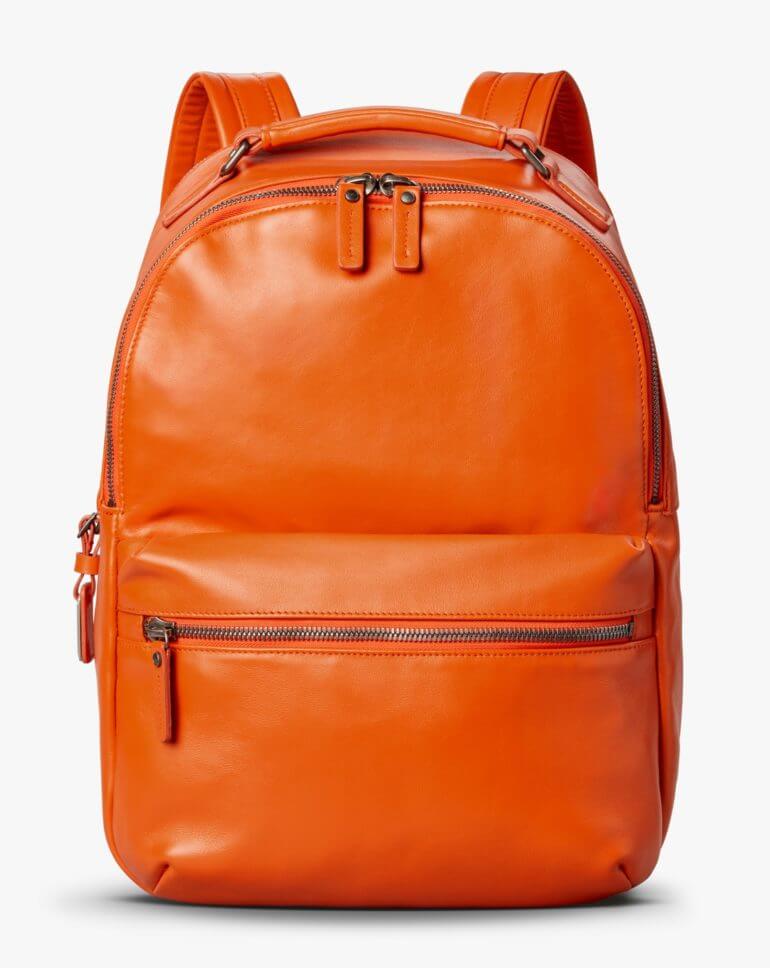 Shinola is a Detroit-based manufacturer of top-shelf handcrafted goods. The company started out making watches, employing displaced artisans from the city's population of skilled laborers. Now Shinola makes everything from signet rings to custom bikes, but the Runwell backpack might be its coolest piece.
The Runwell's made from premium leather and durable hardware. Like most of Shinola's products, it sticks to a no-fluff design code. It is simple, almost basic, and will probably withstand a nuclear blast. Twenty years from now, your Shinola everyday carry bag will have developed a patina of scars and wrinkles that tell the story of your daily grind in its grain. It ain't cheap. The bag is $995 but they do throw in a monogram. It fits a 15-inch laptop and all the other gear I'm about to describe below with room to spare — with the added benefit of looking good.
Of course, for almost a grand the Runwell should come with a chauffeur. If you're looking for something in a more approachable price range, try SOLO's Reade. It's leather. It's brilliantly designed. It will last forever. It's less than a C-note.
A Useful Charger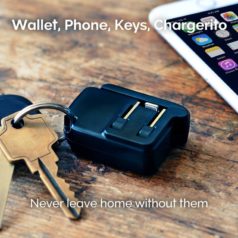 Hey, it's your purse. We need to talk. I'm drowning in chargers down here. You've got like eight of them rattling around in my guts with your spare keys and an old bag of smoked almonds that you really, really need to throw away. Might I suggest you pick up the world's smallest phone charger, the Chargerito, and toss the rest of these useless artifacts into the recycle bin? Just look at it. It's so cute. You can put it on your keyring, and here's the best part: There's no cord to lose. Just plug it in and then plug it in and then boom, the phone's charged. And it's so cheap. Much cheaper than buying a new charger … Every. Time. You go. To trial.
A Great Pocket Notebook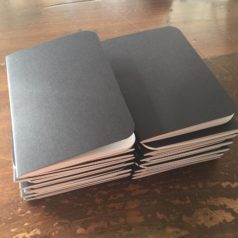 Keep track of your great ideas and your dirty nicknames for opposing counsel in a sturdy everyday carry pocket notebook. I've written about them before and I will preach about them until the end of time. Writing something down puts it in your mind, typing it into a database puts it in the database. The old-school method for keeping a to-do list and daily notes can't be replaced by an app because it's just better. Period.
Although there are plenty of alarmingly expensive pads to put in your pocket, I'm a fan of the cheap unlined notebooks from Smplnotebooks on Etsy, pictured at left — especially since I'm prone to running pocket notebooks through the wash or leaving them in a bar. Also, because they're made in the Hudson Valley by one guy who does amazing work.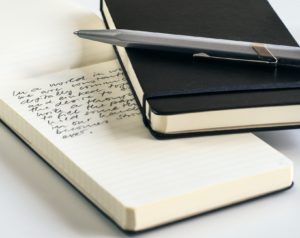 However, because I'm a notebook nerd, I'm also a fan of slightly more costly versions like Leuchtturm's Reporter Notepad, pictured at right, which is beautiful. It is top-bound so you can write while standing, has 94 numbered pages, and you can get it embossed for a small fee. Glorious.
Everyday Carry: A Reason to Live
Lawyers can get lost in their job. I know an in-house counsel for an iconic tech company who works 14 hours a day, every day. She comes home just in time to watch Stephen Colbert and have a glass of Petit Syrah while she scans her inbox and makes notes for a 4 a.m. meeting with the European team in Oslo. Her calendar is a solid block of meetings and calls with not even a sliver of time between them. She works on the way to work. She works on the way home. She works in her sleep.
It would be easy to point to this attorney and cry out: "Here, professionals, is the perfect example of a maniacal lack of balance, a Koyaanisqatsi of one's work and life that will end when she crashes her Audi into a Starbucks while she's arguing with Siri!"
Except, not so much.
After Colbert's monologue, she puts her laptop away, replacing it with the "World Atlas of Wine," 8th Edition, which she opens to a bookmarked chapter on Rhone wines. She reads for a few minutes, utterly absorbed, stopping to take detailed notes. Her handwriting is perfect italic. Her notes are color-coded. She draws box illustrations and diagrams. The Petit Syrah she's drinking is one of six she picked up at a private auction of the 2004 Chave Hermitage. She puts a respectable chunk of every paycheck into a savings account with a plan to spend a month in France near the infamous vineyards of Jean-Louis Chave, whose family has produced stunning Cote du Rhone since Shakespeare wore shorts. Her goal is to buy seven bottles of the 1995 Cuvee Catheline, which sells for just under $6,000 each. She's going to cellar them for as long as she can, but one day she'll unload them for $10,000 each — and drink the seventh on a balcony overlooking the Rhone river and not think for one second about precedents in data compression patents.
But it's not about the wine. Not really; it's about what wine is about.
Wine is sensual. Wine is about dirt and growth, sweat and sunlight and time. Wine is slow. It's about standing in a vineyard on a low hill looking out over thousands of acres at sunset and really considering and feeling the 500 years of craft, of love, that encouraged these vines to flourish, to endure, and how that span of time and thousands of vintages leading up to the glass of wine in your hand make those 14 hours you spend on the job seem like a tiny bubble in a flute of Champagne.
Maybe wine isn't your thing. Maybe your thing is playing clarinet in a jazz band. Maybe your thing is writing a book. Maybe your thing is reading the classics from Plato to Planck.
Whatever it is, your thing should be a personal passion you can't put down. It will help you build a vision that's bigger than the bottom line, one that sees a horizon further away than the close of a case.
Such a vision will sustain you on those long days. It will keep you resilient when times are lean. It will give you an enduring point of view that puts your failures and successes into perspective. So when you're down, you'll remember you're more than an associate on a dead case. You're a scholar, a musician, an author. And when you're on top of the world, as the applause from colleagues and partners fills the room, you'll remember the Chave Hermitage; you'll remember your appointment in the Cote du Rhone.
An Outstanding Writing Tool
As I've said before, a lot, the act of writing on paper offers you a moment of luxury you should respect. I know, those G2 gel pens you steal from the office are the bomb. I love them, too. But I don't carry one with me. My EDC choice is the Pilot Vanishing Point in matte black, with blue-black ink. It's got a hefty price tag of $150, so maybe this is a low-key gift to yourself after you do that one thing that was really challenging.

You could also scale back that figure with my backup pen — the one I keep on hand to give to other people when they do that one thing I knew was really hard for them to do: the Pilot Metropolitan. It's a gorgeous pen, heavy, beautifully designed, classic — for less than 20 bucks.

Read more Analog Attorney here.
1019 Illustration ©iStockPhoto.com