How can an attorney increase their overall collection rate, decrease outstanding accounts receivable and substantially reduce time spent on billing?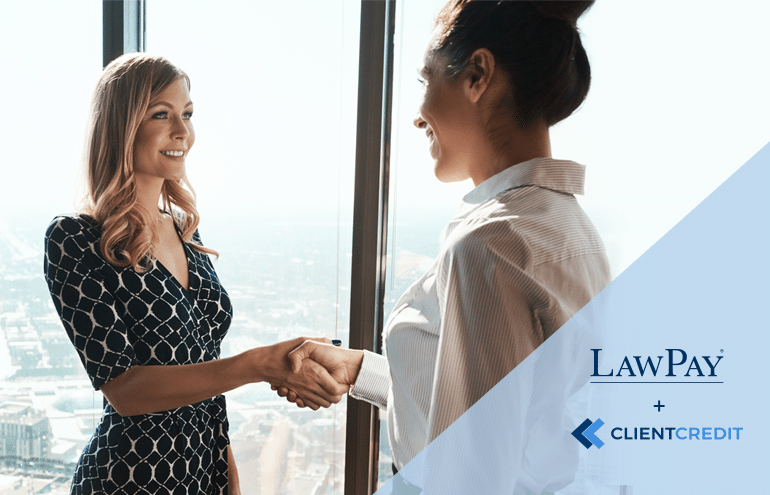 By offering clients a "Buy Now, Pay Later" (BNPL) option.
BNPL can be a game-changer for your firm, and adding it as one of your accepted payment methods is about to get even easier with ClientCredit, a new offering from LawPay.
What Is ClientCredit?
ClientCredit is the first BNPL solution for legal clients on the market and is exclusively available through LawPay. With ClientCredit, your clients have the ability to pay for legal services in installments while your firm still receives 100% of the invoiced amount upfront.
ClientCredit is the next generation of payment solutions for the legal industry and was developed in response to the growing demand for BNPL options.
The Rising Popularity of Buy Now, Pay Later
Statistics show that, when given a choice, consumers are increasingly opting for BNPL plans. Between July 2020 and March 2021, the use of online payment plans grew by nearly 50 percent.
Cardify, a market research firm, found younger adults, in particular, are frequently choosing online payment plans even when they have the funds to cover the total cost of a purchase. This is likely influenced by the demographic's growing aversion to credit cards—in fact, about one in four Millennials don't have a credit card.
ClientCredit enables you to easily accommodate these evolving payment preferences and provide a flexible, client-focused payment experience.
How Your Firm Benefits from ClientCredit
In addition to expanding your available payment options and making your law firm more attractive to prospective clients, ClientCredit improves the consistency and reliability of your cash flow.
One of the most common reasons lawyers hesitate to let clients pay overtime is that traditional payment plans can have a higher incidence of late and non-payments. The advantage of ClientCredit is that it helps mitigate the risk of both. Your firm receives the full requested amount upfront, and clients still have the opportunity to split an invoice into multiple payments.
The other major benefit of ClientCredit is that it increases how quickly you collect your full fees. When it comes to traditional payment plans, giving clients the option to make multiple smaller payments over time means, by definition, you receive smaller deposits. Allowing clients to use ClientCredit, on the other hand, means you can secure your total invoiced amount at the start of the engagement.
What ClientCredit Means for Your Clients
Rather than being put in the challenging position of having to find a way to pay one large lump sum, ClientCredit enables your clients to secure legal representation and still allocate funds for other expenses. For example, ClientCredit is a great option for a solo business owner who is in need of legal services but also has to keep money in reserves for unexpected costs.
ClientCredit also opens up access to legal representation to people who want an alternative to credit cards. These individuals may not currently have a credit card and would prefer not to apply for one. Additionally, ClientCredit is an attractive option for prospective clients who do have a credit card but would rather not charge a large amount.
What makes using ClientCredit to finance legal fees especially beneficial is that the client's monthly payments remain the same during the entire repayment period, which makes it easier for them to budget and gives them greater control over their finances.
The Latest from the Legal Payments Leaders
For nearly two decades, LawPay has been leading the industry with innovative payment solutions developed specifically to support legal professionals.
Our proprietary technology seamlessly integrates with more than 60 of the most popular legal tech solutions—more than any other legal payment software. LawPay is also the only payment solution to be vetted and recommended by all 50 state bars and 70+ local and specialty bars and the only payment solution offered through the ABA Advantage program.
We are proud to have the opportunity to continue our commitment to innovation and further support the legal community with ClientCredit. ClientCredit will reach LawPay's legal audience in the coming months and availability will increase throughout early 2022 as part of a phased rollout of the product.
About LawPay
LawPay is the only payment technology vetted and recommended by 50 state bars, more than 60 local and specialty bars, and trusted by over 50,000 law firms as a value-added, trusted solution for their members. Developed specifically for the legal industry, LawPay's complete end-to-end payment system manages the unique needs of law firms by providing a solution that correctly separates earned and unearned fees, ensuring you don't co-mingle funds when you accept credit card payments. Additionally, their system protects lawyers' IOLTA accounts against any third-party debiting, so you can rest easy trusting your transactions to LawPay.
This article originally appeared on the LawPay blog. Product Spotlight is sponsored content that showcases content provided by Attorney at Work sponsors and advertisers. This does not constitute an endorsement by Attorney at Work. See Terms and Conditions for more information.