Let's say you practice in a midsize personal injury law firm in a metro area and you'd like to get more car accident cases. You do a Google search for "car accident lawyer" and see that your firm isn't listed on the first page. So, you conclude that improving your rank for "car accident lawyer" should be a major marketing focus.
Like most people, you've probably assumed that the way you would search for your services is how your potential clients would search as well. In many cases, it's not. You may rank first for "premises liability lawyer," but that won't bring you cases if nobody is searching for that term. That's because "slip and fall lawyer" has three times as many Google searches. Sure, you know the difference between the two, but your potential clients probably don't.
Maybe you want to rank for "DUI lawyer" and your site performs well in organic search for related keywords. If you do some research, however, you might find that while about 80 percent of people search for "dui lawyer," the remaining 20 percent use keywords like "dwi lawyer" or "ovi lawyer."
Rather than build your marketing strategy around the way you think your target client is searching, focus on the keywords and topics you know they're searching, based on research.
This Is Where Google Trends Comes In
The good news is there are many keyword research tools that provide insight into search trends and behavior. The bad news is that it takes a lot of time. Conducting a detailed analysis of a term such as "automobile accidents," and crafting a content strategy, can take a seasoned SEO pro up to 20 hours. And, since search trends change quickly, it requires ongoing maintenance.
If you can't afford a marketing agency or a full-time SEO professional, Google Trends can give you valuable insights into search trends — and generate ideas for your website, blog and social media content. While it's not the best tool for in-depth keyword research, it is easy to use and can help guide your marketing strategy.
Here are five ways to use Google Trends for your law firm:
1. Explore topics. From the Google Trends home screen, use the top search bar to enter basic keywords you think you want your firm's website to rank well for. Generally, this would be "practice area + lawyer" keywords like "criminal defense lawyer," "dui lawyer."

First, you will see the "interest over time" screen, which shows the trended search demand for that term. (Note: The default view is worldwide, so you will want to change it to the United States.)
You can also compare keywords. This will help you better understand the overall search demand for various keywords related to your practice area. It's also helpful to understand peaks and dips so you can adjust your blogging frequency.
The screen below shows a decline in the number of searches for "car accident lawyer" and "personal injury lawyer." So, if you have consistently ranked well for those keywords but have noticed a decline in your website traffic, this could help explain it.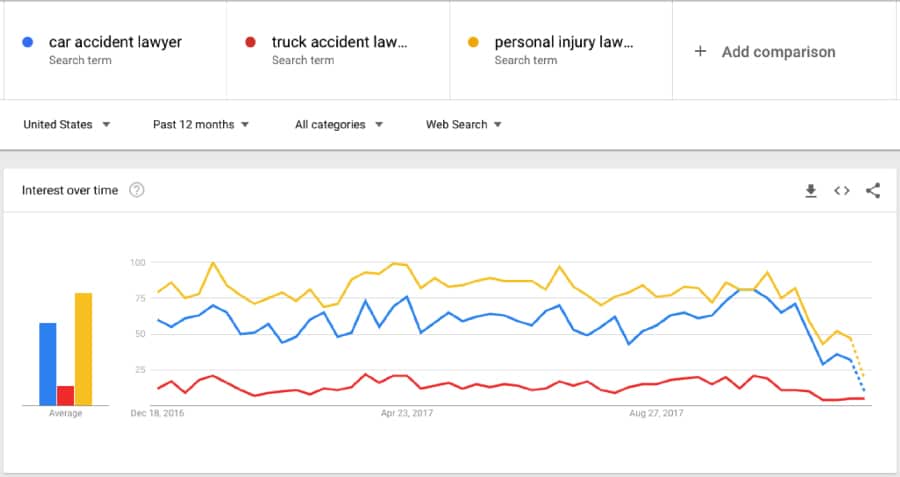 You can see the full comparison of these topics here.
2. Find rising related topics. Scroll down and you'll see a section of "related topics," sorted by "rising." These are topics that have seen a recent increase in search demand.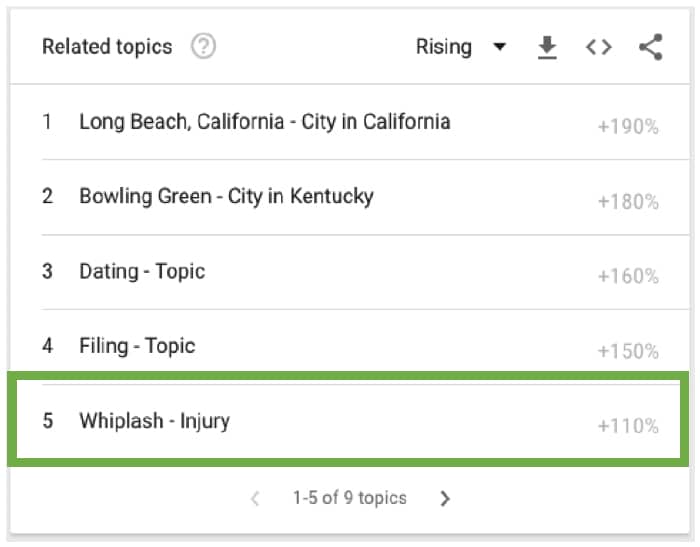 In the search above, the topic of whiplash injuries saw a 110 percent increase in overall search demand over the same time period that "car accident lawyer" saw a decrease. This may indicate a shift in the way people search. Using this information, a personal injury lawyer might want to blog about whiplash injuries to combat the declining demand for "car accident lawyer."
3. Review interest by metro area. This feature is helpful if you are looking to expand your practice by opening new offices. In the "interest by subregion" section, click on the state and you will see search interest broken down by metro area.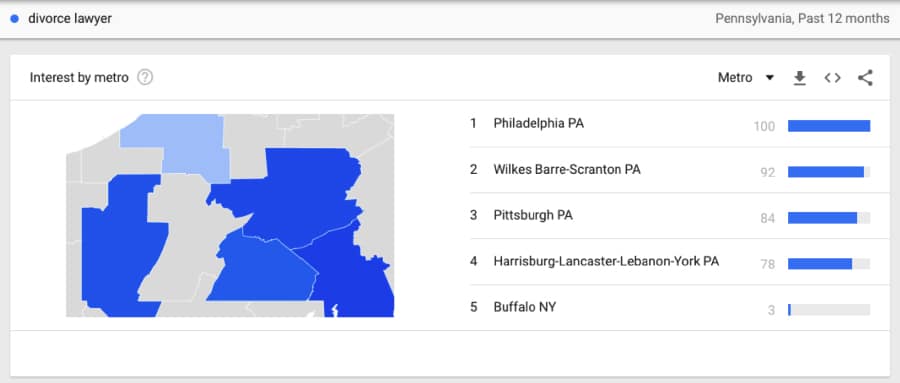 If you're a divorce lawyer located in Pittsburgh who is interested in expanding your practice statewide, it's helpful to know that the eastern side of the state has some of the highest search demand for divorce lawyers. You might consider an office located between Philadelphia, Wilkes-Barre and Harrisburg to put your firm at the center of the areas with the most searches.
You can also compare insights by state and even more granularly within a metro area if there is enough data. (If you see a blank chart because there is not enough data, try searching for something more general or expanding your geographic filters.)
4. Search YouTube. Google Trends also allows you to see search demand for YouTube videos. You can use this data to figure out video topics for your audience. At the top of the home screen, simply select "YouTube Search" from the drop-down menu instead of "Web Search."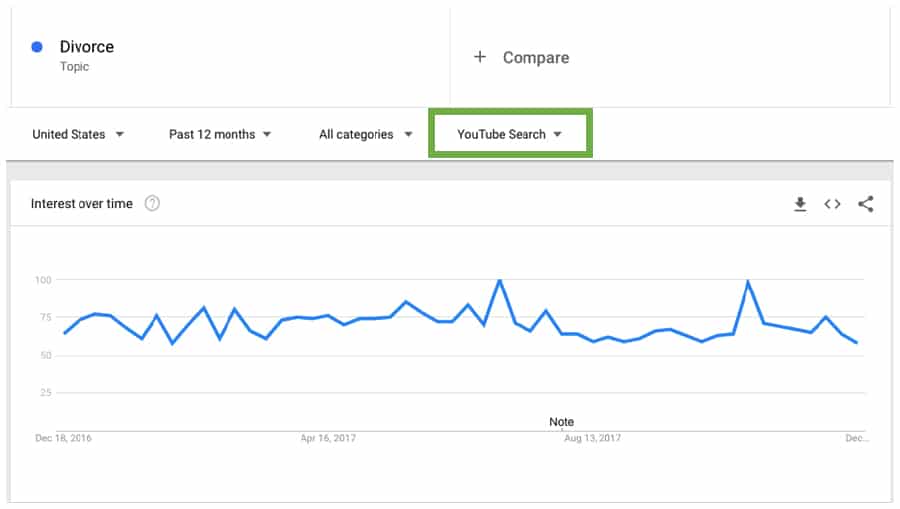 5. Review trending searches. From the Google Trends home screen, click the left menu stack to view a timely list of searches that are trending right now.

Trending Searches is a great place for getting ideas for content. A story about a data breach or a product recall may be a good blog topic for a consumer protection attorney. Natural disasters or weather-related news may spur personal injury attorneys to write about safety tips. At times it may require a little creativity to spin a current event into content that is relevant to your audience, but it will show potential clients that you stay up-to-date on topics people care about.
Click the plus symbol (+) on the top right of the screen to subscribe directly to Trending Searches. It's a good habit to check this at least weekly so that you can react quickly. Search engines like to see fresh, timely content, and a regularly updated blog will help your site rank higher in search results.
Julie Howell is a Marketing Director at Postali, a marketing agency that helps lawyers across the country grow their business by targeted direct-mail campaigns, award-winning web design and digital marketing management including SEO, PPC, public relations, legal content writing and social media. Follow Julie on Twitter @Postali.
Illustration ©iStockPhoto.com
Subscribe to Attorney at Work
Get really good ideas every day: Subscribe to the Daily Dispatch and Weekly Wrap (it's free). Follow us on Twitter @attnyatwork.