There's ample evidence to suggest that lawyers — members of a profession that almost exclusively bills by the hour — are not doing everything they can to Automate Workflows and maximize their earnings.
Clio's recently released "Legal Trends Report" reveals that, on average, attorneys are billing a staggeringly low 28 percent of their total time worked (assuming an eight-hour workday). In the 2016 Thomson Reuters "State of U.S. Small Law Firms" study, 69 percent of respondents reported that "spending too much time on administrative tasks" was a "moderate to significant challenge."
Technology, often touted as a solution to the modern worker's productivity plight, doesn't always help either. Consider that email, meant at one time to be the asynchronous efficiency-boosting communication channel of the future, now represents a time-sink that swallows up to 40 percent of the average office worker's week — necessitating an entirely new generation of disruptive solutions to undo the damage.
Hundreds of thousands of business apps exist to assist with our productivity woes (with hundreds more being released each day). This has given today's lawyers an unparalleled toolkit, but with little progress made coordinating workflows between tools. Until now.
Automation in the Nation
Earlier this month, Microsoft announced Flow, a new tool designed to work with the Microsoft suite of tools and other partners. Joining a number of similar tools like Zapier and IFTTT, Flow will help users automate workflows across a number of disparate applications. These services work by taking the application program interfaces (or APIs) for popular applications and plugging them together, allowing the apps to exchange relevant information and data automatically. They're exploding in popularity because there's zero coding skill or technical know-how involved; users simply need to specify the apps they're using, how they'd like the apps to communicate, and what they'd like the end result to be. The automation service takes care of the rest.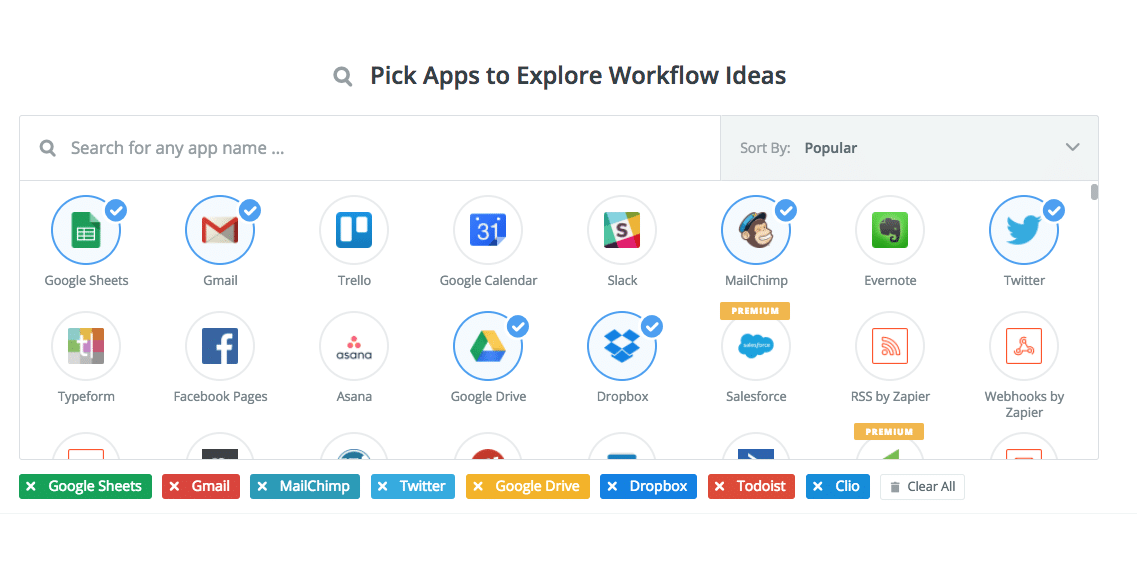 In the following, we'll be focusing on Zapier. Because Microsoft Flow is still relatively young and only offers 63 partner applications; and while IFTTT has awesome applications for automating your household and other IoT-enabled items (smart lights, smart thermostats, smart locks), it still lacks any real use in the business world.
Zapier, on the other hand, already integrates with over 750 leading business applications, boasts over 1 million users, and is so perfectly designed even a toddler can use it. (Confirmed: I had mine help me set up an integration as part of this article's research.) And because Zapier already integrates with some legal-specific solutions, many law firms are already using it to automate workflows.
The Nuts and Bolts of Zaps
As far as the user is concerned, Zapier is relatively straightforward. Upon registering an account, you're presented with a list of over 700 popular business applications to choose from. Selecting the ones you want to use will populate a list of the most commonly used cases. Selecting one of those will launch a dialogue to authenticate your accounts. You also have the option to create a new Zap from scratch.
Zaps function like this: Users designate a trigger (i.e., "when this happens") and an action (i.e., "do this"). For example, if I want a task to be created in Todoist whenever a calendar entry is created in Clio, the trigger app is Clio, the trigger is "new calendar entry created," the action app is Todoist, and the action is "create a new task."
For more advanced Zaps, users can even create filters (e.g., only sync calendar entries containing the text "meeting"), or chain multiple apps together with Multi-Step Zaps.
Five Ways Zapier can Automate Workflow and Tasks
If you're curious about how Zapier can help you automate tasks, here are five examples you can try out. A basic subscription with Zapier starts at $0. Go forth and automate!
1. Phenomenal practice management. "Zapier is the hub that makes all of my systems act as one," says Jason Morris of Round Table Law, a family law, wills and estates, and civil litigation firm in Alberta, Canada. As a solo attorney at a busy firm, time is at a premium. By using Zapier, Jason has daisy-chained no fewer than six applications together to streamline the creation of a new matter in his practice management software, Clio.
When a new matter is created:
Zapier creates a label for the matter in Jason's Gmail account, then sends a dummy message so that the label is shared across the firm.
The Zap (each individual trigger/action combination in Zapier is referred to as a "Zap") then creates a new project for the matter in Asana, a task management platform.
The Zap then creates a new project in Toggl, a time tracking tool.
The Zap then creates an entry in a Google Sheet that indexes the matter name, the Toggl project ID, and the Asana project ID, so that other Zaps can look up the necessary IDs in one resource.
Finally, the Zap announces the new matter to firm staff via Slack, a chat application.
Previously, staff needed to create the matter with appropriate labeling within each individual application. Zapier now handles it automatically and invisibly, in seconds.
2. Painless printing. The legal profession is notoriously document-heavy. By using Zapier in conjunction with Webmerge (a tool that seamlessly merges cloud data to document templates) and Google Cloud Print, you can ensure that crucial documents are printed as soon as they're generated. "Lawyers will love this Zap that automatically prints any newly made documents," says Carlin Sack of Zapier. "You can even add a filter in between the two steps to ensure that only certain documents, such as ones requiring a signature, get printed."
Even an incremental improvement can have a major impact. Consider the sheer volume of documents printed by lawyers — saving several minutes per document by automating processes can translate to hundreds of hours over the course of a year.
3. Screening at scale. Brad Clark, lawyer at Clark Law PLLC and founder of Unconvicted.com, processes a ton of traffic through his startup. It's focused on automating the process of expunging misdemeanor and nonviolent criminal convictions based on a new law passed in Kentucky. The process, which starts with a simple website form, relies heavily on Zapier to ensure relevant information is captured and communicated.
When describing how he set up an intake form via Typeform to screen potential candidates, Clark says he asked: "What would the conversation I have with someone who comes into my office look like, and how can I capture that information as efficiently as possible online?" Once the form is submitted, the captured information is Zapped to a Google Sheet and also added to MailChimp, where applicants are later segmented into lists based on whether or not they qualify.
"By automating the process using Zapier, we've been able to process almost 1,500 screenings in a couple of months, and filed over 100 petitions," says Clark.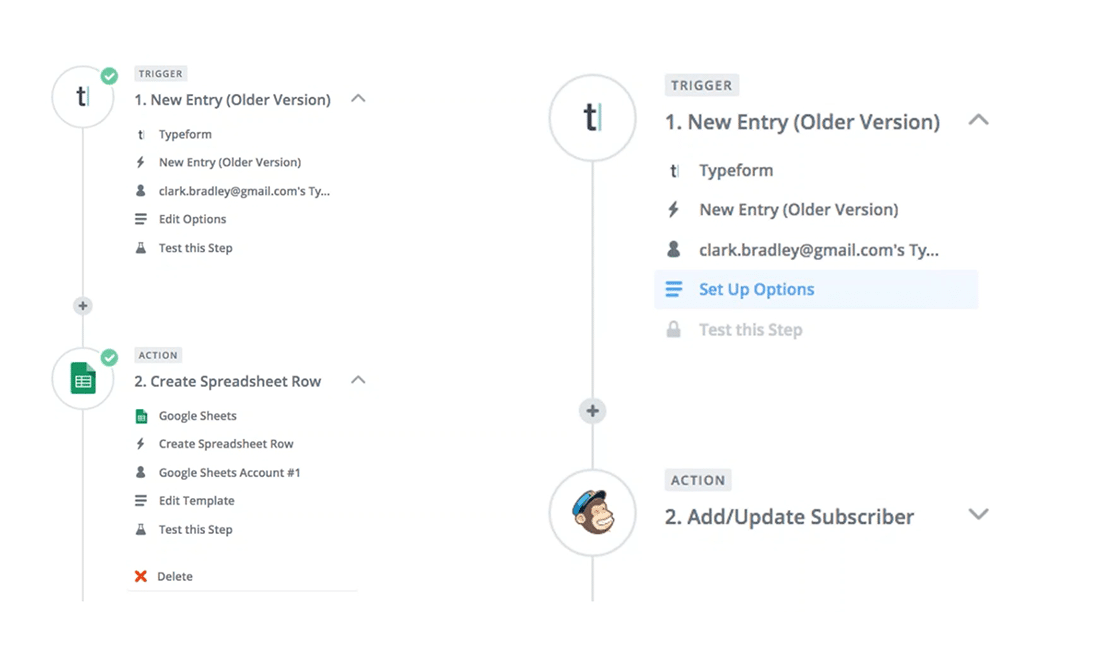 Once a qualified applicant agrees to retain Brad's firm, they're added to a second Google Sheet, which triggers a Zap that creates both a contact and a matter for the new client in their practice management software. Most surprisingly, all of this is done without a client ever having to set foot in their office. For most law firms, meeting with, screening and qualifying 1,500 clients would be a monumental effort. With Zapier, Brad's firm has automated 90 percent of the process.
4. Compulsory call tracking. If you're not a fan of working for free, automation can be your best friend. By using Zapier in conjunction with services like CallTrackingMetrics, an advertising efficacy tracker, you can ensure you're not missing a single billable second. Whenever a call comes in via a number generated via CallTrackingMetrics, Zapier can be set up to track and record call length on a matter in your practice management program. If a matter or client doesn't exist, Zapier can even create a new one for the purpose of recording a time entry for the call.
5. Magical marketing. "As much as I would love to spend money on overhead and hear myself say, 'No, no, that's not the way to enter that,' I'd rather just use Zapier and get the job done quickly," says Daniel Gershburg of Gershburg Law P.C., a New York City bankruptcy and business law firm.
Gershburg uses a Zap to manage his contact and email marketing lists. "Every time I star a specific email in Gmail, the contact's info is entered into Google Contacts and added to a MailChimp list for my weekly newsletter. "While attorneys continue the hilarious yet nonsensical and unending, 'paper-free' office talk, I've finished connecting four functions my office does with the click of a button. Zapier, in a word, works for me and makes me efficient," he says.
While lawyers seem fixated on finding solutions that solve productivity wholesale, the true path to productivity may lie in automating routine and repetitive tasks. This can free up hundreds of hours annually, allowing you to focus on the tasks that can't be automated — like effectively advocating for your clients.