Have a basement full of closed files? This four-step paper reduction plan will reduce your reliance on paper without risking your license (or sanity).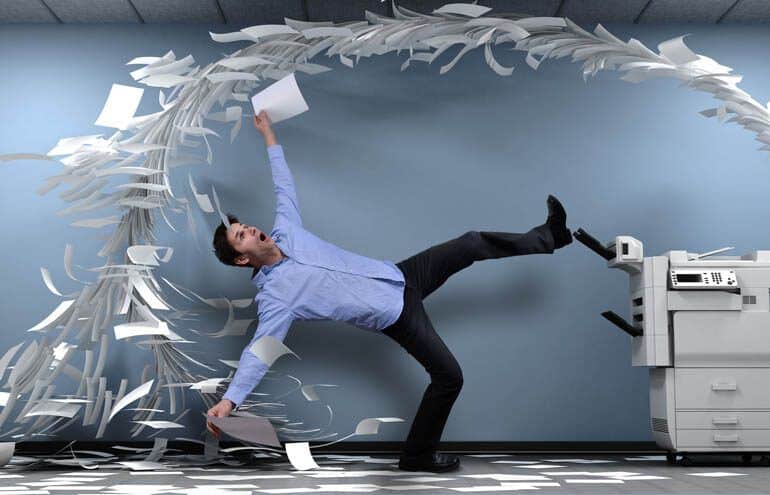 Reducing paper around the office can be a daunting task, especially if you're buried under mountains of paper or have a basement full of closed files. The key is to focus on reducing paper, not eliminating paper altogether. This four-step foolproof plan will reduce your reliance on paper without risking your license (or sanity).
1. Create an Electronic Matter and Document Management Plan
Reducing paper means relying on electronic records rather than paper documents and files. Before you can even think about cutting back on paper, you'll need an electronic system to replace your paper system. For many attorneys, the paper file doesn't just store documents — it stores emails, contact information and more. Just saving documents somewhere won't fully replace the paper file.
While this might be the time to invest in new software, you might already own something that'll meet your needs. We often only scratch the surface of what software can do, so don't write off your existing systems right away.
If you have a matter management system, investigate whether you can use it to store documents and emails. Many of them have basic document and email storage functionality. Your matter management system should also be able to house all contact information for everyone related to each matter.
If you don't have a matter management system, take a look at your time, billing and accounting system. Many legal-specific time, billing and accounting systems also handle some matter management functions and store documents.
If you have neither a matter management system nor a time, billing and accounting system that can replace your paper file system, you'll need to invest in a new system. Ideally, you'll use one system to manage your matters, enter your time, send bills, handle all your accounting needs, and manage your documents. Look for a matter management system with full accounting included to reduce duplicative data entry. Then, make sure it can either meet your document management needs or invest in a full-blown document management system that can integrate with your newly selected practice management system.
2. Stop Making More Paper
Once you have selected a new system for managing your matters and documents electronically, stop making more paper. If a client hands you paper, scan it in, and give the originals back to them. If you want to review a document on paper, do so, but scan in your notes and shred the paper as soon as you're done reviewing it. If you write notes on paper, either type them into your matter management system or scan them in, then shred them.
Stop opening paper files for clients.
3. Make It Easy to Scan
Scanning documents needs to be as easy as placing a piece of paper in a physical file. Having to walk across the office or sharing a scanner with others in your firm makes it easy to procrastinate scanning documents. When you delay scanning, your electronic system is no longer complete, and you become reliant on paper sitting around the office again.
Desktop scanners make it easy to scan without getting up from your desk. Many desktop scanners can scan double-sided sheets of paper, make the resulting PDF text searchable, and integrate with the most popular document management systems.
Get in the habit of immediately scanning all papers as soon as they cross your desk.
4. Create and Follow a Document Retention Policy
If you don't already have a document retention policy in place, it's time to implement one. If you have one but keep documents well past their destruction date, you need to start destroying old documents when it's time. You can outsource the shredding or hire summer interns to tackle the job.
Remember that any progress toward reducing paper around the office is a worthy investment. You don't have to do it all overnight.
About Affinity Consulting Group
Affinity Consulting works with law firms and legal departments on strategy and technology engagements that help them create a great place to work and deliver excellent services to clients by improving how work gets done, aligning their stakeholders, while focusing on profitability.
©iStockphoto.com

Don't miss out on our daily practice management tips. Subscribe to Attorney at Work's free newsletter here >