Staying on top of client relationships is vital to the long-term success and profitability of your law practice. Here are four ways legal CRM can benefit your firm.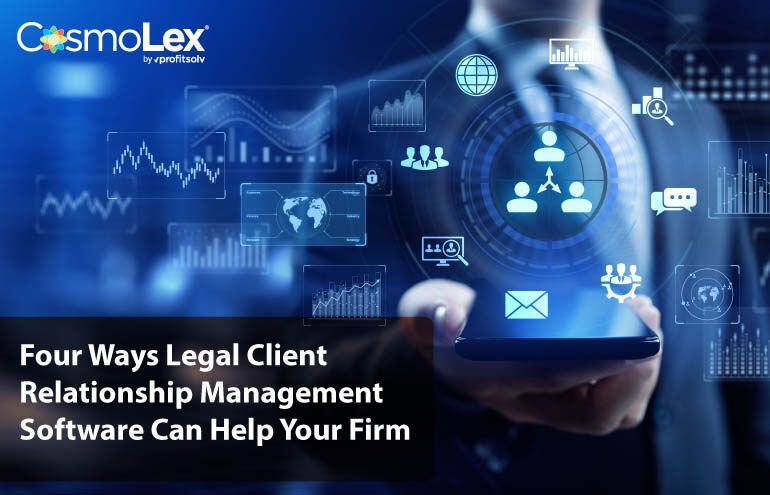 Staying on top of client relationships, whether with new leads or accounts that have been with your firm for decades, is vital to the long-term success and profitability of your practice.
But how are you managing those relationships? If your inbox is overflowing, your voicemail is full, and your to-do list is a mile long, you may need a different system—and different tools—to support you.
For busy law firms, legal client relationship management (CRM) software can be a powerful solution. Legal CRM helps you better manage the way your law firm engages with prospective or current clients throughout the client lifecycle.
Here are four ways that a legal-specific CRM can benefit your firm.
1. Connect Your Firm With Better-Qualified Leads
Building your client base is more nuanced than generating leads and converting them into clients. To convert leads efficiently and effectively, you should focus on sourcing the right leads.
Identifying which leads are qualified—and which aren't—typically happens during the client intake process. However, this process can be time-consuming and isn't a great use of your billable hours.
A better strategy for connecting with qualified leads is to implement a legal CRM with intelligent intake forms. Intelligent intake forms are fully customizable and can be structured to qualify or disqualify leads automatically. Implementing these forms frees your team from dealing with tedious intake questionnaires and sorting through responses, so they can focus on more high-value, billable work.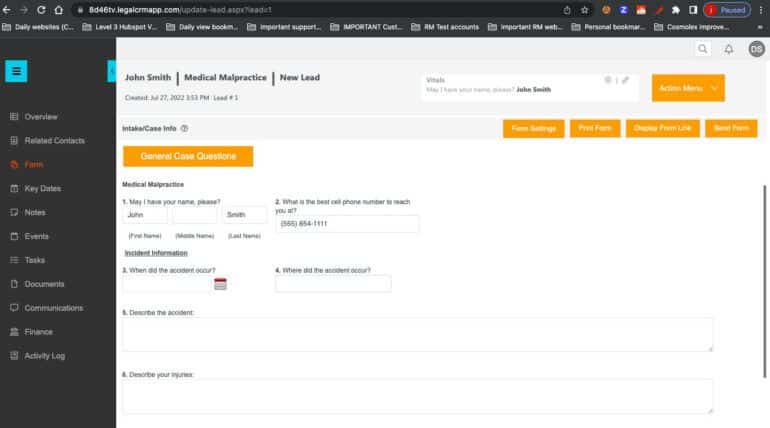 2. Streamline the Intake Process
An efficient intake process is essential to your firm's growth. If prospective clients don't hear back from your team promptly or have trouble navigating the intake process, there's a high probability that they'll move on to another firm.
Using a legal-specific CRM can simplify intake by:
Automating follow-up so when a prospect inquires, they receive immediate communication
Facilitating appointment scheduling so a client can get on your books as soon as possible
Keeping the process moving with secure file-sharing, allowing clients to send evidence, documents, and other resources with as little effort as possible
Engaging clients with drip email campaigns and other legal marketing automation tools so they stay informed and aware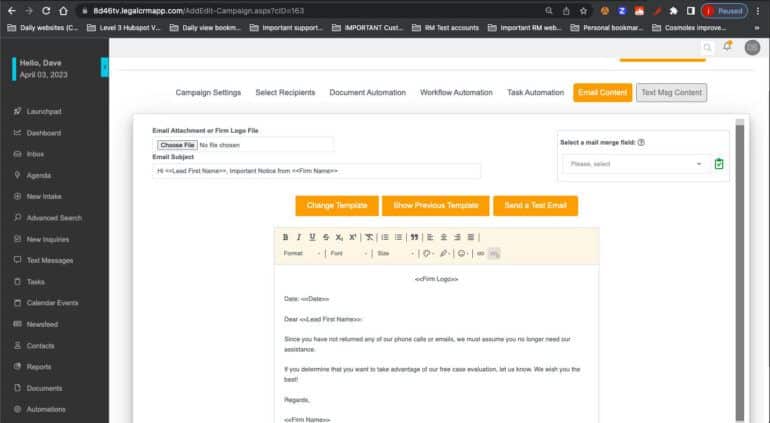 3. Improve the Client Experience
To win—and retain—clients, you can't skimp on the quality of experience or service. Legal CRM can help you take better care of your clients with tools that improve communication and increase convenience.
Text and Video Messaging
Creating a quality client experience hinges on making your clients feel like you're there for them no matter what. Keep up with your clients with a legal CRM that allows you to craft personalized text or video messages.
This messaging can keep them in the loop about developments with their cases, questions about invoices, and more. (And because these communications can be automated, you don't have to worry about taking time away from your legal matters.)
File-Sharing and eSignature
A CRM that includes secure file-sharing and one-click eSignatures can provide your clients with much-appreciated convenience.
When you offer secure file-sharing and eSignature, your clients don't have to:
Spend time sending things back and forth through the mail
Worry about the security of files sent via email,
Drive to your office just to sign a document
As a bonus, eSignatures also allow your team to spend less time chasing down clients to get them to sign on the dotted line, freeing them up to focus on billable tasks.
4. Create a Fully Integrated System From Intake to Payment
A legal CRM can further help law firms by creating a fully integrated system, from intake all the way through to invoicing and receiving payment from clients. A fully integrated system makes it easier to keep track of tasks, deadlines, appointments, and requests—all the work that goes into running your practice.
For example, consider the work that goes into inputting new client data into your practice management system. When your CRM is isolated from your practice management system, you end up adding data into two separate systems. Not only does this increase the amount of time and effort required from you, but it also increases the risk of manual error in data entry. But when you use a fully integrated system, you can create seamless workflows.
Another benefit of fully integrated CRM software is that all of your documents are synced between your CRM and practice management software. This helps keep documents and matters expertly organized while allowing your team to access information and work from anywhere.
Take Your Client Relationships to New Heights With CosmoLex
If you're looking to increase your firm's client intake, streamline your processes, and keep current clients satisfied, CosmoLex can provide you with a robust, fully-integrated software solution that will save you time and money while increasing efficiency.
Ready to see how we can help your law firm upgrade its intake processes and keep clients happy? Schedule a demo or sign up for a free trial today.
SPONSORED CONTENT. Our product spotlight content is provided by Attorney at Work sponsors and advertisers. This does not constitute a product endorsement by Attorney at Work. See Terms and Conditions for more information.