What can small and midsize firms do to punch above their weight and compete with larger, better funded firms? A fractional CMO can keep your firm focused on big-picture growth goals while managing the pieces and parts of your marketing strategy.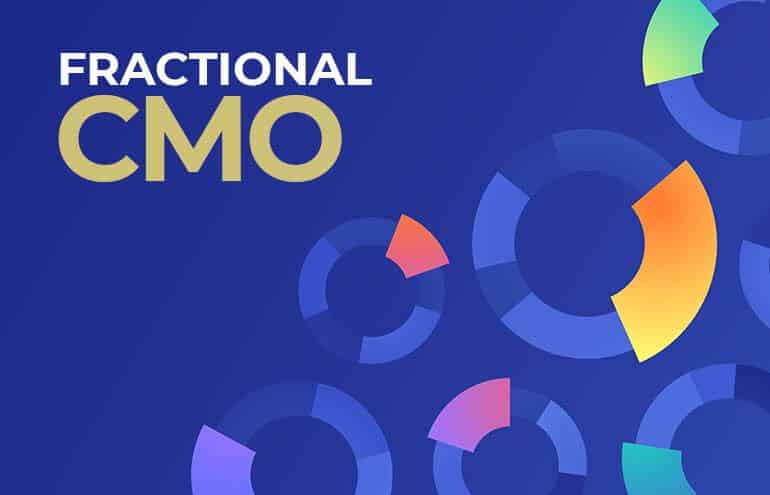 The challenge for most small and midsize firms is how to manage the marketing process without relying on lawyers and others who run the firm — people who have excellent lawyering and administrative skills, but not necessarily marketing skills. Hiring what's called a fractional chief marketing officer (FCMO) can bring professional marketing expertise to your firm without the cost of a full-time marketing executive.
If you aren't ready to commit to a full-time position, don't have the budget or are between chief marketing officers, FCMOs can be a great option.
What Is a Fractional Chief Marketing Officer?
A CMO is a marketing executive who handles all aspects of a law firm's marketing strategy, including market research, marketing communications, business development, advertising and public relations. At the highest levels, CMOs sit on the firm executive committee and have a direct role in client relationship management.
Just like it sounds, fractional chief marketing officers — also known as outsourced CMOs — are hired for a fraction of the time of a full-time CMO. Essentially, firms hire them as part-time C-level executives or set a temporary working term.
FCMOs are experienced marketers capable of executing your firm's growth strategy and keeping current plans on track. They can synthesize your existing business development and marketing efforts, audit an existing marketing strategy, develop a consistent marketing message and more. They can also help you develop a marketing plan if none exists.
Many firms hire junior marketing coordinators or assistants to handle specific tactical aspects of firm marketing — events, websites and newsletters, and social media, for example. While this helps remove the marketing burden from lawyers' shoulders, it does not accomplish the same goal as hiring a CMO. Junior marketers simply do not have the strategic capabilities or project management skills needed to have a significant impact on your firm's long-term growth.
Knowing when to hire an FCMO can be transformative.
And What Can a Fractional CMO Do for You?
Here are a few examples of the ways these outsourced CMOs assist law firms.
Managing Day-to-Day Marketing and Business Development
When it comes to everyday tasks, FCMOs can be the solution to a wide range of problems. They could also manage a small marketing team that may be tactically oriented but largely operates without a full understanding of the total legal marketing process.
Helping Lawyers Become Business Development Focused
The process of business development in the mid-market is largely driven by the lawyers themselves. Very rarely do smaller firms have a fully fledged sales process or sales team that is responsible for business development or proposals. That responsibility rests on the shoulders of individual lawyers. Coaching them on the skills and tactics needed to bring in new business is the cornerstone of law firm growth. A good fractional CMO has the skills to draw this out of the lawyers and can help turn them into rainmakers. That is one of the most important benefits that can accrue to small and midsize firms.
Connecting Sales and Marketing
Marketing and sales (business development) are often spoken of as the same thing, but they are absolutely not. Marketing tends to operate more actively at the top of the sales funnel, helping to make potential clients and referral sources aware of the firm and generating leads, while sales tends to operate lower down the funnel, qualifying and closing those leads. Managing both ends of the funnel together is advantageous, but something many firms fail at. An FCMO can make sure strategies are in place to make this work.
Rebranding Your Law Firm
Rebranding is never easy. When done poorly it can be incredibly detrimental. This is especially true when a rebrand is done piecemeal. For example, when firms rebrand one element (say, the firm website) without integrating everything else that represents their brand, it leads to a disconnected, confusing message that clients and referral sources will notice.
If you are looking to rebrand or update your brand, it is helpful to have a professional on hand to oversee the process. You want someone inside the firm who knows how to bind all the aspects of marketing and business development into your operations while creating your new brand.
Developing a Comprehensive Marketing Strategy
Many firms operate marketing as a number of independent tactics that never build on each other or connect to form a whole, deliberate strategy. Building one tactic on another creates an increasingly impactful marketing effort (1+1 = 3). Developing this strategy is crucial for firm growth, but it does not necessarily require a full-time person.
Again, if you've hired a marketing coordinator or assistant to handle events or implement certain tactics, that is not sufficient. The value a fractional CMO brings is the strategic insight and vision to put a proper plan in place. That plan becomes the engine for growth that the coordinator can help implement. In other words, the FCMO helps decide why things need to get done. The coordinator helps implement the what and how.
These work hand in hand to make your marketing work.
Would Hiring a Fractional CMO Work for You?
Any firm that does not have a full-time marketing professional onboard could benefit from bringing in a fractional CMO. Firm size does not matter — what matters is your firm's vision and desire to grow. That said, before hiring an FCMO, make sure your partners are clear on their priorities. You don't want to waste the FCMO's limited time or your marketing budget. The first step before signing a contract or creating a job description might be to conduct an audit of your current marketing activities.
A Fractional CMO can be a game-changer for your firm
Setting growth goals is easy. Knowing how to achieve those goals is another story. If you have goals you do not know how to achieve, hiring an FCMO may be the right move.
Read More on Marketing Professionals for Law Firms
Image © iStockPhoto.com

Don't miss out on our daily practice management tips. Subscribe to Attorney at Work's free newsletter here >