Question: How can I get my foot in the door to meet with a potential client?

Aleisha Gravit: I am a firm believer that to get a piece of work from a potential client, there must be trust between the two parties. Trust can be difficult to establish with a potential client, but not impossible. One tactic is to identify a point of entry where you can add value at no cost to them and give them an opportunity to test drive working with you.
Let's assume that you have already had some form of initial contact with the potential client, whether through an introduction, meeting at a conference or otherwise. Your next step is to identify one of these points of entry — knowing this will require some up-front investment but can potentially pay off in spades, if done thoughtfully.
Do the Research
To begin, you need to "go to school" on the company and your contact. Take a deep dive into the client's business as well as gathering what public information you can about your contact at the company. Along with the typical review of their previous filings and transactions to see who their current counsel is, I always recommend reviewing the 10-K (if public) to determine risks and any legal issues they may reveal. It is also good to review what has been printed about them in the media to get the fullest picture possible on your potential client.
Once you have educated yourself on their business, you need to identify a substantive point of entry. For example, let's say you are a compliance lawyer and your potential client is a drug manufacturer. During the course of conversations and in reviewing information on the company, you learn that one of their strategic objectives is to enter a new market and you know this presents significant challenges given the regulatory and political environment.
Consider reaching out to offer a brief review of the regulatory and business landscape in one of the markets they are exploring. Include a conversation about your findings and some possible solutions for them to consider on your dime. This will deliver value as well as insight into what it would be like to work with you, which starts the trust-building necessary to get the first piece of business.
This may not pay off immediately. But, regardless, it will give you a leg up on any others who might also be trying to get their foot in that door.
Aleisha Gravit is the chief client services and marketing officer for Akin Gump Strauss Hauer & Feld LLP. She is responsible for setting the direction for practice group- and industry-driven strategies, public relations, internal communications, brand management, competitive intelligence and market research. In this role, she collaborates with the firm's lawyers and professional staff to maintain a client focus, increase marketplace awareness and facilitate cross-office and cross-practice collaboration.
That's a Good Question! What's Yours?
No, not every law firm has a professional marketer or business development coach on staff to answer questions. So send us your questions via email or in the comment section below, and we'll pass them on to the experts at the Legal Marketing Association. Watch for the best responses here in Ask the Expert.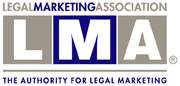 The Legal Marketing Association provides professional support and education as well as opportunities for intellectual and practical information exchange.
Illustration ©iStockPhoto.com