It's been almost three months since I wrote part one in my series about how I'm using Evernote in my law practice. Sure, I've been busy, but several other things happened in the interim, some of which have caused me to rethink this series.
The first thing that happened is that my email inbox was flooded with suggestions from other Evernote users and lawyers. As a result, I stumbled on a few new resources and ideas.
Second, my Evernote Premium subscription was shut down because of an apparent recordkeeping error by the folks at Livescribe, makers of the Evernote-compatible digital pen. I was so angry and frustrated that I contemplated abandoning Evernote altogether! Ultimately, though, I resolved that my issue was with Livescribe, not Evernote, so I paid the $45 annual subscription fee (again).
Next, just as I was about to start writing this post, Hurricane Sandy crashed into the Jersey Shore. Although my immediate family, friends and partners were incredibly fortunate, we're still picking up the pieces and trying to lend a hand to others.
Finally, last month Evernote 5 for Mac rolled out. I haven't spent as much time with it as I'd like, so I can't say whether it's a game changer yet. My initial impression is that it's not, but it has an all-new, super-slick interface, below. (My friend and colleague Tim Baran wrote a useful summary of Evernote 5 features.) Evernote's iOS app is new also, and it's still free in the iTunes App Store.
But I digress—now, for part two in my Evernote series.
Capturing and Adding Content to Evernote
As promised, this second installment focuses on the types of content you can store in Evernote, and how to get that content in there. Here are the primary ways to upload, save or push content into your very own Evernote account.
1. Web clipping. The clipper was my first encounter with Evernote, and in my opinion, it alone makes Evernote worthwhile. With Evernote's clipper plug-in, you can clip and save a copy of whatever web page you're currently viewing, tag it, and add notes. Evernote has a plug-in that works with various browsers. If you're a Mac person, you probably use Safari, Google Chrome or Firefox (if you don't care about speed). All three browsers are available for Windoze, too, although a plurality of Windoze users still use Internet Explorer. But browser choice is a topic for another day. Just be aware that to use the clipper on the iOS Mobile Safari browser for iPad, you have to manually install the bookmarklet Web Clipper—tricky, but it can be done.
Once the Evernote plug-in is installed, you'll see an elephant icon on your navigation bar. All you have to do is click on that elephant to save a copy of any web page you're on. You can also tweak the settings so that only the text of the page is saved—without ads or site navigation items. I like to clip the whole page, though. If I'm only interested in the text content on a web page, I use Instapaper—an app that works like Evernote, to the extent that it syncs content between devices. The advantage of Instapaper is that the pages or articles you save are available on your iPad or iPhone even when you're offline. Some Evernote content is available offline as well, but offline notebooks are exclusive to premium subscribers.
2. Email. When you set up your Evernote account (even a free one), you get a unique email address that allows you to email notes and other content to your Evernote account. This is helpful for saving emails themselves, but it's also a quick way to get something into Evernote when you're not logged into your account or you're using a public or shared device. This is useful for me anytime I see something from an email listserve that I want to write about, convert to a personal note, or just remember (and index) for later use. Check this article written by Erik Mazzone for the North Carolina Bar for more good tips on using Evernote email and other features.
Once you get to be an Evernote ninja, you can specify where you want the emailed note to go—into which specific notebook—and can even add tags. My favorite Evernote ninja is Brett Kelly, who literally wrote the book on Evernote—it's a great resource.
3. Scan to Evernote. With the click of a mouse, you can scan from your Fujitsu ScanSnap directly into Evernote. You have a ScanSnap, don't you? If not, and you're on a Mac, you can tweak the settings in Apple's Image Capture to do the same thing. I like to use Scan to Evernote for saving articles from bar magazines and other publications that are older or unavailable in digital format.
4. Text entry (or dictation). When I'm writing, I often type directly into Evernote. (I typed this article into Evernote.) The interface has all the formatting capabilities of any basic text editor, plus all the other stuff, too. I like using Evernote for writing submissions because when I'm finished I can just click to share my note, without having to take the extra step of attaching it to an email. Since I upgraded to the iPhone 5—with Siri—I've taken advantage of being able to dictate notes into Evernote as well. It's perfect for those times when I get an idea for a brief or something else I want to write, but I'm stuck in traffic.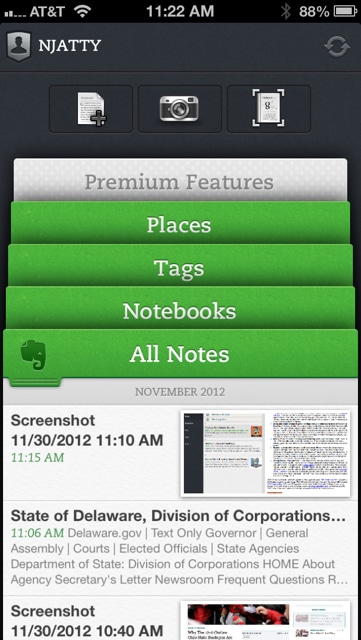 5. Recording audio clips. Evernote has a built-in voice recorder, too. Just click on the microphone icon and chat away. The sound of your voice (or whatever else is within earshot) will be recorded and stored inside a note as an mp3 file. I don't, however, use this feature because I use an app called Dictamus to, for example, record instructions for my virtual assistant, Legal Typist. With Dictamus, recording and sending voice instructions only requires two to three clicks on my iPhone or iPad. Easy peasy.
If you have a ninja trick for getting stuff into Evernote, please put it in the Comment box at the end of this post.
What I Don't Put in Evernote
Evernote's current terms of service leave open several loopholes, which prevents me from using it for client data or financial or health records. Evernote announced new terms that take effect December 4, but even these don't give me the kind of assurance I would need to trust them with more sensitive data. Evernote Business is scheduled to launch this month, though, and from what I can tell, its primary benefit is a more robust sharing component, with specialized access privileges, geared toward larger organizations. It could be a game changer depending on the terms of service that govern its use.
Joseph Bahgat runs a technology-driven business law and litigation practice at Bahgat & Bahgat. Before becoming an attorney, Joe was a professional musician, and he uses his experience in the music and entertainment industries to advise organizations and creative-minded professionals in complex contract & licensing negotiations and disputes, unfair competition, litigation involving the Internet, and the laws of privacy, defamation, and the right of publicity. He also writes and speaks on these topics, and sometimes bikes to the office (but not to court). His personal blog is The Sports & Entertainment Law Playbook and you can follow him on Twitter @njAtty.