Case management systems are like so many baby rabbits right about now; but, like individual baby rabbits (and snowflakes), each is a little bit different. All the major case management systems offer the same basic features — calendar, email integration, time and billing — so, the devil becomes the details. Therefore, making a coherent decision on a case management platform requires a deeper dive, to differentiate between systems that are generally useful and those that would be truly usable in a specific law firm environment: yours.
Thomson Reuters' Firm Central is a cloud-based case management platform that does everything you'd expect — and a whole lot more. Thomson Reuters recently relaunched (read: refined) the entire suite, which includes the integration of advanced time and billing tools. The following explains many of the changes and features that allow this product to stand firm and central among a crowded pack of competitors.
AP … Why?
Many case management programs rely on APIs to provide popular product integrations; but Firm Central comes plugged into one of the most powerful product networks in the world. The number and breadth of Thomson Reuters/Westlaw product features available through Firm Central is fairly staggering, and the integration is only likely to expand.
If Firm Central has a "killer feature," it's that it can include all the killer features of so many other useful programs. Your Westlaw account is available through Firm Central, so you can perform research and save your results to Firm Central matter folders. Practical Law (for state-specific guidance, practice notes and checklists) is also available, supplementing those features accessible through Westlaw. When you include citations in your documents or upload documents with citations, Firm Central will automatically link those citations to the relevant cases in Westlaw; when the case treatment is altered by a later court decision, Firm Central automatically updates the KeyCite treatment flags, so that you are notified of the change in status.
Firm Central can be a document development engine as well, offering true document assembly features inside of a case management product — a rarity. Custom Forms is included with your Firm Central subscription, and Westlaw Doc & Form Builder and Drafting Assistant are available as add-ons. You'll start with a healthy 110 GB of space for document storage, and get an additional 2 GB for each seat/subscription in the firm. Within Firm Central, you can assemble, archive, research, update and manage your documents, all in one place. If a case management product should represent a holistic remedy for your law firm, that's about as holistic as it gets.
Of course, as with any case management system that features integrations, it's about the cost of the add-ons, too; there's a difference between buying frozen yogurt and getting the frozen yogurt with the gummy bears on top. If, for example, you're already a heavy Westlaw user, Firm Central makes eminent sense as a practice management tool, since you've already paid the bills for the bells and whistles. If that's not the case, you'll want to price out the features for the model you want.
Farm Fresh Billing
Thomson Reuters introduced a completely new and fully integrated time and billing feature to Firm Central in January. Fresh off a discussion of the importance of integrations, this identifies as an important upgrade and a significant markup for convenience and ease of use. You can toggle between projects with the revised timer — moving to another matter pauses timekeeping on the prior matter until you go back to it, but only one timer is active at any one time — so you won't double bill.
Because Firm Central is cloud-based, its time and billing features are also device-agnostic, which means you can keep time from your laptop, your iPhone or pretty much anywhere else. Firm Central allows you to set up billing groups, based on fee types. It offers a tab for adding expenses to cases, and also for examining pre-bills, prior to publication. And it integrates with QuickBooks (see, it's not just about Thomson products), to more easily allow you to yoke your time and billing to your accounting processes. Through secure client portals, you can provide access to bills and balances, as well as case-related updates.
Rest and Remainder
There are a few more important features I'd like to note:
The new Firm Central comes with an updated default interface (see screenshot below), made up of a series of customizable and interchangeable widgets — which pretty much means that your Firm Central welcome page is exactly what you make of it.
Two-way calendar sync is available for Microsoft Outlook, and one-way sync (push to) is available for Google, Mac and other applications. Deadline Assistant (another Thomson integration) automatically calculates court dates and deadlines for specific case types, and even lets you build out custom workflows.
With its new time and billing feature, Firm Central includes a more robust matter permissions architecture, including more permissions levels, including for different job categories.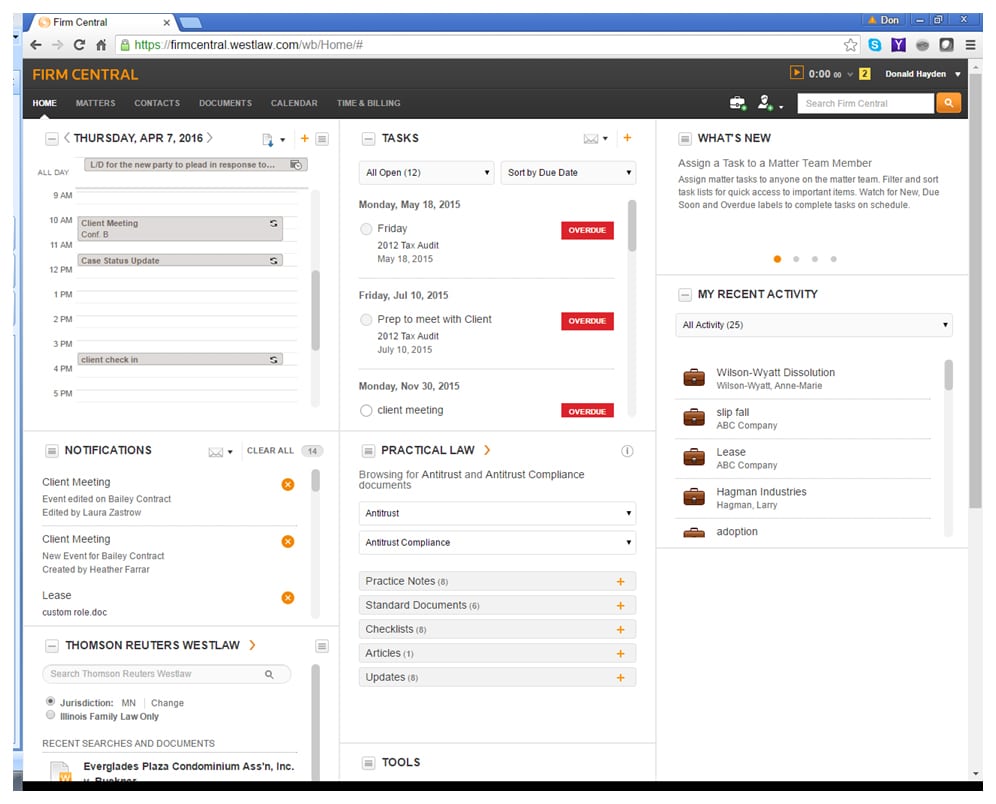 Thomson Reuters' latest iteration of Firm Central has morphed the system into a better, but not perfect, product. Some items to advance in the pipeline for the next version would be improved reporting functionality, including the ability to build custom reports; availability of a Mac install; and improved functionality with Google Apps. Certainly, that's not to say Firm Central is not currently ready for prime time. Updates to Thomson Reuters' integrations and the revised time and billing modules alone make Firm Central a notable entry on the lengthening scroll of case management options.
You can check out pricing and request a free trial here.
Illustration ©iStockPhoto.com