Getting anything done today is all about handling distractions. Here's what you need to know about the psychology of time management.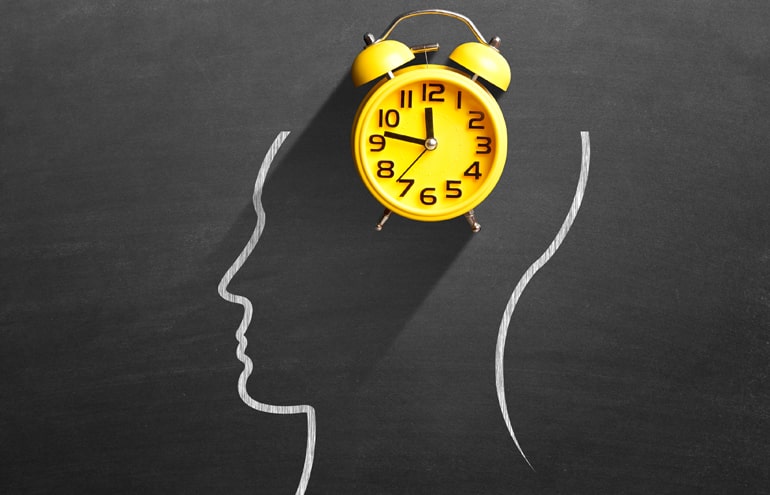 What if everything felt like the No. 1 priority?
Can we please acknowledge that time management has never been more challenging? With advanced technology, we enjoy many advantages. However, the onslaught of "noise" from our mobile phones, email, apps and internet searches has morphed an already "right now" society into a "this instant!" demand from every corner of our lives.
What's Your Hang-up?
Once upon a time, before the internet, the model for time management was essentially a modest list — probably one kept on a calendar, piece of paper, or, if you were very progressive, in one of those "new" day planners.
The method was simple: listing your tasks in numerical or alphabetical order of importance. But even then, getting things done was a challenge.
The sad irony of initiating a solid time-management system is it takes time and commitment. It is human nature to delude ourselves, to think that because we're busy and somehow (often despite ourselves) still accomplishing much of our undertakings, why would we need to add yet another task?
Of course, at the end of the workday, we are frustrated and exhausted because that to-do list never seems to get shorter — yet it is quick to grow longer. Sure, there are enough checkmarks indicating completion; but, in reality, it's a continuous game of catch-up.
If you're reading this, it's probably for one of three reasons:
You are already a well-organized, productive professional and are seeking new ideas/philosophies on the subject.
You feel it requires too much time and effort to implement any of the ideas or systems you've heard about.
You're aware that you could use some help in this area, and maybe you've even read books and articles about corralling your time and the positive impact on your physical and emotional well-being, but you just haven't been able to commit — yet.
That third category is where the majority of otherwise astute, successful and "together" professionals find themselves. I hate to tell you this, but you fit the classic definition of a procrastinator. It's time to change that.
The Psychology of Time Management: Don't You Want Change?
Here comes the part none of us anticipates with unbridled joy. Just as when taking on a huge and complex assignment, starting a new diet or giving up a bad habit, that first step is the hardest.
The "dirty" word here is desire. Let's face it — you won't lose weight at someone else's prompting, not even your trusted physician's. Likewise, even if you enroll in a very expensive time-management seminar, you won't be truly successful at managing your time if you aren't fully invested.
Now here's the good news. Research shows that when implementing any sound time-management program — such as apps, online programs and, if you're old-school, great self-help books — you will actually gain at least two full hours a day. (Multiply that by seven or 30!) Even better, your productivity, performance and mental as well as physical health will improve.
Not only will you feel calmer, think more clearly, and find power in the happiness you'll derive from taking control, you'll possess a generally more positive outlook on every aspect of your life.
What's Your Biggest Distraction?
The psychology of time management in the modern workplace is all about handling distractions. That's because we've never worked in a more distracting environment than we do now.
Email is the No. 1 distraction mentioned by most office workers, including law office personnel. A recent study found that the average professional receives about 120 emails per day. Most of us respond to the deluge of incoming messages with an almost Pavlovian reaction. We hear that unmistakable alert every time a new email arrives. Even if we know it is highly likely that particular message is nonessential, the urge to "just check real quick" is compelling.
To tame that incessant "you've got mail" demon, you could simply turn off that seductive notification. Yeah, that might sound like going cold turkey, but you can still read your messages when you want to and have the time. Or you could schedule specific times throughout the day to check email. If you're still a bit nervous about those people in your life who demand instantaneous response, simply let everyone know that you'll respond during your designated email time.
There are hundreds of good "amped-up" filter tools that can help you manage your daily deluge of incoming email. When you consider that the average worker spends 28% to 35% of the workday reading and responding to email, it becomes obvious that better managing time might just start with managing that inbox.
Apps such as SaneBox, Mailstrom, Boomerang and Inbox When Ready can help you organize and prioritize messages while reminding you to respond to top-priority emails. Unroll Me helps decrease the amount of unnecessary subscription email by unsubscribing you from ones you no longer want.
There are several Attorney at Work articles offering advice on how to start your journey toward email freedom. Here are a few:
What else is distracting you from getting the important stuff done?
Use Tech to Recapture More of Your Time — and Money
Aside from wrangling your inbox, there are plenty of other ways technology can help streamline your professional life. Here are just a few quick examples.
You might start by making sure you are using all the features in your online calendar, along with a to-do list or task management app. Microsoft ToDo, for example, works with Outlook, and if you are used to Office products, it might be a good one to try. Consider pairing Microsoft ToDo with an app called Remember the Milk to help you manage your tasks by reminding you of when things need to get done.
Task management programs like Trello are great for organizing and tracking projects, on your own or with teams.
Apps such as Rescue Time will track the time you spend on various tasks and provide a weekly report showing exactly where your time is being wasted.
Your firm's systems might be to blame for sucking up your time. Antiquated systems for managing files, billing — even setting up calls and meetings — can lead to spending more time on administrative work and putting out fires. In the past year, there's been a big shift to cloud-based practice management software, which offers secure, remote access to client files and programs and file sharing (critical during lockdown). Moving case management to the cloud opens the door for more time-saving tools, such as a client communications portal, for messaging, document-sharing and even payments.
But leveraging technology to save time doesn't necessarily mean a big investment or brand new tools. Often, you can save steps and time by learning to use more features and shortcuts in the software programs you already own. A Text-Expander subscription, for example, can save time retyping repetitive words and phrases and common email responses. Also, plug-ins and product integrations can boost your productivity within a program you already use, whether your practice management system or Google docs. For example, Wordrake legal editing software works with Microsoft Word and Outlook, and Woodpecker document automation software works within Word to draft legal documents.
And, one of the most cost-effective ways to save time is to outsource certain tasks, whether to a virtual assistant or freelance lawyer or paralegal.
Time Management Takes Time
Time management is a long-distance run, not a sprint. Don't expect to have it all figured out overnight. I'm pretty sure you possess the desire, so focus on making the time and commit to making it work. A full-on commitment means you're ready to allow the time (and patience) to find the right tool and put it to good use.