The client intake process can be a struggle for your law firm — especially when qualified leads disappear from the intake pipeline. Law Ruler's law firm CRM can help.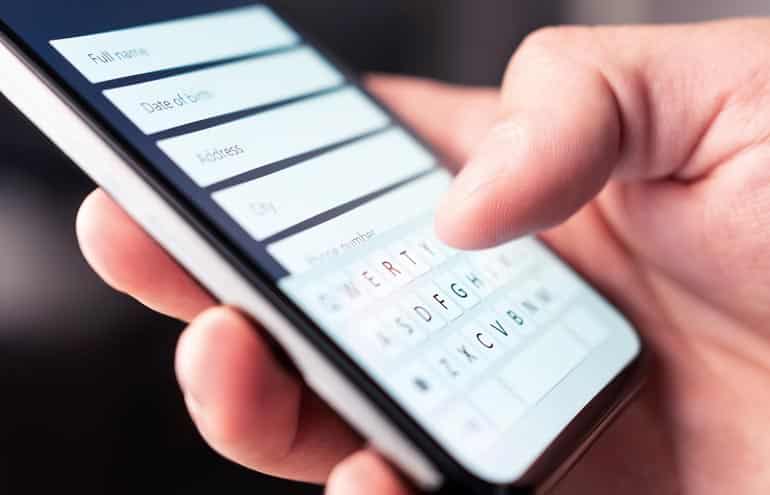 One day your leads are filling your intake pipeline — but the next day? Gone.
If your law firm has ever struggled with losing qualified leads from the intake pipeline, Law Ruler's law firm CRM can help.
Law firms need a client intake process that's seamless for both prospective clients and staff. On one hand, your intake team needs the ability to quickly and efficiently process and qualify new leads, even when contact volume is high. On the other hand, you need a process that feels welcoming and personal for people reaching out to your firm for the first time.
That's where having the right software support can make all the difference.
Law Ruler's CRM is Built With Growth In Mind
With customizable, logic-based intake forms and a whole suite of legal intake automation tools, Law Ruler empowers practices to provide a frictionless experience for leads and sign more clients in less time.
Easier Intake For Prospects — and Your Whole Team
Traditional client intake methods are a hassle for both your intake staff and your potential clients — especially when your contact volume is high. Making the intake process as fast and painless as possible is the best way to keep qualified leads in your intake funnel and keep them from moving on with another firm.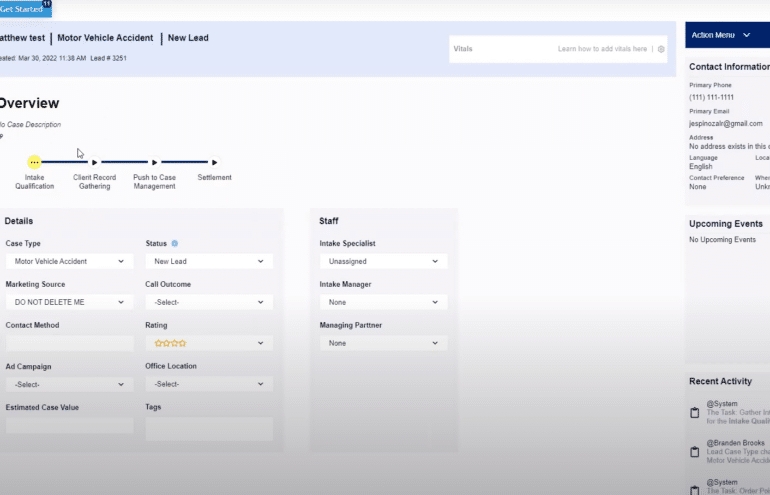 Law Ruler's legal CRM software can help you grow your practice and provide a top-tier experience for leads and clients — all while saving time for your attorneys and intake team.
Law Ruler's mobile-friendly, logic-based custom client forms can help you guide prospective clients through the intake process. Whereas traditional forms ask every client to fill out the same set of fields (which may not even be relevant to their particular case), the logic-based intake forms included in Law Ruler's CRM can be customized to present certain questions based on previous responses.
This can make filling out your forms quicker and less daunting for potential clients—and it also allows you to automatically qualify your leads.
Connect With the Right Potential Clients
With the right setup, logic-based forms can determine whether or not a lead has a case your firm wants to take based on their responses to intake questions.
If the lead isn't qualified, you can set up the software to send them an automated, personalized message explaining that you won't be able to take their case (or even offering a referral to another practice). If the lead is qualified, you can send them an immediate follow-up telling them to expect a call from an attorney.
Law Ruler's client intake forms are also fully mobile-optimized, so your leads can fill out your forms anywhere and from any device. This is an especially crucial feature in today's world — many of your potential clients expect the option to contact your firm and fill out forms on the go.
Capturing Leads' Attention With Fast Follow-ups
People reaching out to a law firm for the first time are usually experiencing a certain level of stress and looking to have their legal questions answered as quickly as possible. Depending on your practice area, they may have never needed to seek legal help before.
Anything your firm can do to provide a warm, welcoming presence will help you establish trust and set your relationship off on the right foot.
At the same time, intake teams and attorneys tend to be busy, and there isn't always time to provide an immediate follow-up for every new lead. That can present a major problem, as leads who don't hear back immediately won't just wait around until you give them a call. Rather than leaving a voicemail, they're more likely to reach out to the next firm on their list.
Level Up Your Intake With Automation and Fast Follow-ups
Law Ruler's CRM solves this issue through the power of automation. It allows law firms to automatically send customized, personalized follow-ups to leads within seconds.
A lead who fills out your contact form can be emailed or even texted with an invitation to fill out your intake form — complete with a link. Similarly, a contact who submits your intake form can be sent a personalized follow-up letting them know that one of your attorneys will be giving them a call and what number to expect a call from.
This not only lets your new lead know that you care about their case but also makes it more likely they'll pick up when you call them later.
Seamless Next Steps in the Client Intake Process
Once you've received a lead's intake form, Law Ruler makes it easy to streamline the rest of the intake process.
Your firm can set up custom intake workflows to organize and track a lead's journey through the intake pipeline. They can also automatically text or email secure e-signature links — and texts will come from a phone number that leads and clients can actually respond to. Here's a tour of Law Ruler's new inbox — another tool that supports fast follow-ups.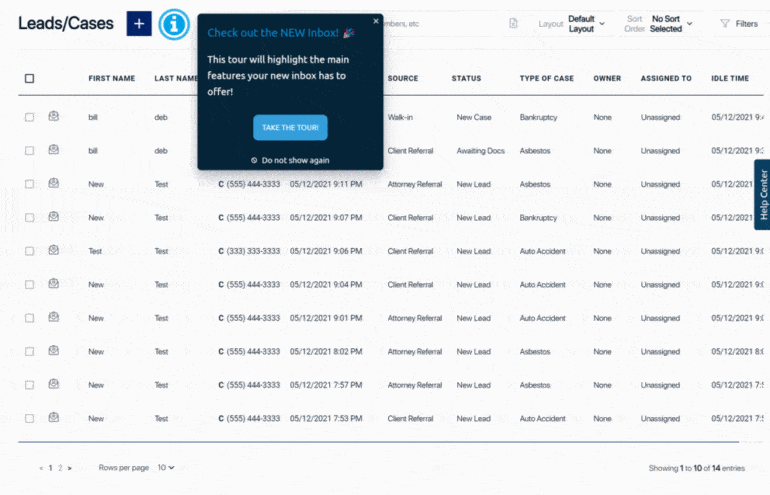 As an added benefit, Law Ruler reduces duplicate data entry by seamlessly importing intake and contact form information into your CRM. Through robust integrations, this data can also be used to populate common intake documents — and you can share it with other software tools such as your like your practice management and accounting software. Your firm will save time on tedious data entry and also eliminate the chance of errors from manually copying data into new software or documents.
Finally, Law Ruler's intake reporting tools give your firm the ability to better adjust your marketing spend and intake workflows. By automatically tracking lead sources, marketing ROI and more, Law Ruler helps your firm identify:
Where your best leads are coming from
Which forms of marketing are most effective for your firm
How to address bottlenecks and other issues in your intake pipeline
Streamline Your Intake With Law Ruler
In addition to the features mentioned above, Law Ruler also includes:
Powerful marketing automation tools
Document automation
A built-in softphone dialer that allows attorneys to prioritize and make calls from within the software in one click
To see for yourself how a robust legal CRM can transform law firm intake and help your practice sign more leads, reach out to schedule a demo.
Image © iStockPhoto.com

Don't miss out on our daily practice management tips. Subscribe to Attorney at Work's free newsletter here >
Attorney at Work's sponsored Product Reviews and Product Spotlights showcase news and features from legal technology industry leaders. For more information, click here.
Illustration ©iStockPhoto.com
Subscribe to Attorney at Work
Get really good ideas every day for your law practice: Subscribe to the Daily Dispatch (it's free). Follow us on Twitter @attnyatwork.