I'm in a relationship with the United States Postal Service, and I think you should be too. Besides being the most effective marketing tool on the planet, and besides offering a seemingly lost-art method of connecting with clients, and besides being the only self-supporting federal agency, the USPS is just cool. Well, mailing things is cool.
Except It's a Lost Art
"How to address an envelope" is probably not a search term you've used in a long time. Maybe ever. Might as well search how to format a heading in an ancient scroll or how to fax your Blockbuster video request. Snail mail is ancient history. It's second-generation old-school. Who even does that anymore? Tbh smh rn fr no cap.
128 Billion People, I Guess?
That's how many pieces of mail were sent in 2021. The U.S. mailing industry spends a trillion dollars annually and employs about 7 million people processing 425 million pieces of mail daily. The USPS has the world's largest retail network with more than 34,000 locations, which is twice as many as Starbucks, almost twice as many as Dollar General, and still bigger than Subway by 7,291.
So, TBH, Physical Mail Is Still a Thing
Especially for small businesses, like law firms and solo practitioners. Your budget is probably razor thin, so any way you can save a nickel matters. The USPS is enormous. It works at scale, so it's cheap. Unless your package absolutely, positively has to be there overnight, sending it by snail mail is your better business decision.
The USPS Is Also Secure
Unlike your email, which is currently being read by a Nigerian barrister who's been trying to reach you about the enormous fortune left to him, which he can't access without your help, can you please send him your routing number and the name of your first-born child? There are more than 200 laws protecting mail sent through the USPS. It is federally protected at every stage of the journey from your desk in Portland, Maine, to your client's mailbox in San Diego.
It's easy to forget the USPS is a federal agency with its own law enforcement wing (USPIS), whose 1,300 inspectors "made 5,759 arrests and obtained 4,995 criminal convictions" in 2019, according to the service. Take a look at the inspectors on the cover of the 2019 annual report and tell me that's not a Netflix series waiting to happen. I can hear Ice Cube now: "Looks like this stamp thief's been … licked."
Direct Marketing by Snail Mail Is Effective
The USPS services every address in the U.S. and pretty much everywhere else. You can get a letter to Kaktovik, Alaska — 2,740 miles from Chicago — for 58 cents. If you're feeling international, you can send a letter to the Port Lockroy Post Office on Goudier Island in Antarctica for $1.30. FedEx charges eight polar bears and four penguins for the same trip.
Direct mail gets a whopping scan rate of 42%. The open rate for snail mail can be as high as 90%. Think about when you get junk mail; you are definitely throwing it away—but not before you look at it and turn it over and look at the other side. Compare that with a general industry benchmark of open rates for email marketing of 29% for legal services with a click-through of only 1.17%, and you can see why physical mail rules and why you get 11 pounds of it every day.
The effectiveness of mail is not the only reason to use the USPS.
There are intangible benefits, too, which is ironic since it's physical mail's tangible qualities that make it so worthwhile. Think of the effort it takes to send an email, where you dash off a quick line and hit send. But to write a letter takes considerable effort. You have to find a suitable piece of paper, which in many offices is harder than it sounds. Maybe your firm supplies letterhead, but if you're solo, stationery was way down on your list of startup must-haves. Then you have to find the right pen because while that rickety chewed-up gel pen currently in your mouth is OK, it writes like a 1971 Dodge Pacer drives. Then you have to write the letter, and that pen you found doesn't have a backspace. If you mess up, you either go for the white-out or start over with a fresh page.
Then there's the addresses and the stamping and finding a mailbox. By the time you drop your letter in the outgoing slot on the third floor, you've got your steps for the day.
But Think About Getting a Letter
It's special.
You may not mentally enumerate the steps your sender took to get that letter to you — but you feel it. You recognize that they took time to go old-school, which makes you feel important. Just seeing your name written by hand causes a warm emotion to well up inside you (which is why so much direct mail pretends to be written by hand). You note the peculiar way the sender writes certain letters. You notice the ink. You run your finger over the stamp. It's a fully tactile experience — and you are opening that letter. You open it first, and you sit down and read all of it, and I don't know if you're getting it by now but sending someone a letter is a gift. It's leveling up. It is a real, tangible connection between you and that person. You've both held that letter in your hands.
Now Think About Sending One
Look, I hate direct mail, and this article isn't about direct mail marketing. Those statistics just prove what they prove to convince you to write a letter and mail it. Maybe send a notecard to a client you haven't heard from in a while. Send a card to your niece in Madison. Send something to your mom. Because you aren't sending a letter. You're giving them a moment of regard, and let's be honest, we all love that.
But Wait, There's More
The joy of the U.S. mail isn't entirely about receiving, nor is it all about sending. Part of it is about the craft, the tactual pleasure of letter writing. As an analog freak, I have to tell you it can get out of hand. Writing letters is good for the soul. It's a beneficial hobby, like gardening or golf, and like both of them, it comes with gear. It may not ever get as expensive as custom clubs or handcrafted Japanese Shokunin floral scissors, but quality stationery and writing tools can put a dent in your budget.
But who cares, let's do this.
Here's What You Need to Mail Things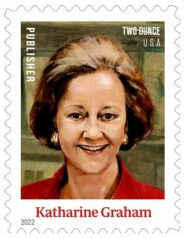 A basic mailing things set includes:
The stationery. Low end is whatever is in your printer. You can just pop your name in the header of a Word doc, and boom, you've got letterhead. However, there is value in having your own custom stationery with your name on it, stationery with luxurious paper and beautiful printing. Crane might be the best, but you can get amazing stuff on Etsy for half the price. You should have letter-sized paper, notecards, and envelopes for both.
A pen. Hi, have we met? A good pen makes the writing experience luxurious. And look, I use a $120 pen all day, every day, because it's amazing and I'm crazy. But you can also just grab your favorite gel pen or a Bic with teeth marks on the tip and go to town.
Stamps. Forever stamps are a great investment since the price of stamps goes up every year. Not by a lot, but stamps were 55 cents in 2020, and they're going up to 60 cents, so buy them in bulk and save a bit. However, there are so many cool-looking stamps to choose from. And not just cool-looking, but socially relevant. This year the USPS issued stamps honoring Katherine Graham, women's rowing and the Title IX act.
 Return-address stickers. You've probably gotten some in the mail as a bribe to get you to join some organization. And you totally used them. However, you can buy them to print at home to look cool. Or, order them custom printed.
But It's Not Just Letters …
You can send almost anything through the mail — like an entire building, the Hope Diamond or a human foot. Or balls. In 2009, Michelle S. Kaputska started Send-a-Ball to send inflated plastic balls bearing personal notes through the mail. She's sent them all over the U.S., and yes, the postmen love them.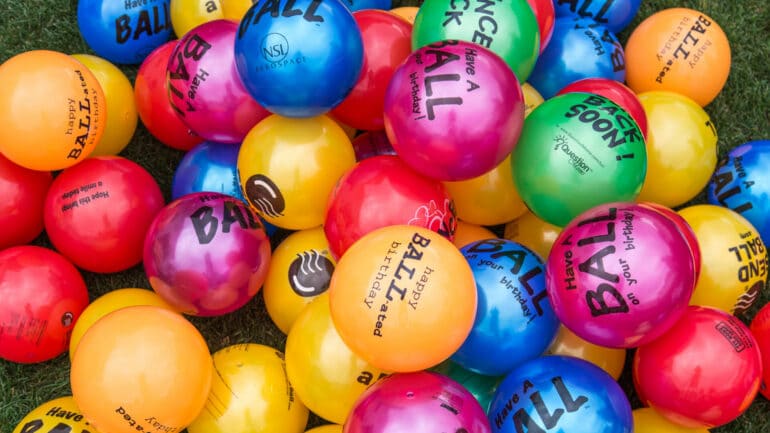 Your favorite analog columnist is an active member of postcrossing.com, a club that connects people all over the world through postcards. They've made more than 67 million connections since 2005. The idea is simple: You send a card to a randomly selected address (of a member, not just someone somewhere on the planet — that would be weird, Steve), then later you receive a card from somewhere in the world. I've got postcards from Japan, Norway, Germany, Australia and Belarus. Is it a low-key, low-effort, low-cost hobby that makes me seem like an isolated weirdo? Yes. But look at these postcards: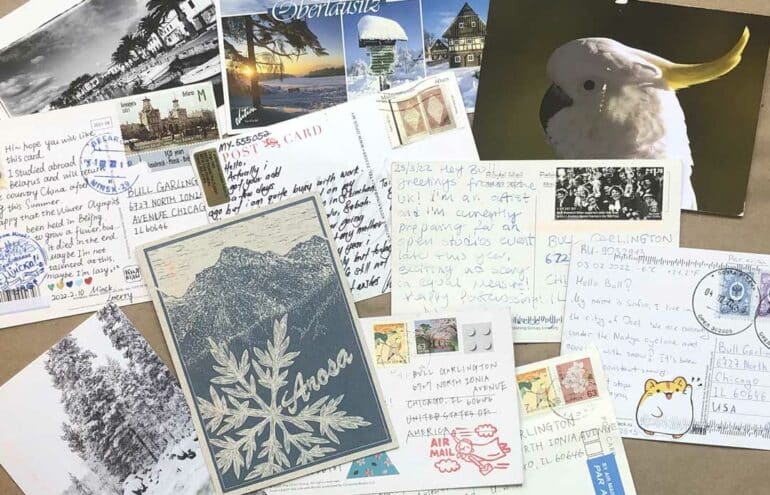 Be sure to read "How to Address an Envelope Like a Pro." How to Address an Envelope Like a Pro," to brush up your letter-writing skills.
Photo by Rinck Content Studio on Unsplash
Subscribe to Attorney at Work
Get really good ideas every day for your law practice: Subscribe to the Daily Dispatch (it's free). Follow us on Twitter @attnyatwork.