Building good practice systems requires creating good model documents. Here's how to get more organized and get more out of Microsoft Word by setting up "Gold Standard Templates" that reduce errors, minimize frustration and save tons of time.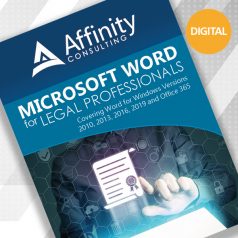 What Are Gold Standard Templates?
Gold Standard Microsoft Word Templates are model documents set up in Word with frustration-free formatting, easy-to-identify changeable text, and all optional provisions in one place. These templates will make document drafting easier for you and your most experienced staff and they will also help you quickly bring new hires up to speed.
These tips, adapted from the Affinity Consulting Group book "Microsoft Word for Legal Professionals," will get you started.
Get Organized: Use One Template Per Instrument Type
To keep your Gold Standard Template library from becoming unwieldy, create one template per type of instrument. For example, create one template for wills, regardless of whether the client is married or has children. Creating one template per type of instrument will make it easier to update common language down the road. The key is to clearly identify all optional provisions to make them easy to delete.
Word Template Trick
When creating a Gold Standard Template, save your file as a Word template file (.dotx).
When someone double-clicks on a template or selects it from the list of options under File > New, Word will open a new document based on that template rather than the template itself. This protects the template from accidentally being saved over with client-specific changes.
If you do want to edit the underlying template, either right-click on the template in File Explorer and select open or open it under File > Open.
Frustration-Free Formatting
You can create a template with the best language available, but if the formatting isn't set up correctly, you're setting yourself up for a lot of frustration when you go to use it.
Default Formatting
Every document (and template) has default formatting. If you've ever worked in a document where the wrong font kept popping up, that's the default formatting exposing itself. Changing the font on the Home ribbon doesn't change the default font, even if you change it before you start typing or select the entire document first.
You need to dive into the font formatting dialog. You can right-click in the document and select font, click on the arrow in the bottom right-hand corner of the font group on the Home ribbon, or use the keyboard shortcut Ctrl + D to open the font formatting dialog.
Select your preferred font, then click on the Set as Default button at the bottom to set the font as the default for the document at hand.
Repeat those steps for your default paragraph formatting, opening the paragraph formatting dialog and setting your preferred formatting to the document's default.
Styles
Styles are a great way to format documents quickly and ensure that documents are formatted consistently. Check out "Four Steps to Taking Control of Your Document Formatting With Microsoft Word Styles" to learn more about using styles.
Automatic Paragraph Numbering
The most important formatting feature to use in your template is automatic paragraph numbering. Use multilevel lists (preferably list styles) to control the numbering scheme throughout your document. Then, when you delete a paragraph (or 20) that you don't need, everything will renumber properly.
Annotate Placeholders for Optional Provisions
Creating one template per type of instrument leads to a lot of optional provisions. How well you annotate placeholders and optional provisions will make a big difference in how easy the template is to use, especially for new hires.
For placeholders (think client names), be consistent throughout the template and use a marker such as brackets to separate them from the actual text of the template. If you consistently use "[Client Full Name]" throughout the document, you'll be able to use Word's Replace feature to quickly drop in your client's name when it comes time to draft.
For optional paragraphs and sections, mark where the provision starts and ends. Before the optional text, add a brief notation describing when to include or exclude the optional text. Add a second notation at the end of the optional text to make it clear where the provision stops. Highlight the beginning and ending notations in the same color to make them easier to associate with each other at a glance.
Automation Using Word Form Fields
While getting all your language in one well-formatted, annotated Word template will take your document drafting to the next level, automation will take it a step further. Word's form fields allow you to ask questions upfront and use the answers to exclude language you don't need with IF fields. Form fields also eliminate the need to use Word's Replace feature to swap out placeholders.
About Affinity Consulting Group
Affinity Consulting Group inspires, enables, and empowers legal teams of all sizes to work smarter, from anywhere. The company's holistic approach incorporates people, process, and technology. Affinity's passionate, well-connected industry experts work hand in hand with you to help you better understand and optimize your business—from software to growth strategy, and everything in between.
Get All the Microsoft Word Tips
Learn more about templates in the Affinity Consulting Group book "Microsoft Word for Legal Professionals." Written specifically for lawyers and legal professionals, it's an easy read, full of numbered steps and screen illustrations. It represents a 22-year compilation of how to tackle just about every Word issue encountered by Affinity Consulting Group in a legal environment, as well as legal word processing tips, tricks and little-known techniques. Download your copy of the book in the Attorney at Work bookstore, or opt for a license for all your attorneys.
©iStockphoto.com