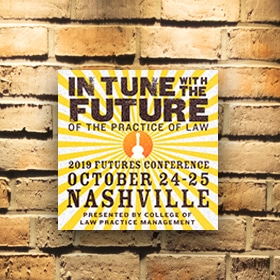 Over two days in Nashville, Oct. 24-25, the College of Law Practice Management's 2019 Futures Conference aims to inspire attendees to get "In Tune With the Future." More than 30 presenters will showcase innovations that have overturned decades of thinking about how legal services are consumed, purchased, delivered, managed, priced and rewarded.
"Music City" is not merely the host city, however. Lessons learned from Nashville's No. 1 industry will be a constant refrain throughout the conference. Kris Ahrend, President of U.S. Legal Services, Warner Music Group, will recount how the music industry has undergone both evolution and revolution, upending tradition and shifting the economic balance between musicians and labels and consumers. Also, in "Change Never Sounded Better," Adam McHeffey of Artiphon, Inc., will explain Instrument One, an innovative tool for artists and non‐artists to play music in whatever style suits them, on numerous instruments using technology. The tech has the potential to disrupt or enhance the traditional approach to making music, with music-making more accessible to all. And organizers promise some "CMA-style" entertainment as well.
The running theme: How an evolving industry can adapt and thrive.
"College Fellows have been leading change for a long time," says College President Mark Greene. "We are excited to hear what they're up to today and get their perspective on what's next in the legal marketplace. Hopefully, people will leave inspired about the changing future of law, and we can empower them with several ideas to act on immediately."
Getting Tuned In to What's Working
"While some in the legal profession wring their hands over what the future may hold, others are already enjoying the future," says 2019 Futures Conference Co-Chair Tim Corcoran. "For every 'That won't work, it won't work in legal, and it won't work in my specific practice with my specific clients!' objection raised by skeptics, we hope to demonstrate that it is already working somewhere."
The packed agenda prepared by Co-Chairs Corcoran and Teresa Walker includes sessions that focus on what's driving change and innovation from a variety of perspectives, including:
Collaboration as a Competitive Advantage
AI in Action in the Legal Industry
Law Firm Business Development 3.0
Standardizing Legal Services Delivery with SALI
Bridging the Buyer/Seller Divide
Client-Centric Legal Marketing
The Future of Law's Ink-Stained Wretches
Resilience and the High-Performance Culture
Ubering the Guild — (Inside the California State Bar's Task Force on Access Through Innovation of Legal Service)
Legal Problem-Solving and Improving Access to Justice Using Design Thinking
Incentivizing the New Normal in Lawyer Compensation
Using Analytics to Close the Gender Pay Gap
The Data-Driven Manager
Visual Intelligence
But What's Next … and How Do We Move This Along?
To that end, the 2019 Futures Conference will wrap up with brainstorming sessions focused on "bringing the future to the present" — that is, how to accelerate the adoption of concepts discussed by presenters and attendees. The collective results of the group discussions will be captured for later publication, says the College, to help catalyze theory into action.
"My hope is that every attendee leaves more enlightened about the challenges faced by the legal industry and what many in the room are doing to find solutions to those challenges," says Walker. "If one naysayer walks away convinced that the time for innovation is immediate, we will have been successful."
"I witness the personal toll this market disruption is taking on lawyers and business professionals," says Corcoran, of Corcoran Consulting Group. "Law firms are too rarely considered progressive when it comes to balancing quality of life and business performance. In many firms, the reaction to recent market changes is to draw the blinds, form a circle and resist, creating even more stress and isolation. However, the market is offering law firms an opportunity to simultaneously improve financial performance, client satisfaction, and work product quality, but it requires law firm leaders to embrace some fairly mundane changes — or get out of the way.
"I look forward to a time when experienced lawyers are energized by competing in a more dynamic, diverse market, rather than feeling beaten down."
Legal's Quantum Leap
Which sessions have the organizers most excited? Walker says she is particularly looking forward to hearing Stephen McNally, representing the National Center for Computational Sciences, Oak Ridge National Laboratory, speak on the current state of supercomputing and its awe‐inspiring potential.
"The possibilities that supercomputing will bring to our industry as well as to our everyday lives will pack a whammy, I'm betting," says Walker, who is COO emeritus at Waller Lansden Dortch and Davis LLP in Nashville. "Having the world's fastest supercomputer located in our state is a great opportunity to hear directly from a speaker involved in that project."
"I'm excited to learn how to build resilient cultures — something law firms have always needed, and the need is more acute in this time of great change," Corcoran says. "I'm excited to hear and translate lessons from the music industry in adapting to market disruption. I'm excited to hear (and share) how aligning rewards with new behaviors is critical to overcoming organizational resistance. I'm also simply excited to be surrounded by many of the brightest thinkers and doers in the changing legal market."
Greene, a Nashville resident, says, "Contrary to what I've stated above, I'm most excited about sharing Music City with folks who haven't visited before, showing them that we're more than country music and pickup trucks. (Of course, we're proud of being 'country' and our Southern culture.)"
"The energy in this town is contagious, and we love sharing it with our visitors," adds Walker.
The "Talent"
A hallmark of the annual Futures Conference is the quality of speakers, most of whom are College Fellows. This year's cast, as Walker put it, is literally a "who's who" of legal industry expertise and wisdom (including several Attorney at Work contributors). Check the lineup here.
In addition, at its annual induction ceremony, the College will welcome 28 new Fellows. Congratulations to the Class of 2019.
The Annual InnovAction Awards
The InnovAction Award, now celebrating 15 years, is a highlight of the conference, celebrating the unsung heroes and rising stars within the legal profession who dare to think differently and succeed by doing so. This year's entries reflected the growth of interest in artificial intelligence and other technologies, leading to important innovations in the delivery of legal services.
This year's winners are:
Visalaw.ai
Immigration law firm Siskind Susser has been using Neota Logic's AI-based expert system studio for more than three years to replicate legal analysis and automate routine and complex tasks. Some Visalaw.ai apps are free and public-facing, developed quickly to help people deal with recent news events. For example, in one day, the firm rolled out an app that helped DACA recipients understand how President Donald Trump's revocation announcement affected them individually. Other apps have taken two-plus years to develop and have involved hundreds of hours of work. Visalaw.ai's apps include:
An H-1B Public Access File generator that makes it easy for employers to meet the 24-hour deadline to create this series of documents and notify labor unions.
A 50-state immigration advisor that rural and inner-city hospitals can use to assess whether they qualify to recruit international physicians to work in their facilities.
An app that advises people born abroad whether they are considered citizens at birth.
The apps will soon be incorporated into case management systems, and the firm recently signed a distribution agreement with the American Immigration Lawyers Association to market the apps to its 16,000 members. Key team members are Greg Siskind (COLPM Fellow), Josh Waddell and Jason Susser.
Suffolk University Law School's Legal Innovation and Technology (LIT) Lab
Suffolk Law's Legal Innovation & Technology (LIT) Lab is a joint project between the school's clinical programs and its LIT Institute. The lab, launched in 2017, aims to prepare students for innovative practice through experiential education. Law students apprentice alongside legal tech and data science professionals while working on projects for internal and external clients (nonprofits, courts and small firms). According to the award application: "This work acts as the foundation and inspiration for independent scholarship and innovation. This can be seen in work like the Lab's partnership with Stanford's Legal Design Lab. Together we created an online game (Learned Hands) to help AI improve access to justice by crowdsourcing issue spotting for lay peoples' legal questions. This labeled data can then be used by AI developers for training and benchmarking."
The LIT Lab is currently building on this work, training machine learning classifiers to spot issues in novel texts that, once published, will help better connect consumers with legal services. Key team members are Kim M. McLaurin, Sarah Boonin, Gabriel Teninbaum (COLPM Fellow) and David Colarusso.
You can read about past COLPM InnovAction Award winners here.
Illustration ©iStockPhoto.com
Attorney at Work is proud to be a Gold Sponsor of the College of Law Practice Management Futures Conference and InnovAction Awards.