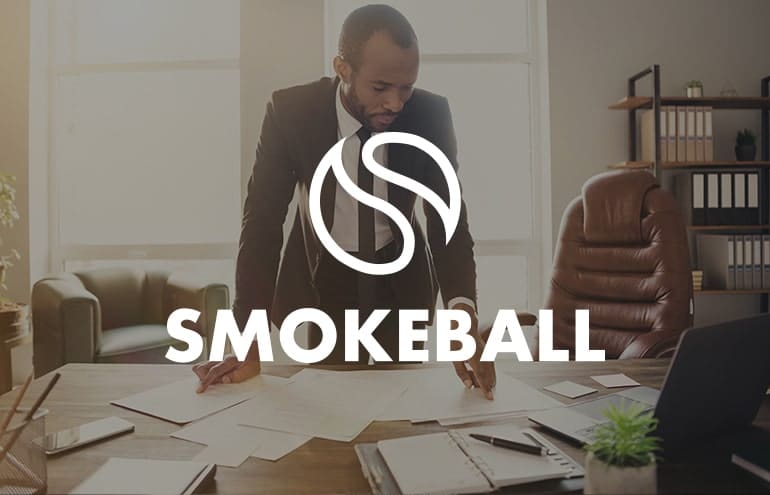 Smokeball's automatic time tracking helps lawyers "find time," while increasing transparency and improving data for billing, reporting and decision-making.
We have all experienced it. Clients expect a higher level of service at lower rates, billing has become more complex, and attorneys' days have become more chaotic. Many of us have had the experience of a crying child or barking dog in the background while talking to a client or colleague while working remotely, and law firms often report that there is less time to both track time and focus on the success of their business.
As a result, most law firms are under billing for their services, have less transparency into what their staff is doing each day, and make business decisions based on feel rather than data. Smokeball's automatic time tracking changes all of that.
Smokeball's unique automatic time tracking feature tracks every minute that every staff member in your firm spends on each matter. This feature is used to track not only billable hours but profitability and staff activity, enabling you to balance workloads and monitor staff. The technology behind automatic time tracking is incredibly sophisticated, with timers starting and pausing as you move between applications on your computer. Because everything you do in Smokeball is attached to a particular matter, it is clear what work has been done for each client.
Bill More Without Charging More: Getting Paid for all the Work You Do
It would make sense to believe that legal fee earners, who bill by the hour, diligently track and bill for all of the hours they work. However, studies prove this to be false. In fact, most fee earners only bill approximately 2.02 hours a day. Why is that?
Well, manually starting and stopping a timer or recreating the day/week after-the-fact results in time missed. Moreover, it's common sense that when firms are busiest, they tend to bill the least. Multi-tasking is the way of the world, but it wreaks havoc on timekeeper's ability to remember everything they did. Conversely, Smokeball users bill four+ hours a day on average due to increased productivity and automatic contemporaneous time tracking. Many gleefully report how Smokeball helps them "find time!"
Is Your Fixed Fee Structure Profitable?
Common in transactional areas of law, flat fee structures are convenient but require a sophisticated understanding of how much time is spent on different tasks. Instead of a flat fee rate based on gut feeling or what one of your competitors charges, Smokeball users can set those fees based on real evidence. In fact, automatic time tracking gives you a 360-degree view:
Is the flat fee profitable?
Where is time wasted?
Where should more time be spent?
Is staff being utilized appropriately?
By accurately tracking how much time a firm spends on different tasks and areas of law and then using that information to calculate fixed fees, attorneys can be confident that they are running a profitable business.
The Risk of Contingency Agreements
Accurate time tracking is also essential to firms billing on contingency. No one wants to invest heavily in a case that may not end in their favor. Historical data helps make an educated decision on what cases might be profitable in the future.
By homing in on your rate, how much you are making on a file, and how long it takes to wrap up a file, you dramatically reduce the risk. Smokeball's automatic time tracking provides the data necessary for Smokeball's reporting tool, Firm Insights, which allows firm owners to review their profitability by individual matter, matter type, and fee earner.
Remote Work: The Challenge of Transparency
For the past year, many of us have been working remotely, away from the collegiality and collaboration that often occurs in an office setting. Moreover, many of us have the dual challenge of working on our files and caring for others in our household simultaneously.
These additional duties can force us to complete work tasks at odd hours. How can firm owners account for that work and staff feel confident that work will be accounted for? Smokeball's automatic time tracking solves these concerns by providing a transparent view into what work has been completed and when it was done.
Data Insights that Work for You
Law firm owners deserve the same data-driven analytics that other businesses get each day. Profit is a tangible number that can be tracked on every matter you and your staff touch. Smokeball's Firm Insights profit dashboards interact with Smokeball's automatic time tracking to offer up-to-the-minute profitability details like no other software.
Don't make decisions about your firm based on a hunch. Use all the data that Smokeball provides to make educated decisions and run your law firm like the small business it is.
About Smokeball
Get your work done faster with Smokeball. The combination of our best-in-class productivity tools and powerful automatic time tracking allows you to cut hours of unbillable administrative tasks out of your week while accurately tracking and recording the tasks that remain — allowing you to bill what you're worth.
With document automation that lets you complete letters and court forms with a click, seamless Outlook and Word integration, a secure communication portal, and more, Smokeball helps law firms to be more efficient and effective businesses and run from anywhere thanks to Cloud technology and a mobile app. Visit Smokeball.com to schedule a free customized demo.

SPONSORED CONTENT. Product Spotlight showcases content provided by Attorney at Work sponsors and advertisers. This does not constitute an endorsement by Attorney at Work. See Terms and Conditions for more information.