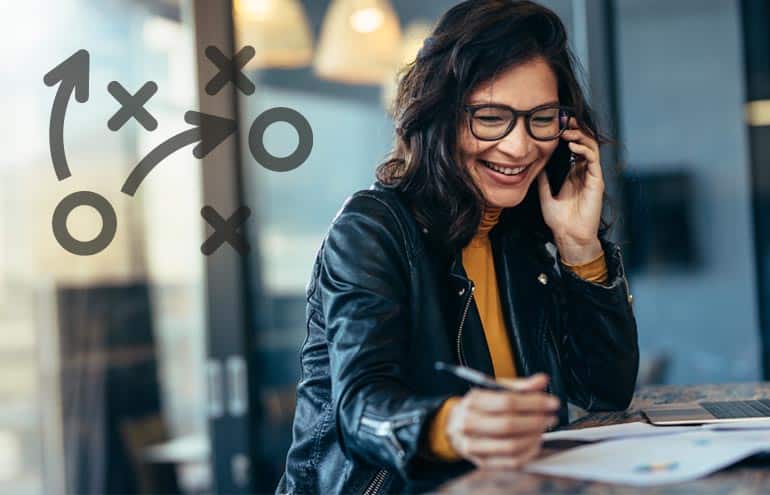 Many legal professionals lack the resources or visibility to optimize their websites. Seize the moment and capture more leads with live chat.
How many new clients does your website bring in each month?
If you don't know or aren't certain, you're not alone. Many legal professionals lack the resources or visibility to optimize their websites for lead generation. After all, you went to school to get a law degree — not a degree in digital marketing.
So, rather than spending three years pursuing another degree, take three minutes to learn what you need to know about making the most of your online presence.
Benchmarking Your Website Lead Generation
You need to walk before you run — or in this case, drive traffic to your website before you convert them into leads. If your practice already has a digital marketing plan that's attracting visitors to your site, great! If not, check out our comprehensive guide on building an online presence to get started.
Next, make sure you know how to find and analyze your website traffic. If you haven't already, you will need to set up your Google Analytics profile. This necessitates adding code to your site and learning how to navigate your dashboard and reports. (For a few quick tips on getting started, click here.)
Once enough people are finding you online, the next step is turning those visitors into prospects and, hopefully, clients.
How many leads should you aim for? According to Speakeasy Marketing, the average solo lawyer or small law firm gains around 4.73 clients per month from their website.
Website Lead Generation: 5 Tips for Generating More Leads
If you're not hitting the average — or just not reaching your goals — don't worry. A few simple tweaks might be all you need to encourage more of your website visitors to schedule a consultation. Here are some best practices to try:
1. Speed it up.
Each page load should feel instantaneous for your visitors. If it's one second or less, you're doing great! Once you get past the three-second range, you're at risk of losing people before they learn what your site has to offer.
2. Design for user experience and conversion.
Negative space is your friend when it comes to web design. We generally encourage people to use simple, spacious design — it's easier for visitors to navigate. Make sure to include a call to action (such as a "contact us" button) on each page to make it easy for newcomers to take the next step.
3. Optimize for mobile.
If your site isn't optimized for mobile use, you're losing opportunities. Conversions can fall by up to 20% for every second of delay on mobile devices. When building, refining, and updating your site, assume that your audience is visiting via phones and tablets.
 4. Include attorney bios.
There's a reason 98% of law firms include profiles of their partners somewhere on their site. Giving people a window into your professional and personal experience helps establish trust — and might be the motivating factor in convincing them to reach out.
5. Offer real-time client support.
No matter how brilliantly designed and optimized your site is, visitors will always have questions unique to their needs. And responding quickly to these inquiries is essential. Over 80% of clients expect a response within an hour — and these days, clients are likely to take their business elsewhere if they don't receive the prompt and personalized service they desire.
That's where live chat comes in.
How to Capture More Leads with Live Chat
They say you should strike when the iron is hot. So, when a potential client has taken the time to search for help, click on your site, and learn about your practice — that's your best (and possibly only) opportunity to win their business.
Adding 24/7 live chat to your website allows you to seize these moments by having a real person answer visitors' questions, address concerns, and build trust. That's a big deal for today's service-minded consumers, and it's why 42% of people prefer chat over all other communication channels.
Best of all, live chat is one of the most effective ways for your practice to stand out against the competition. Only 5% of firms currently use live chat — even though chat prospects are 4.6 times more likely to convert into clients.
For more tips on using your website as a lead generation tool and seven more proven digital marketing tactics, download Ruby's latest guide: "The Lead Generation Playbook.
AAW Product Spotlight is sponsored content that showcases content provided by Attorney at Work sponsors and advertisers. This does not constitute an endorsement by Attorney at Work. See Terms and Conditions for more information.