While most law firms default to a hierarchical organizational structure, a flat organization focused on collaboration has its benefits.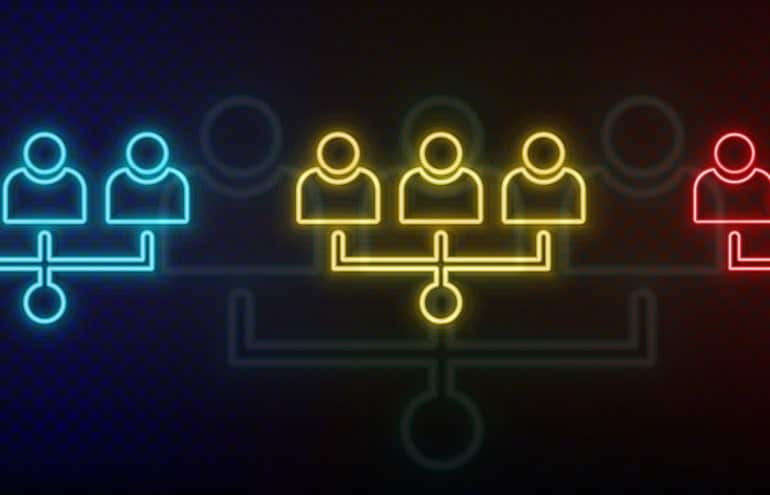 The traditional law firm tends to have clear hierarchical lines: attorneys, paraprofessional staff, business professionals and support staff. The hierarchy continues within these groups as well. For example, associates report directly to partners while office staff typically doesn't have a direct line to the partners.
As co-founder and managing partner of my firm, I realized early on that the traditional hierarchical model would not work for us. Our firm represents top surgeons in getting reimbursed by insurance companies. Our staff consists not only of traditional legal professionals but also of those who have worked in the medical and health insurance fields. Instead of focusing on "superiors" and "staff," we have developed a flatter organization that values collaboration among all team members.
At our firm, while we have some traditional management layers in place to oversee a specific department, we are organized in teams by functional areas. The teams collaborate across disciplines sharing information, ideas and expertise. Each employee is empowered and accountable for their work product. Cases are accessible to all team members as a resource or for any additional follow-up required by other team members.
I wholeheartedly believe that our focus on collaboration has contributed to our firm's success. An understanding of why this flatter organizational structure works so well may benefit your firm too.
Happy People Make Great Employees
While hierarchies have their place in organizations, a hierarchical organizational structure is not always beneficial. Hierarchies can create workplace segregation and destructive behavior, which causes more frequent turnover. It has been reported that job satisfaction is higher in flatter organizations than in those that use hierarchical structures. Collaboration over superiority is desired by many employees. It gives them a sense of equality and trust, which, in turn, increases team morale, productivity and employee retention.
A Stanford University study placed participants in non-hierarchical and hierarchical teams and found that with the absence of managerial roles, there was less pressure within the teams. In a safe environment to exchange ideas and collaborate, team members could focus on the task instead of expending energy defending their personal turf.
For example, our firm holds weekly meetings with lawyers, paraprofessionals and medical staff to troubleshoot issues and ideas. Collectively, we bring together legal insight and medical knowledge, encouraging everyone to share their individual skills, experience and knowledge. This type of collaboration gives everyone a voice and an open invite to ask questions and learn outside of their specific discipline. We constantly adopt ideas put forth by employees, regardless of their bar status. As the ultimate result, all employees feel they have a stake in the game and are able to see success resulting from their contributions.
Open Doors and Streamlined Communication
A flatter structure makes communications more clear and understandable among teams and throughout the firm. It also gives employees more creative freedom to express ideas without fear of disapproval. If a member of our "support staff" needs to reach me, they know they can do so directly without going up a hierarchical ladder. The same is true with our clients. I've never been one to hide behind an assistant or paralegal, which I believe helps foster closer relationships and greater client retention. They feel comfortable knowing that I am only a phone call away.
We insist that all executive managers, lawyers and staff have an open-door policy for everyone, regardless of title or position, and we stay away from pigeon-holing our people.
It is very common for team members to interact with Cohen Howard's executive management team and attorneys. Likewise, it is equally common for the executive team and attorneys to contact the team members they think best to advise them on a particular issue. We focus on the individual's background and expertise rather than their title and position. For example, we have a medical specialist who everyone knows to call whenever they have a coding issue to resolve.
Growing Your Workforce With a Flat Hierarchical Structure
Millennials, the largest generation in the labor force, tend to think horizontally about their careers. In simple terms, this means that many millennials would rather broaden their skillset than climb the law firm or corporate ladder. Whether lawyers, law firm leaders or professional staff, this generation enjoys and favors a flatter organization due to the value they find in building peer relationships. They also value the opportunity to suggest new ideas and want to feel they will be heard. In my opinion, older generations enjoy our flatter structure just as much as the younger one does.
Thinking ahead to the future of my firm and the roles I will undoubtedly need to fill as we continue to grow, I find peace in knowing that my work style is ahead of the curve in terms of attracting the right people for the right jobs.
To attract a younger generation of employees, lawyers with outdated work environments will have to rethink their strategy. As Albert Einstein once said, "The world as we have created it is a process of our thinking. It cannot be changed without changing our thinking."
The Work-Family
For me, one of the best parts of a flatter organization is seeing the people in my firm as my second family. It truly makes a world of difference to go into work each day, knowing I can count on my staff not only to perform their duties to their highest ability but also to pull together during stressful or unsavory times.
The pandemic has certainly been a time when relying on each other has been of utmost importance as we navigated our new reality of work-from-home, illness and continual hope for an end.
I see many firms are beginning to take the steps needed to rethink the traditional ways of working — including implementing flatter structures. With these changes, we will see the legal industry prosper and employ a growing population of individuals who value community and collaboration.
Illustration ©iStockPhoto.com
Also on Attorney at Work:
"There's Power in a Little Thank You" by Cindy McGovern
"Ditch the Hierarchy and Embrace Culture for All" by Eric Farber
"Strategies to Win the Escalating War for Law Firm Talent" by Steve Nelson
Subscribe to Attorney at Work
Get really good ideas every day for your law practice: Subscribe to the Daily Dispatch (it's free). Follow us on Twitter @attnyatwork.