How can you keep good people from leaving your firm — quietly or otherwise? Here's how to turn law firm hiring and retention challenges to your advantage.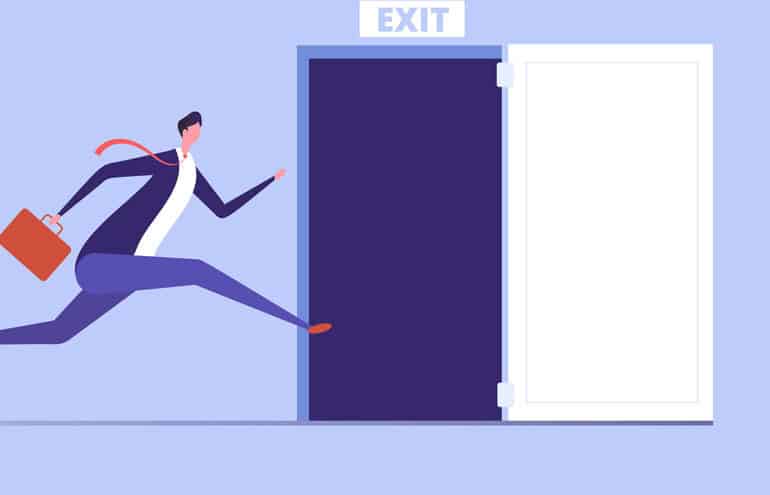 We have been dealing with the fallout from the "Great Resignation" for some time now as people reevaluate and renegotiate the way they want to work and live. More are favoring flexibility and prioritizing purpose and meaning in their work over job security.
A late 2021 survey by McKinsey & Company found that 40% of employees in the U.S. were likely to leave their current job within the next three to six months. Research from the U.S. Labor Department shows that in May 2022 alone, 4.2 million people quit their jobs.
In response, employers are rethinking their approach to how work gets done and where it gets done, with more emphasis on people's livelihood and well-being. Yet even with great salaries and benefits, businesses are challenged to keep up with attracting and retaining talent.
Law firm hiring and retention is no exception.
As Lawyers Seek Greener Pastures, Talent Retention Becomes Law Firms' Top Concern
A September 2021 survey conducted by Bloomberg Law's Attorney found that nearly half of all lawyers surveyed said they were either actively looking for new jobs or open to new offers.
Aderant's soon-to-be-released Business of Law Survey found that 56% of law firms named talent retention their No. 1 challenge. Talent retention bested hot topics like cybersecurity and operational efficiency, reigning as law firms' top concerns. The survey also showed that lawyers are in the top three areas where firms anticipated budget growth in the next five years. This indicates that firms plan to invest in hiring, engaging and retaining lawyers and other legal professionals.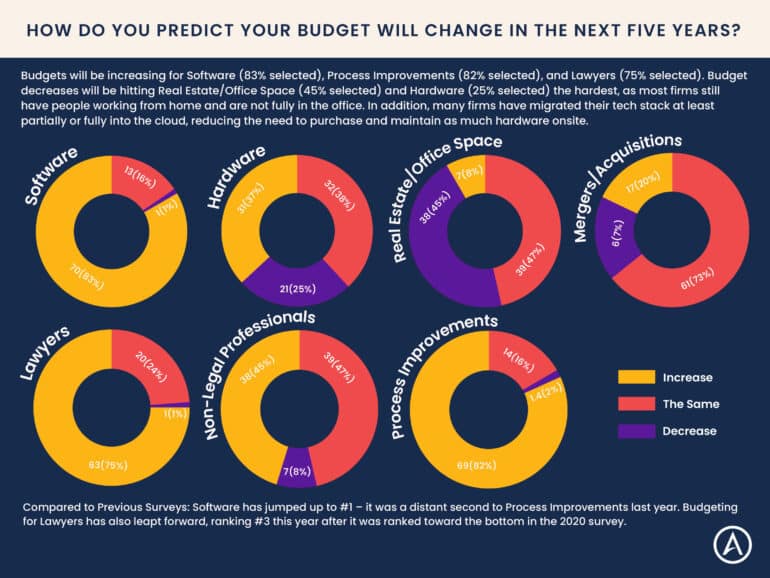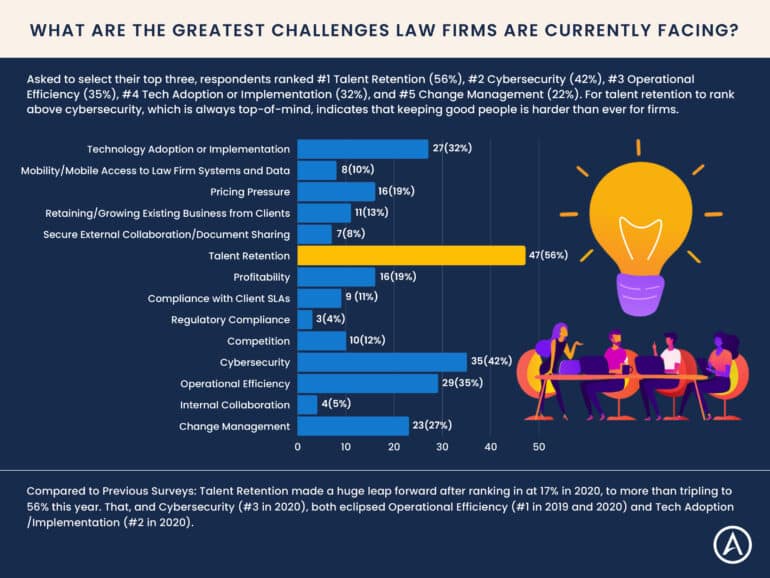 While law firms are not immune to talent market dynamics, they can leverage the very conditions that challenge them and turn those to their advantage.
Five Best Practices for Winning the Talent War
Below are five key strategies for law firms to consider.
1. Don't Let Geography Fence You In
Before the pandemic, employees' physical location and proximity to the office mattered. During the pandemic, many firms were forced to transition to full-time remote work or hybrid setups. Many of those firms have maintained these varied working models. It's questionable if they will ever return to their original 100% in-office dynamic. Many firms have either reduced or eliminated their real estate footprint because of the pandemic or for other reasons.
This change in where work is performed has opened new opportunities for law firms seeking talent. Firms based in big cities are no longer bound to hire from their own geographic regions and can now expand talent searches to source prospective employees from other cities, regions or countries. In addition, firms in more remote areas are better positioned to attract non-local top talent — thereby rendering the firm more competitive for plum assignments.
The virtual work environment has opened a greater opportunity to tap into broader, more diverse talent pools. By embracing this concept, firms can accelerate their hiring pace and workforce growth. However, to succeed, firms must implement strategies to best manage and engage a more diverse and dispersed workforce.
2. Embrace Flexibility
If the past two years taught us anything, it is that many types of work can be done from anywhere. Another McKinsey & Company survey finds that 73% of workers want flexible work options. At the same time, 67% want more in-person contact with their teams. The takeaway is that while face-to-face interaction is desired, flexibility is equally if not more important.
Allowing flexibility will increase employees' productivity and engagement levels. Flexibility can come in various forms, including a hybrid home-office model, work hours, or allowing employees to work from remote locations for a period of time. For example, Aderant recently announced a flexible work program where employees may work anywhere in the world for up to four weeks. The goal is to help people integrate their personal and work lives more effectively.
It's important to note that "flexible" does not mean an environment with no objectives, KPIs or measurements. It specifically addresses the "how" and "where" people do their jobs to accomplish their work requirements.
3. Do Some Soul-Searching to Define the Firm's Culture
The pandemic has allowed (and at times forced) us to reflect on our purpose — whether that be social, personal, environmental or some other raison d'etre. At the onset of the pandemic, and maybe more so now, people began closely considering the kind of culture and company they wanted to be a part of.
During interviews, candidates now ask, "What's the value proposition of my working here?" And "Is the culture here a fit for me?" Defining your firm's culture, stating your values and delivering on your purpose requires conversations with leadership, employees and clients. Take the time for this important soul-searching. Otherwise, your firm will lose out to competitors with more cohesive, clearly stated values — firms that have figured out how to act in order to reinforce their principles.
4. Expand Skills, Growth and Learning Opportunities
Some say that skills are the new currency. To many, career growth is no longer about ascending the career ladder by way of vertically lateral promotions. Instead, it is about how to acquire new skills or build on existing skills to further progress in their career on their own uniquely defined path. Identify the skills that will enhance your firm's capabilities and potential for strategic growth, and then design opportunities to upskill or reskill existing talent. By doing so, your firm can help people advance their careers and even explore new avenues. In turn, you will be able to identify and address skills gaps before strategic goals — technology modernization, billing practices, client management — are affected.
5. Seek Talent from Non-Traditional Places
One of the factors affecting the law firm talent war is the diversity of options for trained lawyers. Though many law school students still aspire to land jobs at law firms and advance from associate to partner, more alternative opportunities are available now than ever before. Law firms are competing for talent with corporations, law companies and alternative legal service providers, academic institutions, and legal technology product and service companies. This competition makes lawyers all the scarcer and in demand.
On the other hand, law firms can benefit from these other caches of legal talent. Firms may need lawyers or staff with very specific technical expertise, and they can target people currently working in legal tech or at alternative legal service providers. Or, perhaps the firm needs to work on improving efficiency, operations and compliance with corporate client guidelines. By looking outside the law firm and seeking out non-traditional candidates such as technology, project management or legal operations professionals, firms may be rewarded with a talent pool of qualified professionals who are already knowledgeable and can be fully productive in a shorter period.
Firms Must Truly Put Their "Best Foot Forward" to Attract and Retain Good People
Offering real flexibility and expanding the geographic scope for new talent is key to winning the talent war. Defining your culture and focusing on well-being and skill-building opportunities will help make your firm a desirable place to work for new hires — and keep current employees engaged.
There is no "right" way to navigate the evolving talent market. A great place to start is by asking your employees what they want and value.
Richard Branson's philosophy still holds true: "Take care of your employees, and they'll take care of your clients." It's as simple as that. These are words to live and work by.
Illustration ©iStockPhoto.com
Subscribe to Attorney at Work
Get really good ideas every day for your law practice: Subscribe to the Daily Dispatch (it's free). Follow us on Twitter @attnyatwork.