Legal analytics technologies, including daily filings reports, push attorneys to look at litigation in entirely new ways.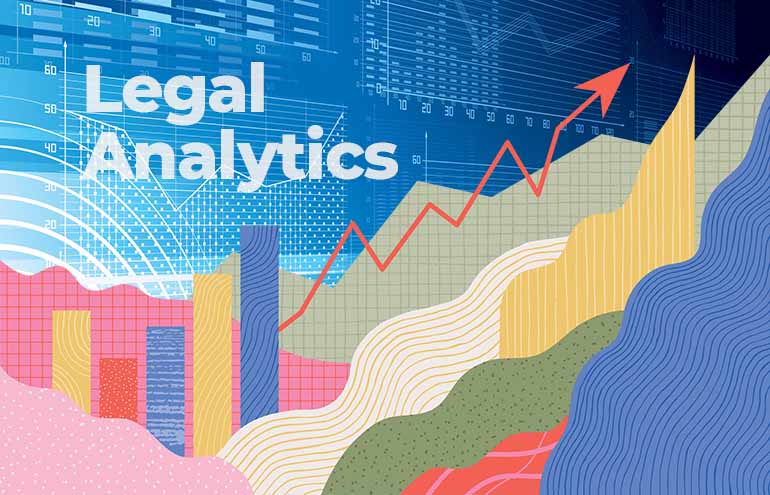 "Lawyers Slow to Adopt AI Technology" reads a headline from Bloomberg Law. As almost everyone already knows, lawyers are always the last to adopt emerging technologies. At least, that's the oft-repeated truism. But is this really true? Truisms, by their very nature, are predictable and unremarkable statements. While they may say something about the world, they are also incredibly boring, for it's far less interesting to repeat an observation than it is to pick it apart, to see where it can go.
According to Mark Cohen, the CEO of Legal Mosaic, the legal industry still runs on "gut and instinct." However, one look at the data reveals a remarkably complex picture. According to the 2020 Legal Analytics Survey Report published by LexisNexis, 70% of the law firms surveyed were actively using legal analytics in their practice. The report then zooms in a little further, disaggregating the data to parse out and distinguish the responses of legal analytics users from non-users.
This is where things get really interesting: 66% of the respondents who have access to legal analytics technologies stated they believed it was important that their firm provided this technology. Meanwhile, only 35% of the respondents whose firms do not provide access stated that they believed it was an important resource.
See what's happening here? A law practice is fueled by "gut and instinct" up until the moment an alternative resource is offered.
A Theory of Value
The most useful element of the Legal Analytics Survey Report comes a few pages later when it identifies the value legal analytics users have attributed to legal analytics technologies. While 75% of the respondents stated that legal analytics technologies have increased their organization's knowledge base, only 36% reported that these technologies have helped retain or expand existing clients. Even more shocking was the observation that only 18% of respondents used legal analytics to improve their legal arguments. What's going on?
We can read these numbers as an indication that attorneys are not leveraging technology as much as they could. Michael Sander, the founder of Docket Alarm, provides a bit of clarity. When he began practicing as an attorney, he was surprised by the archaic way his firm tracked cases. "We represented 1 of 10 companies that were [being] sued by another company [and] even though the nine other cases didn't directly affect ours, it was still extremely important to know what was going on." Sander goes on to explain the firm's workflow. "[T]wice a day, we had a paralegal go to the court's website, enter a case number, see if there was anything new, and repeat that nine times."
According to Sander, legal analytics technologies push attorneys to look at the litigation practice in entirely new ways. He developed Docket Alarm so that legal practitioners could automate rote research tasks, easily tracking cases by setting up alerts to be notified of any updates to specified dockets. The tricky part, though, is knowing which cases to follow. It's hard to find a legal analytics platform that perfectly caters to every single research need. While many docket alert services allow you to track updates to a particular docket, they may not be able to help you identify the case numbers most relevant to your particular research project. This is where companies like Courthouse News Service and Trellis enter the field. Both companies offer daily filings reports to provide real-time notice of new filings and new civil court cases.
The Waves of New Litigation
A daily filings report is a spreadsheet that contains detailed coverage of all new civil actions filed in a specific jurisdiction. Reports are emailed to subscribers every morning and include all case metadata (i.e., judge, party, counsel, practice area) as well as direct links to the docket and the complaint. With reliable access to a daily filings report, attorneys can be the first to know about the new cases filed in their region. This is how many commercial litigators are tapping into new business opportunities. With a daily filings report, attorneys are given a bird's-eye view of the litigation landscape as it unfolds in real-time, notifying them whenever a new case has been filed against a potential client in their particular field of expertise.
Attorneys are also using this same spreadsheet to anticipate the needs of current clients. This requires a long view of the litigation process. It also requires patience. For example, in-house counsel for, say, a packing company might want to begin cataloging every dispute filed against its industry peers, browsing through their archive of daily filings reports and registering alerts for any cases involving the coronavirus and workplace injuries. The outcome of this simple practice can reveal astounding, otherwise unidentifiable, insights about the current litigation landscape.
How are the judges in different jurisdictions handling these types of cases?
What types of arguments are holding sway?
Is there anything your client can put into practice now to help them mitigate their risk of exposure to litigation in the future?
With this curated archive of daily filings and docket alerts, attorneys can prepare themselves (and their clients) for the legal ramifications of any new legislation, new judicial decision or new reality.
From Instincts to Data to Instincts
"Data, like technology, has no intrinsic value," Cohen writes. "It acquires enormous significance, however, when it is mined, parsed, and turned into information that is analyzed and crystallized by data analytics." Attorneys are constantly required to make complex decisions, processing new information about dozens of cases at any given moment. Whether we know it or not, we navigate uncertain realities by developing our own probability distributions, each with its own shape and range of possibilities. We know that some outcomes are more likely than others, and that some predictions command more confidence than others. Some attorneys perform this work through their gut. Some rely on legal analytics technologies. And others? They use both.
Trellis is an AI-powered legal research and analytics platform that gives state court litigators a competitive advantage by making trial court rulings searchable and providing insights into the patterns and tendencies of opposing counsel and state court judges. Click here if you'd like to learn more about the Daily Filings Report.
Image © iStockPhoto.com

Don't miss out on our daily practice management tips. Subscribe to Attorney at Work's free newsletter here >