In our Spotlight Q&A, Attorney at Work interviews leaders in the legal technology industry to find out what makes them tick as entrepreneurs and businesspeople — and what they're planning next. MyCase's Matt Spiegel was a busy practicing lawyer before digging in full time to launch MyCase in 2010. These days he focuses mainly on his role as Founder and GM of MyCase, leading the overall direction of the company and its namesake practice management software.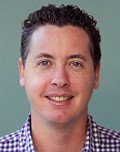 Matt Spiegel
Founder & GM
MyCase
Locations: San Diego, CA, Santa Barbara, CA
MyCase in the Legal Marketplace
If asked to describe MyCase on the back of a new lawyer's business card, what would you write?
Matt Spiegel (MS): The best web-based legal practice management software out there!
What need in a lawyer's practice do you seek to meet with MyCase?
MS: The need that I identified was in my own practice. I started my law firm and was fortunate enough to have a fair amount of clients right away. The problem I had was effectively communicating with all of them as frequently as they requested, especially without a paralegal. So the need that I recognized and sought to fill was being able to facilitate client communication and collaboration through a practice management platform. That and I did not feel that there were any intuitive, user-friendly web-based practice management systems out there for solo and mid size firms.
MyCase offers lawyers an online software platform that allows them to manage every aspect of their firm from billing to calendaring to document management and assembly, and everything in between. MyCase also provides an incredible client portal built from the ground up to help lawyers communicate and collaborate with their clients and provide them with the best service possible.
What are you working on now? 
MS: Right now we are working on some amazing new document management features. One thing that is still severely lacking in any web-based law practice management application is a robust document management tool. We have some amazing things in store that are nearing completion that we think will help take that next giant leap from a technology standpoint.
We also have a really great announcement coming in time for ABA TECHSHOW 2014. We will be releasing our much requested native MyCase Android application for both phones and tablets. And we are demoing our enhanced document management system with foldering and drag-and-drop functionality.
How will it make a lawyer's work life better?
MS: The legal industry is a very document-heavy industry. Lawyers are constantly looking for a better way to organize and access their documents. These new features will go a very long way to giving lawyers an easy, intuitive way to organize their documents while maintaining the instant access they receive by being in the cloud with MyCase.
If you were a practicing lawyer, what would you be doing now to plan for a successful future for your practice?
MS: Although I am not actually practicing anymore, I still am a lawyer and I do still have a small criminal defense firm! My firm, I like to think, is on the cutting edge of technology, and we are certainly using that to plan for the future. Our processes are automated and there is very little "busy work" that happens on a daily basis. This frees up the practicing lawyer in the office, and allows him to do real legal work and provide amazing representation.
We are also looking at using MyCase to deliver some virtual legal services as well.
On the Personal Side
What prepared you to take on leadership of a software company?
MS: Having founded the company, I have been with it since day one. I have seen every new employee come on board, so I am so positive that we have assembled the most talented team possible. I know I am prepared to lead MyCase simply because I have surrounded myself with amazing people.
In October of 2012 we were acquired by AppFolio, a company filled with incredible people who do great things. I have so many people there to learn from and model MyCase after. It is a really great environment and has really helped fuel our growth.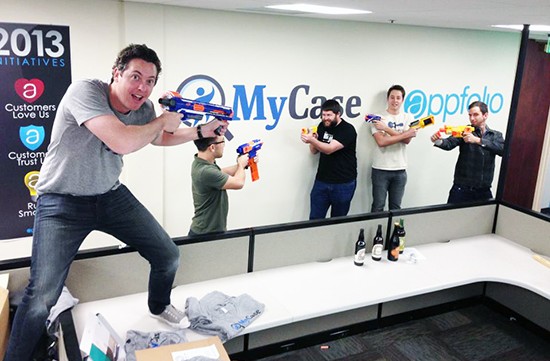 How would you describe your personal business philosophy?
MS: Keep as small a team as possible, build incredibly easy-to-use products, and deliver nothing but a pleasant experience to customers. I believe in staying really agile and being able to pivot and change direction very quickly.
What motivates you?
MS: People. I truly look forward to coming to work every day because I get to work with the most amazing individuals that I have ever worked with. We have such an incredible culture here at the MyCase office and every day is super fun.
Your proudest moment or milestone there?
MS: Honestly, my proudest moment was when we had our very first customer sign up for MyCase out of their trial. This was the first moment when someone out there told us that we had built a product that actually helps them in their practice and that they were willing to pay for it. This was a magical moment that I think every founder has experienced in some way or another.
Tell us about your personal technology "suite."
MS: I am a complete geek when it comes to personal tech. I have it all. I have an iPhone, an Android phone, two iPads, an Android tablet, an iMac, a MacBook Pro and a MacBook Air. I tend to use only a few apps on a daily basis. My favorite calendar app is Tempo and I really love Flipboard for news and other general reading.
Where do you get your news?
MS: I primarily use Flipboard for my news. If I have to watch a news channel I will tend to find CNN, but that is rare and Flipboard is my reliable source.
How do you get it all DONE? 
MS: I may not be the best person to answer this question. I am a big believer in the saying, "If it wasn't for the last minute, nothing would ever get done." However, I do keep a very detailed to-do list in my iPhone. I use iOS reminders because it gives me a little red notification bubble with how many things I have to do. I don't know about anyone else, but I will do anything to get rid of those red bubbles, so it is a great practice for me to get things done.
What three things will we always find in your desk drawer?
MS: A multi-device charger, Pilot G-2 03 pens, and pictures.
What do you enjoy doing in your free time?
MS: Free time? I am the founder of a tech start-up! I actually think that free time is super important. I love spending time with my wife and two little girls in San Diego. When I sneak away from them it is usually for golf, tennis or rock climbing.
Finally — any secret talent?
MS: I can kind of juggle … definitely not a pro or anything but I think I can hold my own.
For more information on MyCase and its latest product releases, visit www.mycase.com. You can follow Matt and MyCase on Twitter at @MattSpiegelEsq.
---
Attorney at Work's Legal Tech Q&A's are sponsored interviews about the best of the best of the legal technology industry — new products, updates and what's happening with the industry leaders. For more information, click here.