With limited in-person networking opportunities, many people are turning to Facebook and other social media sites to connect with others. A Harris poll found that up to 51% of adults reported an increase in social media use after the pandemic began. But how do you reach those potential clients and referral sources? One option some are having success with is creating a private Facebook Group.
Lawyers can use private Facebook Groups to create an exclusive network made up of attorneys who share a common interest, whether it's based on geography, practice area or another likeness. For example, there are private Facebook Groups for lawyer-moms, Arab-American lawyers, and lawyers who like to hike. It's a good way to connect and meet new people and become a source for referrals.
Silicon Valley lawyer Dan Velton created a private Facebook Group called Bay Area Attorney Network in 2013 as a way to exchange ideas, promote legal events and establish professional relationships with other lawyers who live nearby. He started by inviting his lawyer friends. They invited their lawyer friends and now the network has grown to more than 900, including many solo and small firm practitioners. In The Before Time, the group used to host social events such as happy hours.
Because only members can see the members and their posts, the group provides a safe space for lawyers to ask questions. Velton offers this advice to members: "At the end of the day, this is Facebook. Please don't post anything you wouldn't want to appear as Exhibit A to a court filing."
Velton said he doesn't post much himself anymore, but group members share an average of two posts a day on a wide range of topics, from lawyer jokes to news items. Some may seek advice on a business technology solution or legal point outside of their particular practice area. Occasionally, a member will be looking for someone to handle a case or one component of a case.
As the administrator, he vets all requests to join the group, which doesn't take much of his time.
Creating a Private Facebook Group
The first step to creating a private Facebook Group is choosing your common interest. Think about who you would have a natural affinity toward. What kind of people would you like to hang out with in real life?
Go to the Groups tab at the top of your Facebook page and type some keywords in the search box to see if similar groups already exist. You may want to join those groups as well. Ideally, you'll be able to create your own unique group.

To create the group, click on + Create New Group and follow the instructions. Under privacy options, make sure you choose the setting that is private but not hidden so your group will be visible in Facebook searches. Upload a cover photo and write a description that will entice people to join. Remember, this group isn't about you. It's about building an exclusive, online community of people with shared interests.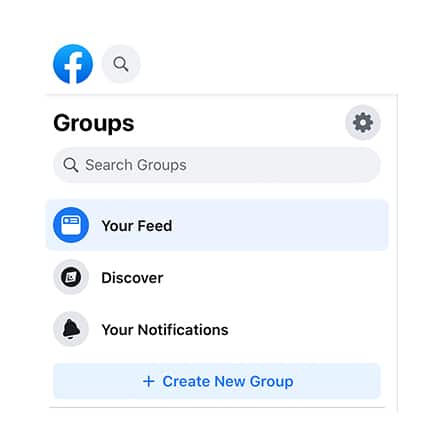 Create guidelines that will help your members understand who else is in the group and what kind of content they can expect to see and share.
Maintaining and Growing a Private Facebook Group
In the beginning, make it as easy as possible for people to join and participate. Ideally, you will attract members you can trust to post appropriate content without prior approval from you as the administrator. Still, you will want to post clear guidelines for group members.
When you're just starting out, you want to post at least a few times a week to maintain interest in the group. Don't treat it as a promotional tool. Think about what kind of content would be the most interesting to your members. Consider creating a poll to gauge the network's interests or increase engagement. Engage with your members' posts to increase visibility and encourage participation in the group.
Other ways to boost membership in your group:
Invite colleagues by sending them an email with a link to the group.
Include a link to the group on your website.
Reach out to other sites with a similar audience and offer to write a blog post in return for mentioning your group.
Ask administrators of other groups to share a link to your group on their page.
Spread the word on your other social networks, especially LinkedIn.
As your private Facebook group grows, you can rely more on member participation to keep it going. Depending on the makeup of your group and the content, you may also need to spend time moderating the discussion. This means deleting any posts that violate the guidelines you've established. To avoid ruffling feathers, send a private message to the poster to let them know why you removed the post.
If you find you need more help managing the group, you can invite someone else to join you as a group administrator or moderator.
With more than 2.7 billion monthly users on Facebook, your audience is waiting. All you need to give them is a reason and an invitation to join.
Illustration ©iStockPhoto.com
Subscribe to Attorney at Work
Get really good ideas every day for your law practice: Subscribe to the Daily Dispatch (it's free). Follow us on Twitter @attnyatwork.