Sometime in 2010 there was a growing murmur on the internet about a pencil. Collectors and enthusiasts who'd been scouring eBay and estate sales for years looking for the legendary Eberhard-Faber Blackwing 602s heard a rumor that the long-lost writing instrument favored by great writers and composers was coming back into production. Fingers hovering over the buy button on vintage Blackwings, going for $40 each, pulled back to watch and wait. They were rewarded: The Palomino Pencil Co. had gone to the ends of the earth to re-create the mix of graphite that made the 602s such a wonder. And pencil freaks bought them by the case.
The pencil revolution had fired its opening shot.
Today, there are websites, blogs and podcasts dedicated to this 300-year-old stylus. Blackwing 602s are released in limited editions twice yearly and snapped up instantly. That these limited editions are then resold on eBay for much more than their SMRP is probably an irony not lost on the pencil freaks who welcomed its return. No matter. Pencils are back. People spend millions to adorn their desks with their preferred brand.
Palamino's relaunch of its flagship writing instrument underlined an army of analog freaks (hello) who were beginning to rebel against their dependence on technology.
The market for old-school tools has flourished. Quality pencils are a status symbol. The ones listed below are the subjects of breathless reviews on pencil blogs and stationery websites. Each has a cult following. 

Pencils With Swiss Wood Cred
Pencils like the Caran d'Arche Swiss Wood editions adorn the desks of tech billionaires, right next to the keys to their Tesla X and their Tag Heuer. One pencil is made from Glovelier beech from the Jura forests in the Alpines. The other is made from COBS (Certificate of Swiss Wood origin) pine from the Grächen forests of Valais. The HB lead is high-quality clay and graphite and maintains its point well, which is important in quality pencils. It means you can write five sentences instead of three before you sharpen. However, if you're spending thirteen bucks on a pencil, there should be extras. For the Caran d'Arche it may be the surprisingly delightful bloom of beechwood or pine perfume when you sharpen it.
The (Affordable) Perfect Pencil
Faber-Castel has been pushing pencils since pencils were invented in Nuremberg, where the company was founded in 1761. They have a committed fanbase for their PITT artist pens, and for their drawing pencils like the Castell 9000, which comes in a tin of six that hasn't really changed in 112 years. Author Sarah Read once found a tin in an antique shop that was essentially the same as the tin you can buy now (except the old pencils are stamped Made in Bavaria where the new one's have a web address). Faber-Castell pencils are known for the quality of their lead. The 9000s are particularly good, with 16 variations, each clearly distinct from the last, easily erasable and known to lay down a beautiful line. These qualities mean writing with these pencils is a luxurious experience. Especially with the Perfect Pencil Castell 9000. It comes with their signature cap with built-in sharpener and clip.
It's Big in Japan
In the society of pencil people, two models maintain cult status. One is the Tombow Mono 100. Many consider it the best pencil ever made. Like the Blackwing 602, the Tombow has a great story. It was designed by a legendary Japanese graphic designer, Takashi Kono, known for the sparse narrative of his minimal designs. Much of his work is built from simple shapes and lines. His art came to exemplify Japanese quality and exceptionalism. The Tombow Mono 100 was engineered so every aspect is of the highest quality. From the designer to the lead, which has an astonishing 10 billion particles per cubic millimeter. The high quality of Japanese lead may be why Palamino went there to formulate the core of its 602. Writing with the Tombow is almost a sensual experience. Like AMSR for your fingertips.
The Blackwing 602
Finally, we're back to the pencil that started it all. I am an enthusiastic, unabashed frontline soldier in the wild-eyed cult of the Blackwing 602. They're manufactured to exacting specifications to perfectly re-create their forepencil, the Eberhard-Faber Blackwing 602. The manufacturer uses California cedar and a proprietary lead mixture from Japan. The ferrule and eraser is unlike any other — flat and wider than the barrel. Stories about how perfectly this instrument lays down a line of lead are myriad and passionate. But the legend may come partially from the zealous loyalty of historical figures like animator Chuck Jones who praised their dark lines for drawing Bugs Bunny. His compatriot Shamus Culhane was buried with one. John Steinbeck kept a bouquet of sharpened 602s on his desk, blowing through all 24 by the end of every day. From a Steinbeck letter to a friend:
I have found a new kind of pencil — the best I have ever had. Of course it costs three times as much too but it is black and soft but doesn't break off. I think I will always use these. They are called Blackwings and they really glide over the paper. 
Blackwing offers a subscription service, Volumes, at $99 a year, which releases a new limited-edition pencil each quarter. The Blackwing Volume 24 (pictured) was dedicated to Steinbeck and included a new lead formula that lasted a little longer for those of us who enjoy Proustian sentences. Don't get your hopes up, however. They're sold out. I include the link and the picture just so you can grieve over missing out on such a magnificent writing instrument. Or so you can visit the site and join. It might sound somewhat dear to spend on a pencil subscription. Or, you just might say it's worth two bucks a shot to write with the same damn pencil as an author who won the Nobel prize.
The Most Expensive Pencil in the World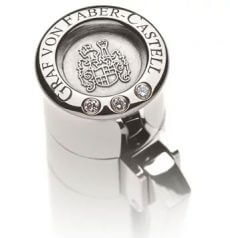 Did your latest rap album hit the charts? Did you just win the Super Bowl? Are you Elon Musk and it's a Tuesday? Then this is the pencil for you. It's one of Faber-Castel's "Perfect Pencils," but there's a lot more that makes it worth the money — if you meet the specifications listed above.
The barrel is made from 240-year-old olive wood and is slightly larger than their regular pencils. The cap is either platinum or 18-carat white gold inlaid with three diamonds and it includes a built-in sharpener and a sturdy clip. It had better be sturdy, because you're going to drop between $10,000 and $13,000 on this baby so, you know, it shouldn't break when you slide it into the pocket of your overalls.
Photo by Joanna Kosinska on Unsplash
More Analog Attorney Ideas