David Allen's Getting Things Done productivity method has been wildly popular since its debut in 2001. "Capture" is one of the most important steps in the GTD process, and nothing captures ideas faster than pocket notebooks.
I know, Evernote is amazing and you can use the GTD method to transform into a magical unicorn of production. And, yes, note-taking apps are excellent for storing, sorting and searching for stuff, or apps wouldn't be a thing. But when it comes to jotting down brilliant ideas on the fly, which opens faster: your notebook or your phone?
Pocket Notebooks Are Faster
If you break it down, the notebook wins by a mile. But to prove it, let's actually break it down.
Using an app
Grab a device.
Unlock the screen.
Open an app.
Open a new doc.
Using VOICE
Grab your iPhone.
Press the home key to wake up Siri.
Speak.
Listen as Siri says, "Sorry, I didn't get that … " or "OK, tell me what you want the note to say."
Talk to Siri or click the screen to edit the note.
Using pocket notebooks
Grab a notebook.
Open to a blank page.
By the time your partner's finally opened Note on his phone, you're already three bullet points into your brilliant idea. And you'll remember that idea with greater recall, better detail and sooner than your friend who types it into an electronic document. Writing on paper embeds an idea into your active mind. When it's time for an executive decision related to that idea, it will open up in your mind immediately because you inscribed it onto paper. That's an edge.
That's not saying putting ideas into an app means you won't remember them. Obviously, that works — and, granted, finding your notes works a little better when you can use search tools. But science has proved old-school methods lead to nearly 30 percent better recall and retrieval with the added benefit of making you a wee bit smarter every time you do it.
Here are five great notebooks for your purse or pocket that never lose power, offer the highest level of definition and are fairly stylish to boot.
The Blackwing Clutch
Palamino's Blackwing 602 division has been quietly developing some very nice tools to go along with their historic resurrection of the Blackwing 602 pencil. The Clutch is their first pocket notebook. It's 3.5-by-5.5 inches, available with blank, lined or dotted pages. Those pages are luxurious 100-GSM ivory-colored paper and take ink and lead like a dream. The covers are flexible but strong and feel like leather. Blackwing does their research and took an idea from the journals of John Muir. Muir would often turn his pocket notebook sideways to change his workspace from a page to a spread to draw what he discovered in nature. Blackwing designed the Clutch to open like a clamshell, meaning you can use it as a 3.5-by-5-inch book, page by page, or turn it to gain a 7-inch spread that lays flat.
Moleskin Reporter's Notebook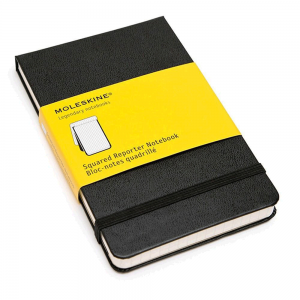 I have a thing for reporter's notebooks. These specialized pocket pads were designed a million years ago as a cheap, convenient tool for taking notes in interviews. They are narrow and tall with a spiral bind, meant to be used vertically. They are made from the very cheapest paper with an ugly cover. Unless they're made by Moleskin. The Moleskin reporter's notebook is slightly larger than traditional versions at 5-by-8.5 inches. However, it maintains all the other features — narrow pages that flip over the top of the journal so a reporter can hold them in her hand and write easily without a flat surface for support. And they make a smaller, 3-by-5 version, which I think is the perfect pocket notebook. Like the Blackwing, the pages are ivory and made from excellent paper.
Write Notepads Pocket Ledger
Write Notepads & Co. was founded by a third-generation bookbinder in Baltimore. They operate by a simple philosophy: Make great tangible products and do good in the world. Because of that idea, for every notebook purchased, a similar notebook is given to an inner-city youth in Baltimore. So if you purchase their Pocket Ledger, you can look up a five- digit code printed inside and see which inner-city school received supplies because of your purchase. Which is cool, but what's also cool is how well this notebook is made. There's a snagless copper-wire binding on a top-bound pad with rounded edges on 70-pound paper. The cover has minimal branding and, if you're like me, will quickly fill up with doodles and notes and become a treasured artifact of accidental beauty.
Code & Quill Traveler
Code & Quill started as a Kickstarter project to build the perfect notebook for creatives. They've become a notable player in the note-taking game, producing some truly well-crafted journals. Their saddle-stitched Traveler is a very basic pocket notebook with 48 100-GSM acid-free pages between soft covers. The design idea seemingly was to deliver the most elegant yet simplest pocket notebook — and they've succeeded. The only thing you get besides the blank pages is an excellent design and remarkable craftsmanship. You don't really need much more than that.
Midori Grain
I found my Grain memo pad in a stationery store in Paris and fell in love immediately. Midori is a world-class Japanese stationer known for the simplicity and durability of their journals. This pocket notepad is part of their World Meister's product line and features a cover made of recycled leather from a curriery in Valencia, Spain. Midori named the notebook after this leather. It has letter-pressed and embossed logos and an interior blank cover with space for a title. The ivory pages offer both lined and unlined paper. There is a stock insert after the last page so your final notes aren't affected by the rivets and texture of the back cover. That it is useful and perfectly designed for taking notes is almost a lagniappe.
Is your pocket notebook your secret weapon? Let us know in the comments below.
Get more Analog Attorney here.
Illustration ©iStockPhoto.com
Subscribe to Attorney at Work
Help us grow and get really good ideas every day: Subscribe to the Daily Dispatch and Weekly Wrap (it's free). Follow us on Twitter @attnyatwork.