Asana review: Asana delivers useful project management features you can use in your law firm right out of the box. But will its virtues outshine its flaws?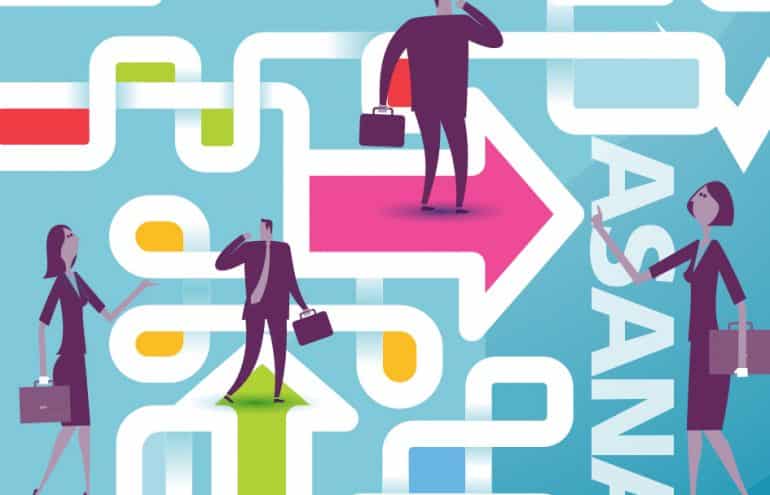 Computer scientist Tony Hoare said, "There are two methods in software design. One is to make the program so simple, there are obviously no errors. The other is to make it so complicated, there are no obvious errors." Asana falls into the latter category. But before I list its material "Hoare errors," let me first explain what Asana is and praise its virtues.
(Note: I'm taking great liberties with Hoare's Axiom but it has taken on a life of its own beyond its original meaning.)
Asana, which costs $10 per user per month, is a unique cross between to-do list and project management — more capable than apps like ToDoist or Wunderlist, and more flexible and easier to use than LiquidPlanner, ZoHo Projects and the like. Asana's nearest competitors (that I explored) are Smartsheet and Dapulse.
Asana Review: What I Like About Asana
List or Kanban. When you create a new project, you can choose between a list or Kanban (a card-like format). I'm sure Trello, which is entirely card-based, offers more functionality but Asana gives you much of what Trello offers plus lists.
Task assignment. You can quickly assign tasks to someone, including the due date, instructions and attachments. They receive an email and/or mobile notification. When they complete the task, you receive a notification. Asana contains a messaging system within each project for discussions, a clever and potentially useful service.
Templates. If you have complex, multistep processes (and who doesn't?), you can save a project as a template for repeated use. For example, a law firm could create an intake project with different people responsible for the various tasks involved.
Custom fields. You can create custom fields, which appear as columns in list projects. This enables you to track parameters unique to a project. For example, we have a project in which tasks have two important dates so we created a custom field for the earlier date and use Asana's standard due date for the later date.
Calendar. Every project offers a calendar view, which is more useful than I expected. It's nice to see a calendar with only that project's tasks. For example, we use a template to create a project for our scheduled newsletters each week with custom fields to track the status of ads, content and so forth.
Freelance ready. Asana groups projects by team. This makes it foolproof to share projects with people outside your company without worrying about them accessing your internal projects. You can easily move projects from one team to another. Unless you have only a handful of clients, teams won't work for client collaboration because Asana charges for every user and doesn't have a design that would make hundreds of teams usable. But it's excellent for freelancers such as contract lawyers to whom you send a lot of work.
Asana Review: Asana's "Hoare Errors" (What I Don't Like)
iPad app. I've long advocated for keeping your iPad by your side on your desk. Assuming you have a 27-inch or larger monitor (large enough for two documents side by side), an iPad offers a superior experience to a second monitor because the iPad performs many secondary functions (such as notifications) better than a traditional computer — and you can also use it as a monitor. Sadly, Asana's iPad app is like a twin separated at birth and raised by wolves. It doesn't have all the features of the desktop web app, looks janky and, to add insult to injury, Asana won't let you use Chrome or Safari on the iPad as a workaround.
Custom fields truncation. Good luck reading the custom fields you create. Instead of adjusting the column width and wrapping text, Asana truncates the text. (See the screenshot.) You have to hover with your mouse to read it. How did this get out of quality assurance?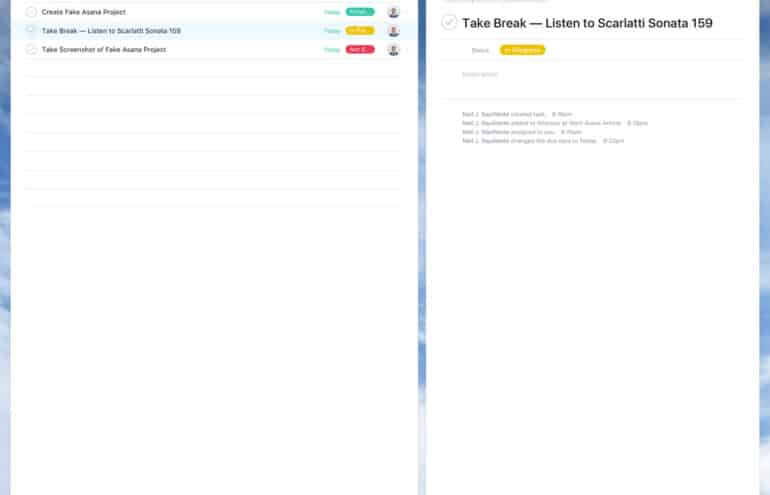 Task dependencies. Asana enables you to "require" completion of a prior task before another can start. This is real project management, the stuff from which you can create a Gannt chart. But in Asana these dependencies are fake, more like suggestions. You can mark a dependent task as completed before its antecedent task is completed. Tech support admits the issue and says they hope to provide true dependencies someday.
Gannt charts. Speaking of Gannt charts, Asana doesn't include this quintessential project management tool. Instead, you can pay another $5 per month per user and integrate Instagannt. Asana should acquire Instagannt or replicate it, and make it a view available for each project like the calendar view discussed above.
Headings. Asana enables you to group related tasks in a large project using headings, another feature of real project management. But like dependencies, the headings are fake. They're actually just tasks in bold type with no due date. Accordingly, when you sort a project by due date, the headings don't remain above their subordinate tasks but instead clump together at the bottom of the list like electronic flotsam. Asana admits the issue.
Reminders. This is a flaw in many project management apps, not just Asana. I'd like to receive an iOS notification (or email message) reminding me to start a task at a specified time of my choosing. I realize that you need to look at your project management software every day, but this isn't the same as being reminded at a specified time. Asana emails you a notification listing all your upcoming and overdue tasks at around 1 a.m. each day. This is not when I want reminders, and I don't want them all at once.
Low-Hanging Fruit
Asana has raised tens of millions of dollars thanks to being started by two members of the Facebook mafia. The above flaws seem like low-hanging fruit that the company can easily fix. We'll continue using Asana until at least the end of the year and keep our fingers crossed.
This article is adapted from one originally published in TL Serendipity, the most free-wheeling newsletter in the TechnoLawyer network.
Illustration ©iStockPhoto.com
Get "One Really Good Idea Every Day"
Sign up for Attorney at Work and help us grow! Subscribe to the Daily Dispatch and the Weekly Wrap (same price: free). Follow us on LinkedIn, Facebook and Twitter @attnyatwork.