In July 2021, Allison M. Murdock began serving as managing partner at Stinson LLP, an AmLaw 200 firm with 12 offices in 10 states. A lot has happened since we spoke with her last year, so we checked in to talk with her about highlights from the past year.
As Stinson LLP's managing partner, Murdock is charged with ultimate responsibility for all aspects of the firm's operations and performance. This includes responsibility for the firm's financial performance, leading and implementing strategic and growth initiatives, approving operational policies, and providing annual partner compensation recommendations to the board of directors.
Catching Up With Stinson's Managing Partner
Last we spoke, you had reached almost one full year as Managing Partner. What are some highlights from this past year?
Last year was terrific for Stinson. We enjoyed another year of tremendous financial success. Our litigation and energy practices experienced increased demand, and our real estate, mergers and acquisitions, labor and employment, and other practices remained strong.
We began 2022 by implementing a permanent hybrid remote work schedule, which provides the flexibility to work remotely two to three days a week and in person the balance of the week. This hybrid schedule recognizes the importance of coming together in person a few days each week to learn, teach, mentor and build relationships. Our in-person connections are invaluable, and spending time together again with friends and colleagues was a highlight of 2022.
Also in 2022, we launched the Worked Allocation Monitoring System. This firmwide program is an associate-focused initiative to support equitable access to work experiences and to empower associates to own their professional development. Two of our partners were named Practice Development Partners for the initiative; they now work full-time with associates to discuss self-assessments, review progress on core competencies, and brainstorm professional and business development needs and opportunities.
Perhaps our most significant accomplishment was the development and approval of the firm's new strategic plan. Our strategic visioning committee and working groups came together to create a plan that will guide the firm's growth and development over the next three years. The plan focuses on the growth of Stinson's existing offices and expansion of our geographic footprint, ensuring that our attorneys have the resources necessary to thrive personally and professionally, strengthening existing client relationships, developing new ones, and improving matter management.
It is fitting that we are talking during Women's History Month. How do you envision the future of women in legal leadership?
AMM: There are more women in prominent leadership roles at Stinson and across the legal industry than ever before, and I am confident those numbers will continue to increase. Stinson has long recognized the importance of having diverse voices and points of view in leadership roles. This is true whether diversity is reflected through gender identity, ethnicity, physical ability, sexual orientation or age. These perspectives help us better serve our clients and make us a stronger, more successful firm.
Intentionality is key to ensuring women and other diverse attorneys advance to prominent leadership positions. At Stinson, we are focused on diversity at every leadership level, including our leadership team, board of directors, executive committee, practice divisions, and committees. We are proud to be designated as a Mansfield Certified Plus firm, which is only awarded to law firms that consider and achieve at least 30% historically underrepresented attorneys when promoting or appointing to leadership roles.
Other programs designed to prepare attorneys for professional success and leadership roles include our employee resource groups for women and LGBTQ+ attorneys and attorneys of color, our women's business development initiative, the monitoring of diversity in pitch teams and our Work Allocation Monitoring System, which was designed to support equitable access to career-building work opportunities.
The path to prominent leadership roles for women and other diverse attorneys requires the opportunity to develop excellent legal and business skills and the opportunity to demonstrate those skills.
Stinson recently moved to a larger office in New York City. Are there plans to expand the firm's reach in other cities?
AMM: We are excited about the expansion of our New York City office. Our new space, located in the Financial District, enhances our ability to serve our New York-based clients as well as our other clients with legal needs in New York. We are fortunate to already have more than 20 New York-licensed attorneys.
We also plan to expand our geographic footprint. We are currently focused on establishing a physical presence in California and Florida. There are opportunities in both of these states to expand our work, particularly in the areas of mergers and acquisitions, real estate, and complex commercial litigation.
What industries and practice groups do you predict will be growth drivers?
AMM: We expect continued economic uncertainty will spur additional work in our bankruptcy, financial services, class action litigation, and complex commercial litigation practices. Our real estate, mergers and acquisitions, and labor and employment practices were strong in 2022, and we expect them to remain strong in 2023.
There have been several new hires and promotions at Stinson. Do you expect more new hires in 2023?
AMM: Absolutely. Growth is a priority for us in 2023 and beyond. As we work to grow in our existing markets and enter new markets, we are aggressively recruiting lateral partners and lateral groups, pursuing small and medium-size merger opportunities, and increasing our new associate classes.
Our goal is to grow with great attorneys and firms who, like us, are committed to the highest level of client service and to working with one another in an inclusive, collaborative, high-performing firm that is committed to ensuring that everyone in the firm thrives personally and professionally.
---
One Year In: Becoming Managing Partner
What follows is our 2022 Q&A with Allison Murdock.
Tell us about your path to becoming Stinson's managing partner.
Allison M. Murdock: I became managing partner in July 2021 after serving as the firm's deputy managing partner for 11 years. But, in many respects, my path to managing partner began much earlier in my career and required a parallel commitment to professional development, client service and internal leadership.
I joined Stinson in 1988 after graduating from law school and, like most associates, was singularly focused on developing my legal skills and building client relationships. As I did so, I developed relationships with lawyers throughout our firm. As the firm expanded, so did my opportunities. Fostering these internal connections, building client relationships, and honing my legal skills were important building blocks to my leadership development.
As my practice evolved, I was asked to serve on firm committees. Eventually, I chaired our Associate Development and Mentoring and Associate Evaluation Committees. I was selected to serve on the firm's board of directors in 2003. I also chaired one of the firm's business litigation divisions before being selected as the deputy managing partner. It's a privilege now to serve as Stinson's managing partner.
What is your involvement in legal ops and the firm's strategic initiatives?
AMM: I am ultimately responsible for the legal operations of the firm, including the lawyers and their practices, but my day-to-day involvement in legal operations is focused at a strategic level, working with our firm's deputy managing partner and practice division leaders to achieve growth and maintain and improve profitability.
I am directly responsible for leading, developing and implementing the firm's strategic plan and growth strategy. The development of the strategic plan, though, involves multiple stakeholders. We engage and include our partners in the strategic planning process to gain buy-in, which drives better and faster strategic outcomes.
What is the leadership structure in your firm?
AMM: Stinson has a centralized leadership structure. The managing partner serves as the firm's CEO and reports directly to a 17-person board of directors, which functions with the power and responsibilities customarily held and exercised by a board of directors of a general business corporation. The managing partner appoints a deputy managing partner, who is primarily responsible for overseeing the firm's practice division leaders and their divisions as well as serving as the leadership liaison with certain firm committees.
The managing partner, deputy managing partner and chief operating officer together form the firm's leadership team. Each member of the leadership team has distinct roles and responsibilities but regularly works together on the day-to-day leadership of the firm.
Taking the Lead in a Time of Crisis: Learning to Adapt
What have been your biggest challenges?
AMM: The pandemic created so many personal challenges for our people. One of the biggest challenges as a leader was the inability to solve so many hardships our people faced. We provided as much certainty as possible through regular communications regarding the firm's performance and how we were addressing the organizational effects of the pandemic. We also expanded policies for more flexible work schedules and leaves.
The inability to connect in person with our lawyers, personnel and clients also has been challenging. As leaders, we always spent substantial time in each of our offices meeting with people. Technology certainly allows for effective communication, and it was crucial to our firm's success during the pandemic. But, there is no substitute for the in-person relationships that form when people get together for lunch, grab a coffee, or stop by one another's offices to chat or ask a question.
What lessons have you taken away from the past two years since the start of the pandemic?
AMM: For me, an important lesson from these past two years is that lawyers can change. Overnight, we learned how to work and collaborate differently. Through our shared experience, we learned we can be flexible and adapt. Given the fast-paced changes in the legal industry, this is a hopeful lesson. Our willingness to change and adapt is key to continued success.
Learning to Lead
If you could provide advice to law firm leaders right now, what would it be? 
AMM: Every law firm leader faces opportunities and challenges unique to their firm, and they must rely on their own trusted advisors for how best to navigate those opportunities and challenges. But I believe all law firm leaders must remain nimble — we must be willing to act and react quickly to change, even when it takes us down an unplanned path.
My philosophy for managing people is grounded in developing positive and genuine relationships with people throughout the firm and being fair, honest, kind, compassionate and respectful to everyone regardless of their role.
Managing people also requires facing difficult decisions or conversations head-on and doing so directly and respectfully. Earning trust, showing respect and acting in service to everyone in the firm is fundamental to my philosophy for managing people.
How have mentorship and sponsorship played a role in your career?
AMM: Mentorship and sponsorship have been invaluable to me throughout my career. Although formal mentoring and sponsorship programs did not exist when I began my career at Stinson in 1988, informal mentoring and sponsorship were important in Stinson's culture. My mentors and sponsors — who mostly were men — provided me with opportunities to work on complex legal matters with direct client interaction. They included me in business development opportunities, and guided me as I developed my client relationships.
Equally important, my mentors and sponsors taught me the business of law, which gave me a deeper understanding of our firm's operations. This support prepared me for my future leadership roles.
One of my early leadership roles was as chair of Stinson's Associate Development and Mentoring Committee, which focused on ensuring all associates were developing meaningful mentoring relationships. Stinson has grown its mentoring programs over the years, and two years ago, launched a formal sponsorship initiative to support and champion the business development success of underrepresented partners.
Mentorship and sponsorship — whether formal or informal — make all the difference in developing a satisfying and successful career.
Where Is the Legal Industry Heading?
The profession has been debating alternative business structures, including ownership by nonlawyers, and lately, the regulatory grounds are beginning to shift. What are your thoughts on this?
AMM: Stinson is always focused on providing innovative services to our clients. Depending on the framework adopted by the governing jurisdictions, the prospect of non-lawyer ownership could help law firms like ours pair non-legal services with the exceptional legal work valued by our clients. But there certainly are significant questions that any framework for allowing non-lawyer ownership will need to answer.
For example, the attorney-client relationship involves duties of diligence, loyalty, communication and independent professional judgment. Protecting that relationship from investor demands and profit motives is at the heart of the rules against non-lawyer ownership and sharing legal fees with non-lawyers. Non-lawyer ownership also implicates lawyers' duties to maintain client confidentiality and protect attorney-client privileged information, because investors presumably will want information about the specific legal matters that a firm's lawyers are handling.
Finally, creating greater public access to legal services often is touted as a benefit of non-lawyer ownership. But how it will achieve that goal while simultaneously generating profits for equity investors remains unanswered. It will be interesting to see what is learned from the Utah "sandbox" model, which aims in part to deliver affordable legal services to the public.
Where is the legal industry going?
AMM: The legal industry has experienced tremendous change over the last few years, and change will continue to accelerate. Competition for clients already is fierce, and it will escalate. Clients expect better value, services and solutions. Alternative legal service providers already have a foothold in the industry. Clients have displayed a willingness to retain different legal providers — whether ALSPs or other firms — to handle various aspects of a matter. This requires the legal industry, especially law firms, to collaborate with other providers, often competitors, in ways they traditionally haven't. Also, a few states are exploring non-lawyer ownership of law firms. If adopted, this could provide some firms with the capital needed to invest in the technology and other resources that will allow them to compete for clients they might otherwise not have been positioned to serve.
The legal industry also is facing generational change. The next generation of lawyers' expectations are different than those of my generation. They want and expect meaningful work, generous pay and benefits, training, mentoring, effective communication, immediate feedback, pro bono opportunities, work-life balance, well-being support, and a voice in decision-making. Without these opportunities, retention will be difficult, if not impossible. My generation's willingness and ability to adapt will be the key to ensuring retention.
Related: "Stinson's Well-Being Committee Steps Up During the Pandemic"
Image © iStockPhoto.com

Don't miss out on our daily practice management tips. Subscribe to Attorney at Work's free newsletter here >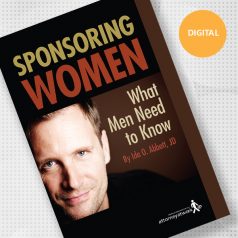 Everything You Need to Know About Sponsoring Women
If you (or a man you know) need help understanding how to sponsor high-performing women into leadership roles in your organization, Ida Abbott's timely book shows the way.
Available in digital or print format in the Attorney at Work Shop.