Attorney at Work's "Women in Law" series focuses on successful women lawyers who have carved a path for themselves in the legal industry and beyond. Meet Elena Kohn.
Elena Kohn
Associate Regional Chief Legal Officer
AdventHealth
Tampa, Florida
Stetson University College of Law, J.D. (Cum Laude), 2011
LinkedIn
Elena Kohn has devoted her legal career to the intersection of business, health and employment law, moving from BigLaw to work in-house in the healthcare industry. As Associate Regional Chief Legal Officer for AdventHealth, Elena still finds time to do the things she loves the most — spending time with her family, riding her Peloton bike, and running races to benefit the causes near and dear to her. Below we talk with Elena about her path to success, from Russia to the U.K. and the U.S.
How did you get started in the legal profession?
Elena Kohn: When I was 10, the Soviet Union collapsed and my family fell on hard times. That brutal period following the collapse, with its lawlessness, corruption and societal disintegration, took a toll on all of us. As a child, I saw my mother's health deteriorate. Our local hospital, rendered dysfunctional by chronic corruption, lacked the basic equipment to detect her cancer when it still might have been possible to save her. There was no recourse, no accountability — and everyone knew it. It was this experience that first ignited my passion for the law. I dreamed of living in a more stable, law-based society, where individual rights could be protected.
Some years passed, one thing led to another, and my husband and I found ourselves leaving Russia for the United Kingdom. There, I graduated from college at University College London and enrolled in the college of law to pursue my dream of becoming a lawyer. My family ended up moving to the United States. I graduated from law school here in Florida, receiving the highest grade in our class on constitutional law because I was genuinely fascinated by our separation of powers and checks and balances, given how different it was from my birth country.
What was your experience like after graduating from law school?
EK: Through hard work, lots of determination, good grades and interpersonal skills, I was able to secure a spot at a large law firm. BigLaw jobs are prestigious, and the perks are great, but it is not everyone's definition of success.
When I was in law school, about 52% of our graduating class was women. Yet, when I started practicing a decade ago, I saw very few women occupying the top positions in their law firms. It would seem the industry was severely lagging behind in recognizing women's potential in critical areas, such as work ethic, perseverance, teamwork mentality, tenaciousness, desire to mentor and natural business development skills.
How did you find your way to your current position?
EK: BigLaw gave me many opportunities for reflection and to think about finding a different path for success. The realization that my definition of success was antithetical to a BigLaw lifestyle resulted in my obtaining an in-house job with one of the firm's clients. The client, who was in healthcare, was happy with my work and decided that it would be more cost-efficient to employ me directly.
How do you define success?
EK: My definition of success can be succinctly captured in these numbers: being married to my best friend for 20 years, raising two beautiful children, and practicing law for 10 years in an area that is constantly developing. This success entails working very hard, yet it emphasizes balance and being a whole person.
Being involved in my children's lives makes me a more compassionate person, which, in turn, makes me a better counselor to my corporate client. You see, attorneys are not simply machines who can conduct legal research and regurgitate rules of law. We are advisors and counselors to our clients; those roles require us to possess a high emotional quotient.
Honestly, who better than a mother to relate to a personal struggle and use that understanding to advise more compassionately on an issue of law?
What advice do you have for women lawyers and law students?
EK: Representation and role models matter. My daughter gets to observe me every day working hard for my client and my family. Find role models and mentors who can guide you and advise you throughout your career.
Also, know that you are not just your job or your career; there is more to life than long hours and big paychecks. Find a hobby and pursue it. It could be sports, arts, spending time with friends, or contributing to your community. The time you spend outside business hours will make you a whole and balanced person, which, in turn, will help you be a better advisor to your clients.
Have confidence in yourself. You've got this.
More Q&As in Our Women in Law Series:
"Q&A With Heather Stevenson: A Less Traditional Path"
"Q&A With Michelle Banks: A Pioneering Personality" 
"Q&A With Lauren A. Tetenbaum: Reflections of Pride"
---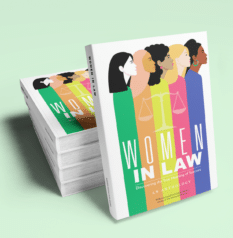 Inspiring Stories From Women in Law
Read more about Elena and 22 other inspiring stories from accomplished women lawyers in Women in Law: Discovering the True Meaning of Success available on Amazon.
Proceeds go to Ms. JD, a nonprofit organization dedicated to the success of women in law school and the legal profession.