TikTok is fertile ground for marketing legal services, but it takes more than a talent for lip syncing to attract the right kind of attention. You need an SEO for TikTok strategy to ensure your #lawyertiktok videos aren't lost among the cats and comedians.
Remember when every law firm and lawyer wanted to rank No. 1 on Google for their top most coveted keywords? Then Amazon came along and started stealing Google's SEO market share for consumer product searches. Now, most people I know start their search for everything from dish towels to dog food on Amazon.
The same thing is happening with services on TikTok, including professional services like legal.
A senior Google official disclosed last month that nearly 40% of Gen Z prefer using TikTok and Instagram over Google when performing online searches. With Gen Z making this transition, it's only a matter of time before the other generations follow. We saw this happen with Facebook, Instagram and now TikTok.
How can lawyers take advantage of the trend? Master SEO for TikTok and other short-form video applications, like Instagram Reels and Facebook Reels.
SEO for TikTok Explained
SEO for TikTok is still a bit of a mystery, but we have been working with law firms, lawyers and professional service providers to discover what works and what doesn't
Here's what months of trial and error have taught us, so you can master TikTok SEO without the same slow progress we made.
TikTok SEO Best Practices for Lawyers
The search feature on TikTok functions like most search engines: Users can search by keyword, username and hashtags. So, when choosing your TikTok handle and hashtags, you want to be strategic.
1. Plan your content around your keywords.
When planning your content for TikTok, you'll want to do keyword research before filming your videos, similar to your SEO strategy for Google.
When searching for topics on which to make videos, use the words and phrases your clients use to describe the circumstances that cause them to seek out your services. For example, a matrimonial attorney might use keywords like "Florida divorce attorney" or "do I need a prenup?" when searching for legal services providers
We recommend starting on the Top section of the search page on TikTok for the keyword you want to target to get ideas of the type of content already on TikTok. You should review what other types of videos lawyers make on the topic and note what's performing well and what's getting no traction.
Once you've identified the keywords you're targeting and the concepts or ideas for videos you like, you want to move on to finding hashtags that complement your keyword.
2. Research potential hashtags that complement your target keywords.
Even though it will be tempting to use hashtags with millions of followers and views, use smaller hashtags with thousands of views instead. You want to identify a mix of hashtags that range in size from 10,000 to 500,000 views and followers.
The more views the hashtag has, the more competitive it is to rank in TikTok search for the video. So, we recommend starting with smaller hashtags related to your keywords and then as your account grows, using higher trafficked hashtags.
In the example of the matrimonial lawyer, you might use hashtags like:
#floridadivorceattorney, which has 20,600 views, versus #divorceattorney, which has 185.8 million views.
Similarly, changing up a single word in a hashtag can result in a very different search volume; #floridadivorcelawyer has 4.7 million views on TikTok, whereas #floridadivorceattorney has 20,600 views. So, be strategic in how you do research and select hashtags.
3. Use your keywords in the script of your video and on-screen.
If you're making a video where you're speaking directly to your target audience (also known as a talking head video), be sure to use the keywords in the script of your video as you're speaking. TikTok has a robust algorithm that will review your video to confirm the continuity of the hashtags you're using, the content of your video, the words you display on the screen, the caption of your video, and the content of your video all align.
Similarly, if you're making a video with a trending sound, you'll want to be sure you use the keywords you selected on-screen in your video.
So, in the example of the matrimonial attorney, she might want to film a video with a trending sound calling out how divorce affects a person's credit. When the video starts, she'll want to use the keyword "Florida Divorce Attorney" on-screen.
This can be framed as the title of the video or just as a call to action at the end. For example, "Florida Divorce Attorney Shares 5 Tips for Protecting Your Credit in a Divorce" or "Contact This Florida Divorce Attorney for Help with Your Divorce."
4. Use the auto-generated subtitles on TikTok to ensure the algorithm can match your subtitles to your script.
If you decide to make a talking head video, be sure you're using the auto-subtitles feature on TikTok to optimize your video for search further. Although the auto-subtitles feature on TikTok is decent, it's not perfect, and you'll want to take the time to correct the subtitles if they are incorrect before you add them to your video.
A lot of data shows that many people scroll through TikTok and other video platforms without having the sound on and rely on reading the subtitles. So, having correct subtitles optimizes your video and helps your video get more reach and engagement while supporting a more inclusive approach to social media marketing by making your video accessible to those who are hearing impaired or unable to have their phone volume turned up
5. Include keyword-specific phrases in your video captions.
Last but not least is writing a keyword-rich caption when creating social media posts for your video. We recommend using the keywords you identified within the video's caption to ensure your video has the maximum reach possible.
For the matrimonial attorney, this might look like this:
When couples go through a divorce, their credit is often the least of their worries. However, as a Florida Divorce Attorney, I've had countless clients make mistakes in a divorce. Here are five tips to save your credit. If seeking a Florida Divorce attorney, contact our office. #floridadivorceattorney
Once you've written your caption, you're almost ready to post your newly optimized video.
6. Use your keyword on the cover of your video.
The final step is to create a cover photo that uses a strong hook and the subject of your video content. The goal of the cover photo is to capture the attention of those people who navigate to your profile page to watch more of your content.
Some examples of solid hooks for your video cover photo for our matrimonial attorney in Florida might be:
When to hire a divorce attorney.
What is community property?
How to get custody of my kids.
When to ask for spousal alimony.
These cover photos overlay your video and help new prospective followers quickly find additional content of interest.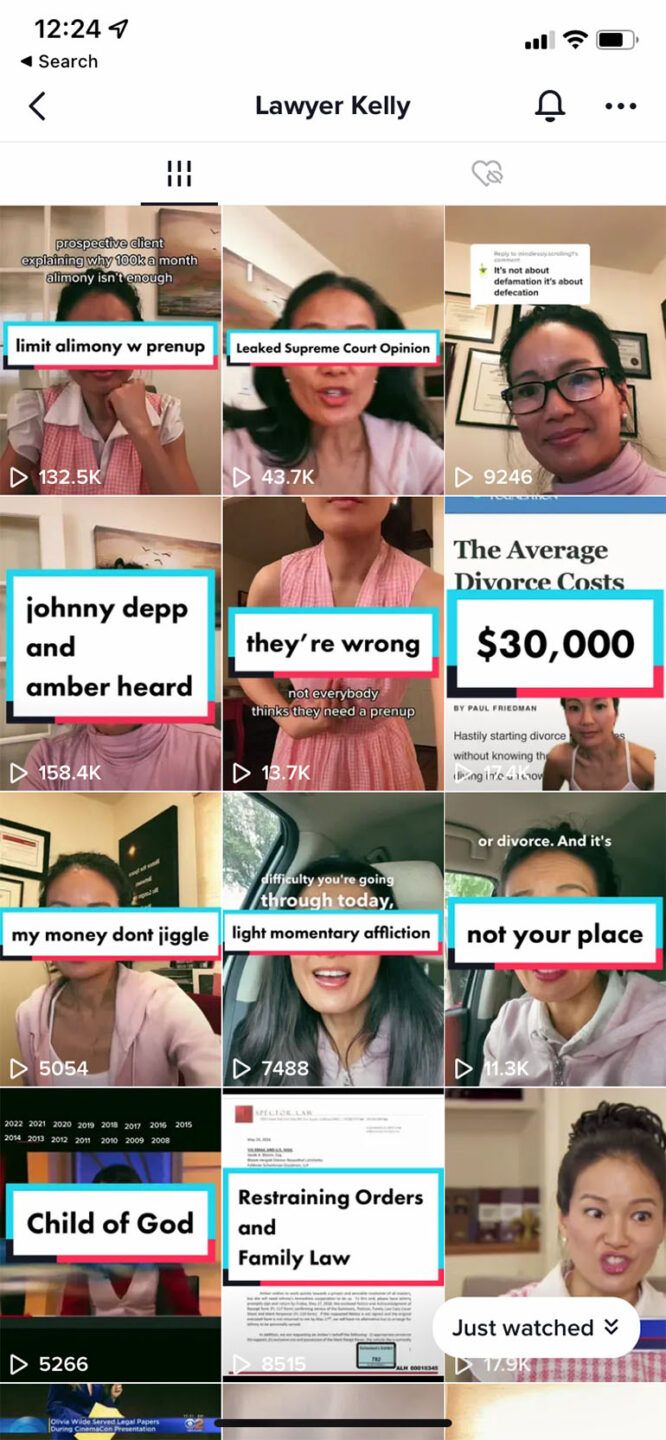 Embracing TikTok for Lawyers
TikTok is new for many lawyers and it can feel overwhelming to learn another social media marketing platform. However, TikTok is demonstrating that it has longevity and a clear place among the other social media marketing platforms, including Google, as a potential powerhouse for search and discovery.
We're recommending that lawyers embrace TikTok as a new avenue for developing business.
For more on TikTok for lawyers, read:
"Lawyers on TikTok: Tips for Short-Form Video" by Annette Choti (Attorney at Work)
"Three Lawyers Weigh In on Their Top TikTok Marketing Tips" by Nicole Black (ATL)
Illustration ©iStockPhoto.com
Subscribe to Attorney at Work
Get really good ideas every day for your law practice: Subscribe to the Daily Dispatch (it's free). Follow us on Twitter @attnyatwork.