Sticky notes are powerful productivity tools — but they make your desk look like it was taken over by a neon-obsessed crafting maniac. Do they only come in drunken tangerine orange? Do they have to look like Band-Aids? Or leaves? Or cats? Or come emblazoned with "THANK GOD IT'S FRIDAY" like a 1970s demotivational poster? No, of course not.
But finding conference room-ready sticky notes is hard. So I've done the work for you.
Sticky Notes Are Ubiquitous for a Reason
Adhesive memos are one of the most popular inventions of the 20th century: 3M produces 50 billion every year. They're popular because they require exactly zero instructions. As soon as you peel one off you think of 20 ways to use it.
As many professionals explore the productive benefits of analog tools, Post-it notes are enjoying a resurgence in the office space. And for good reason. They're cheap, they work and they're adaptable. How many war room whiteboards have you witnessed festooned with cascades of wildly pink, green, orange and purple notes, and thought, "It looks like a very organized clown blew up in here?"
Sticky Notes You Will Use
We all know Post-its. But what about all those other sticky notes? You have to drill deep before you find sticky note options that belong in a law firm. Here are five that'll stick with you. (This pun will never die).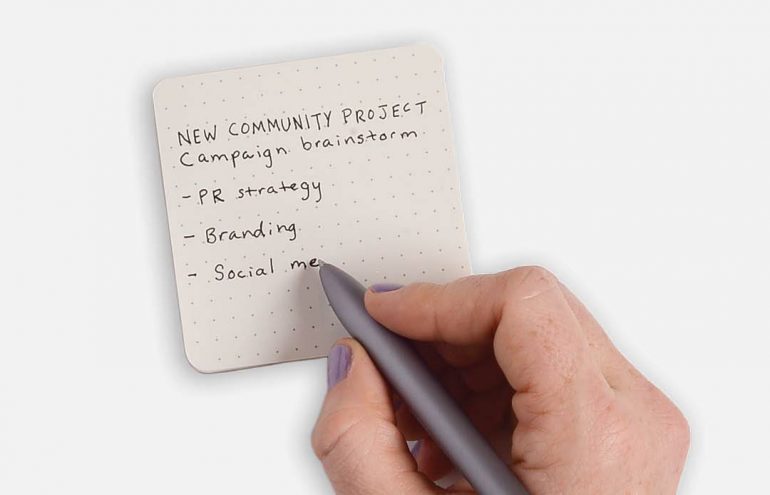 Nomad notes are from Baron Fig, which makes journals, writing instruments and accessories. We're in a platonic relationship (who am I kidding — it's love). With only three little changes to basic sticky note architecture, they created a perfect product: The paper is a natural white, printed with a dot grid that matches their journals, and they have rounded corners. Similar: Moleskine's Stick Notes.
s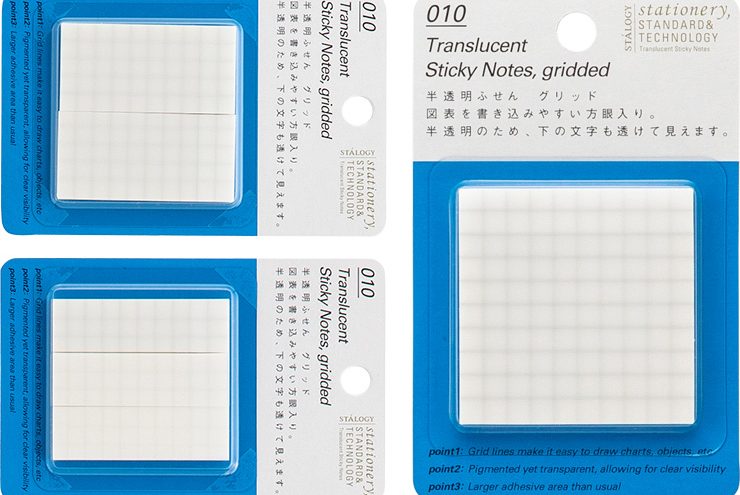 Stalogy's Translucent Notes are a wildcard entry. Imagine slapping one over an illustration to draw arrows and notes. Your partner can see the image through the film, with your notes accurately pointing to the exact place on the illustration you want them to make changes. Not good for fountain pen scribblings, but they work just fine for pretty much every other writing instrument. Similar: Bonomemo Window Stickies.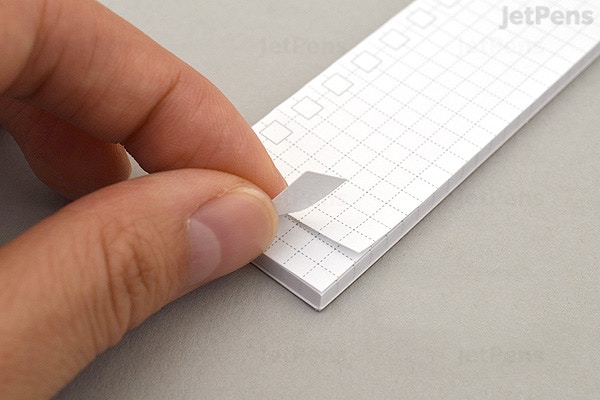 Kokoyu's Techno ToDo Sticky Notes are designed to fit perfectly onto the brilliantly designed pages of the Kokoyu Jibun Business Notebook, which is so good I spend at least three minutes a day standing on the sidewalk in front of my house watching for mine to arrive by mail. I dream about it at night. These tiny, tiny stickies are simple and adapt to myriad journal situations. Similar: Their F.O.B. Coop weekly lists.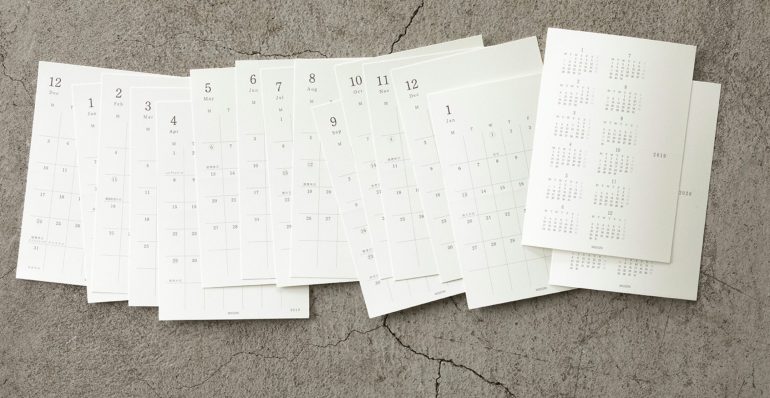 Midori is a stationery legend for their paper but their new Diary stickies are killing me. They're printed with dated or blank monthly calendars on the classic MD paper, which is milled at 55 grams (it's nice) just like their notebooks. Diary stickies are manufactured to fit seamlessly onto a Midori notebook page. But I think they'll look good anywhere you use them and yes, I will be sticking one on my car's dash, my refrigerator and my bathroom mirror. Similar: There's nothing like Midori.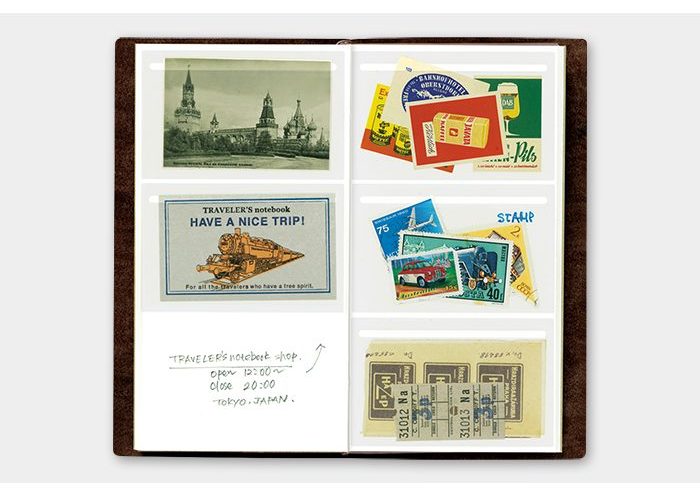 The Traveler's Notebook is also a Midori product, though it's almost an industry by itself. Just go on Etsy and look at all the custom covers you can get for yours. The thing about the Traveler is its broad utility. You can rearrange them and customize them with the help of a ton of accessories  — including these amazing Card File stickies, which add a handy sleeve anywhere you put them. Similar: Nope.
But It's Not Just About How They Look, It's How They're Used
The popularity of Post-it notes has led 3M to create a separate site of case studies. Idea voting is the easiest scenario to understand: Put three ideas onto a board on notes, then everyone on the team puts their own notes under the idea they prefer. So easy. But there are plenty more uses.
Planning Document Flow
I planned this story using sticky notes so I could get a good picture and also that's how I work. (My whiteboard is an unused gaming monitor because I'm a writer and I'm paid like one. #dontjudge #multitask) One image is my brainstorming. The second one is my storyboard for a structure. The final version of which this story follows pretty close. This technique works with any structured document. When this column grows a YouTube channel (spoiler alert) I'll be using them to storyboard every episode.
Project and Task Management
Sticky notes are a staple for visualizing and tracking a project's flow. Or several projects at once. Or priorities. Just take a look at our three-part series on legal project management for Sam Glover's guidance on ways to use sticky notes to keep on top of projects and tasks.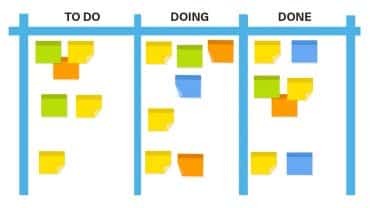 SWOT Analysis
Measuring and managing a firm's performance is tricky. What do you measure, why do you measure it, and how do you zero in on what's working and what's not? A SWOT analysis is an effective, highly visual way to find the gaps along the path from where you are now to where you want your firm to go. Using sticky notes makes this a breeze. I could go into a detailed explanation of how to run a SWOT with stickies but I just ran a SWOT analysis on the efficacy of that and my whiteboard exploded.
The Vanishing To-Do List
Author Zak Slayback swears using sticky notes doubled his productivity — and it's easy to see why. To-do list apps and even well-designed planners often get in the way of getting things done. Slayback just pops a series of stickies over his desk with his tasks written on each, then peels them off as he goes.
This is such a simple idea, it's easy to ruin it by adding all kinds of rules and hacks and tricks and look. Don't do that. Sticky notes work — no matter why you're using them — because they are basic. Just write each task as a single boldly printed word (use a Sharpie). Then stick them on the wall and peel them off as you go. My monitor usually has a mohawk of stickies. It's hard to bury your head in a brief when a neon green sticky label reading CLIENT CALL — 1 PM! is flapping at you every time you pound the keyboard.
Technology Remembers Its Analog Parents
Productivity apps have taken note of stickies and try to incorporate them into new designs and systems — witness the success of project management tools like Trello. None of these tools can compete with the sublime temporal cheapness of a Post-it. However, if you're dedicated to apps, there are plenty that work with sticky notes, including one from 3M and another from Evernote. Your humble columnist rolls his eyes at such adaptability appropriation. But there is technology that fits the analog nature of adhesive memos.
DIY Custom Stickies
Print Your Own Custom Stickies
In an effort to make you more productive, Analog Attorney offers this handy-dandy template for running sticky notes through a printer to make your own tacky to-do lists.
Print the blank template and set aside.
Open the file in a graphic or word program.
Add your designs into the squares.
Stick the notes onto the blank template, then insert the paper according to the guides on your printer ,which could be anything, all printers are different, don't get mad. #trialanderror #readthemanual #shhhhpeoplecanhearyou
Run it through your printer. Voila!
Or Get This Machine and Custom Stickies
Yes, there's a better way. Use the Cubinote to print custom stickies from your desktop, or even your phone. It's a little steep at $150 plus another $11 for the paper, but for highly organized office managers or obsessive labelers (guilty), Cubinote's like a magnificent step up from your Dymo labeler.
Sticky Notes Are Super Tacky
Sticky notes are a cheap, instant, tacky solution to so many organizing and communications problems. It's no wonder so many people stick to using them.
OK, no more puns. Or … maybe more puns? How do you use sticky notes in your firm?